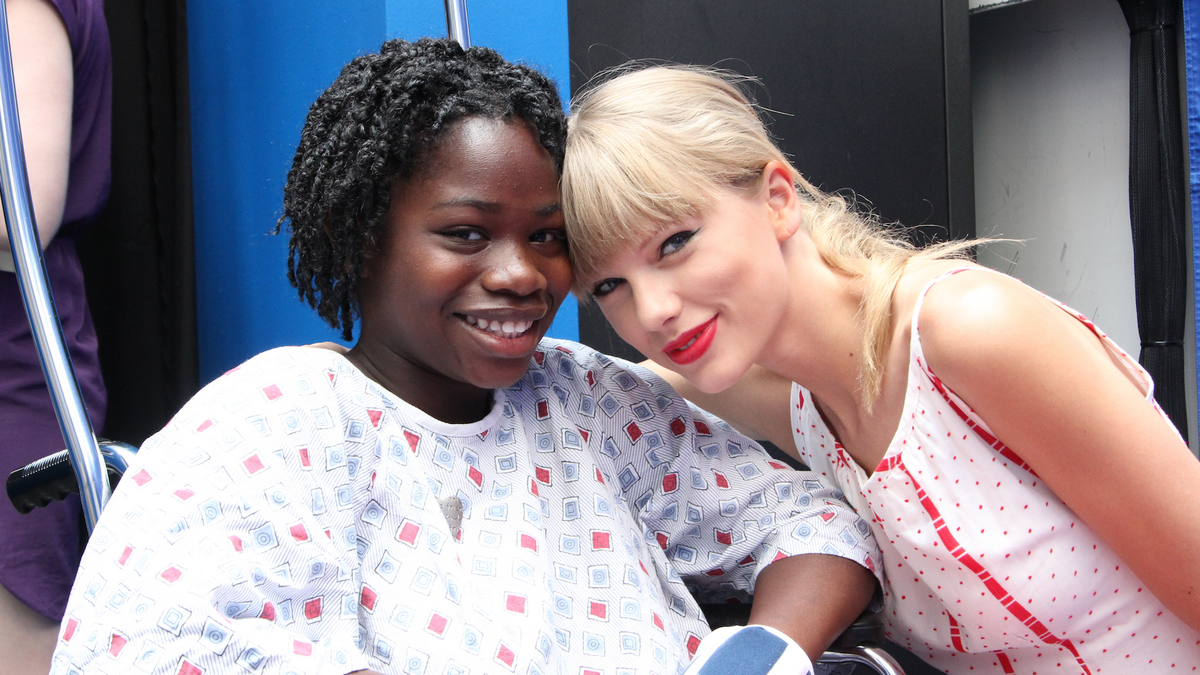 The world has made it clear to all of us; life is never going to be fair. It is really depressing when you are unable to get all you want and, apparently, life was supposed to go that way, but thank goodness, there have always been a lot of kind hearts living among us, trying their best to make our planet a happier place. While being lost between those who have it all and those who have nothing, we will run into some people who have hearts as big as their fortune. This goes for a lot of our beloved Hollywood celebrities. Get yourself introduced to the top 10 philanthropists that exist in the world of fame.
10 Taylor Swift
Taylor Swift may have been famous for writing songs about broken-hearts. However, her seems-to-be always broken heart did not stop her from being one of the most generous people. Swift has donated a big amount of money to help her fellow celebrity Kesha during her fight against her producer in court. Above and beyond, she has also helped a lot of people who have undergone a natural crisis that caused them severe damages.
9 Beyonce
Our talented and beloved singer has been known for her endless generosity as she always donates some of her profits to charities. Besides, Beyonce has once announced that she is partnering up with charities that will help her through the campaign she launched in order to solve the crisis of poisoned water in Michigan. The Robin Hood Foundation is also going to get financial support from Beyonce after the concert she is planning to perform along with Nicki Minaj, Jay Z, and Lauryn Hill. This foundation is known for raising money specifically for education in New York City. Besides, it is said that the event is going to be streamed live on Tidal.
Ian Somerhalder seems to be charming in every way possible. As luck would have it, The Vampire Diaries star does not only got the looks, but he also has a kind heart that cares for the helpless side of the world. He has his own foundation that is called the Ian Somerhalder Foundation and he always works on giving it all that he has. The goal of this foundation is to protect animals and encourage science to endorse the importance of safeguarding the natural resources.
DiCaprio has been known for being a vigorous environmentalist who thrives for protecting the life of the wild and the marine. His passion has always encouraged him to donate a big amount of his fortune to the organizations that work in that field.
Regardless of the crazy identity that Miley tend to show up with to the world, she is very generous and open-handed. In 2015, she has been given the title of the second most charitable celebrity; ranked right after her fellow star Taylor Swift. Miley Cyrus has stated that her generosity has been inherited from her parents who have always taken her to places where they used to donate with clothes, money, gifts, and school supplies.
Ryan Seacrest is one of the most talented celebrities and he has been among the few who has been given the title of being an overachiever. He has always been known for excelling in whatever he does and, as luck would have it, charity is no exception. Ryan has formed a nonprofit foundation back in 2010 partnering up with his own family members, Meredith, Gary, and Connie.
Definitely, the former Disney star was expected to be featured on that list. Selena Gomez has been given the title of the ambassador of the UNICEF foundation back in 2012. She was considered the youngest charitable celebrity back then. Selena has always told her audience in several interviews that she had a rough childhood; apparently, her big heart seems to come from that hard life she used to live. She learned how hard life can be and decided to be part of making it easier for whoever she is able to help.
3 Mel Gibson
Mel Gibson is the most famous philanthropist that is present when he is off stage. His recent donation involves several millions that was given to the AP Reilly Foundation; an organization that provides an abroad support for Holy Family Church and for those who follow it.
Emma Watson has fascinated her fans for years just by being Hermione Gringer. However, her charm did not just stop where the sequel of Harry Potter ends, she kept on being the amazing person that she is by taking a whole year off just to dedicate herself for charity and helping the world become a better place.
1 Angelina Jolie
Of course, Angelina Jolie deserves to be on top of this. Not because she is more generous than her fellow stars, but because she has given her time and effort, not just money, for doing charity work. Over the few past years, Jolie has been witnessed to be involved in philanthropic work more than Hollywood scenes. Since 2001, she has been personally working on refugee mission around the whole world, giving a hand to those who needed the most; thus, she became the most philanthropist known in the world of Hollywood.
For sure, every time you read such articles about Hollywood stars, you respect them even more. You do not have to be as rich in order to make a difference in the world; you just need to have a big heart and the willingness to provide whatever you are capable of.