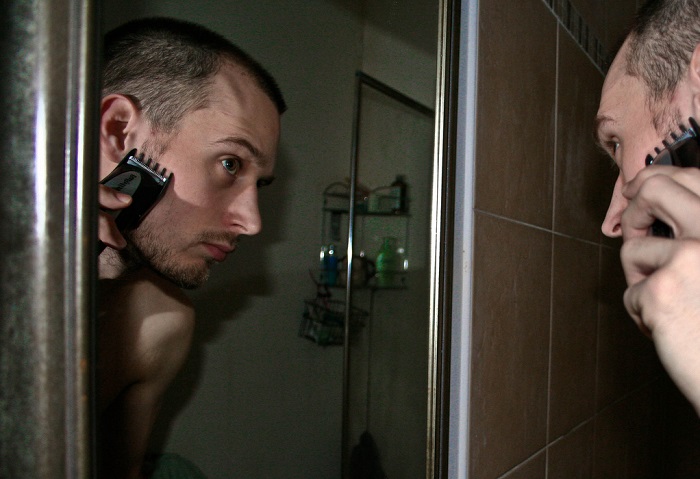 Many men decide to grow a beard now, especially since fashion styles have promoted it. However, many also notice that the beard must be flawless. It takes time and effort to maintain perfect shape and smooth hair. You will need to integrate beard oil care into your morning routine to ensure that it looks how it was meant to. Grooming your facial hair spares you of the shaving ritual, but before there you must choose a product and the market seems to be flooded with trimmers for men.
We have compiled a shortlist of the best trimmers for men available on the market. For this choice, we have considered power, price and, above all, customer reviews. The below products fit all beard shapes. Yes, even Mel Gibson's goatee-styled beard requires a trimmer.
10

Philips Norelco 5100

Why shouldn't we begin out top with a large and appreciated brand that created an entire package for men? Philips has considered both beginners and experts when developing its water-resistant products. The brand developed an entire series which includes a trimmer and a trimming tool for details, combs for the beard, nose trimmers and mini foil shavers. The Norelco 5100 has 48 lengths settings and can be used cordless. Even though it is a little pricey in its category, users give the product 4-stars ratings.
9

Panasonic ER-GB370K

Panasonic decided to cover the mustache and beard area altogether and to focus its product on everyday use. The Panasonic ER-GB370K has 19 hair length settings and hypoallergenic stainless-steel blades. It includes a water drainage system and a rubber grip. However, the product seems to have a drawback in its battery system. You cannot use it cordless for a long time However, you can take advantage of its generous wire.
8

Braun Bt 5090

This brand has a tradition in hair care and removal products for men and women. You know its products are reliable and durable even before you buy them. This time it decided to focus on precision and ultra-sharp elements. The Bt 5090 works by a slide-and-style system for comb beard finishing. It is also fully washable. Customers say it's helpful especially for thick beards. Yet, it takes a while to get used to its cutting systems for the right length. However, the Braun trimmer is affordable and perfect for home use.
7

Babyliss iStubble

Babyliss comes with experts' recommendations for easy usage and no installation difficulties. Other said, you don't need to attach guards as they are already there. The iStubble trimmer works for short and long facial hair, even beard lines. This product has an LCD screen that also keeps you updated with battery level. You choose your beard length in millimeters for higher precision. Even though its battery might fail sometimes, you can use this trimmer for times when you're in a hurry.
6

Remington XF8505 Capture Cut

Remington offers a versatile choice by developing a foil shaver that also works in the shower. The trimmer focuses on cutting suborn hairs if they grow overnight. The compact style of this shaver allows you to use it easily, regardless of your facial contour. This trimmer has a long-lasting battery. Yet, some customers complain about it being noisy and hard to get used to, due to its weight. The XF8505 stands out for having a quick charge feature that provides you with a one-hour use.
5

Conair Corded Beard Trimmer

Conair provides its customers with a product that can also be used while traveling. The stainless-steel removable blade allows you to quickly clean it, while its adjustable comb works for 5 beard lengths. You already have 2 additional jawline combs for the detail and a 2-year warranty. Some customers say it might overheat after a few years. Others are impressed with its affordable price and battery power.
4

Braun Series 9 Electric Shaver

Braund has decided to focus even more on facial hair and released a product that works with SyncroSonic technology. This feature helps you cut hair in different directions and align it according to your needs. It is also waterproof and cleans its elements in its docking station. Customers appreciate its quality, though they claim it suits for the first time Braun users – others are pleased with what prior series have to offer.
3

Remington MB4045A Beardsman Trimmer

Remington stands out by providing what seems to be a long-lasting professional product with high performance. It has self-sharpening and oiling titanium coated blades which can work cordless for up to 2 hours. You can use 3 combs with a total of 27 length sizes. Its 60-days warranty doesn't help much. However, experts say that its pop-up detail trimmer works perfectly for rebellious hairs. The product design is also impressive.
2

Panasonic Body and Beard Trimmer

You have 45-degree stainless-steel blades at your disposal for facial and body hair. You can personalize your trim by using one of the quick-adjust 39 settings. Its ergonomic design and rubberized grip allow you to easily clean it. The product has a universal voltage, so you can use it while traveling. Customers offered it 4.1 stars on Amazon and some even named it the Cadillac of trimmers.
1

Wahl All-In-One Grooming Kit 9854-600

Wahl came up with the most powerful trimmer for almost-everyday use. The motor allows you to quickly cut thick hairs and style up each facial area. You have plenty of options to choose from: three combs, six lengths settings, a detailed blade for the nose and ear hair, a dual shaver blade, and a precision T-blade. Customers praise its long-lasting battery which makes its use even more comfortable.

These grooming tools will save you from wasting time to fix your facial hair with a regular razor and scissors. Moreover, electric trimmers will shape your beard perfectly, while keeping it tidy. The top 10 trimmers have plenty of impressive features. To make a wise choice, you can only focus on your personalized needs.