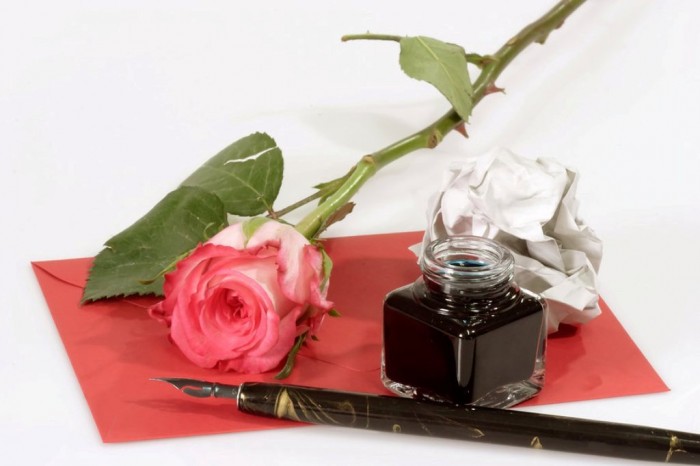 There are some people who find it difficult to express their feelings to others whom they love. It is really a big problem to love someone and find yourself staying away without doing or saying anything thing that shows your love and expresses your inner feelings. Saying romantic words such as I Love You and other words of love is the best and simplest way for expressing your love and conveying your message to your beloved. But if you find your tongue unable to say these words and refuses to move, then you can write what you want to say. You do not need to be a poet or even a good writer to know how to write a love letter. You do not need to write many lines or a large number of pages to show your beloved that you love him\her. All what you need to do is to say what is in your heart and convert it into written words. To inspire you, we present to you the following top 10 best and most famous romantic love letters.
10. From George H. Bush to Barbara Bush
"This should be a very easy letter to write — words should come easily and in short it should be simple for me to tell you how desperately happy I was to open the paper and see the announcement of our engagement, but somehow I can't possibly say all in a letter I should like to. I love you, precious, with all my heart and to know that you love me means my life. How often I have thought about the immeasurable joy that will be ours some day. How lucky our children will be to have a mother like you…"
9. From Oscar Wilde to Lord Alfred Douglas
"Everyone is furious with me for going back to you, but they don't understand us. I feel that it is only with you that I can do anything at all. Do remake my ruined life for me, and then our friendship and love will have a different meaning to the world. I wish that when we met at Rouen we had not parted at all. There are such wide abysses now of space and land between us. But we love each other."
8. From Henry VIII to Anne Boleyn
"I beg to know expressly your intention touching the love between us. Necessity compels me to obtain this answer, having been more than a year wounded by the dart of love, and not yet sure whether I shall fail or find a place in your affection."
7. From Ronald Reagan to Nancy Reagan
"The important thing is I don't want to be without you for the next 20 years, or 40, or however many there are. I've gotten very used to being happy and I love you very much indeed."
6. From Vita Sackville-West to Virginia Woolf
"But oh my dear, I can't be clever and stand-offish with you: I love you too much for that. Too truly. You have no idea how stand-offish I can be with people I don't love. I have brought it to a fine art. But you have broken down my defenses. And I don't really resent it."
5. From Napoleon to his wife Josephine
"Since I left you, I have been constantly depressed. My happiness is to be near you. Incessantly I live over in my memory your caresses, your tears, your affectionate solicitude. The charms of the incomparable Josephine kindle continually a burning and a glowing flame in my heart. When, free from all solicitude, all harassing care, shall I be able to pass all my time with you, having only to love you, and to think only of the happiness of so saying, and of proving it to you?"
4. From Frida Kahlo to Diego Rivera
"Nothing compares to your hands, nothing like the green-gold of your eyes. My body is filled with you for days and days. You are the mirror of the night. The violent flash of lightning. The dampness of the earth. The hollow of your armpits is my shelter. My fingers touch your blood. All my joy is to feel life spring from your flower-fountain that mine keeps to fill all the paths of my nerves which are yours."
3. From Frida Kahlo to Diego Rivera
"Diego my love- Remember that once you finish the fresco we will be together forever once and for all, without arguments or anything, only to love one another. Behave yourself and do everything that Emmy Lou tells you. I adore you more than ever. Your girl, Frida (Write me)."
2. From Beethoven to his "Immortal Beloved"
"Though still in bed, my thoughts go out to you, my Immortal Beloved, Be calm-love me-today-yesterday-what tearful longings for you-you-you-my life-my all-farewell. Oh continue to love me-never misjudge the most faithful heart of your beloved. Ever thine. Ever mine. Ever ours."
1. From Ronald Reagan to Nancy Reagan
"Dear St. Valentine,
I'm writing to you about a beautiful young lady who has been in this household for 25 years now—come March 4.
I have a request to make of you but before doing so feel you should know more about her. For one thing she has 2 hearts—her own and mine. I'm not complaining. I gave her mine willingingly, and like it right where it is. Her name is Nancy but for some time now I've called her Mommie and don't believe I could change.
My request of you is—could you on this day whisper in her ear that someone loves her very much and more and more each day? Also tell her, this "Someone" would run down like a dollar clock without her so she must always stay where she is."
Did you receive or send a love letter like these before? 
&
Which one do you like more?