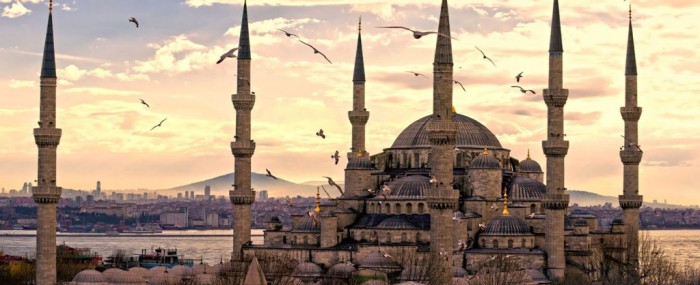 Travel
Top 10 Romantic Hotels in Istanbul
Istanbul is the largest and most populated city in Turkey and it is also the heart of country in terms of its economy and the cultural and historical places that can be found there. In addition to all of that, Istanbul is known as one of the most famous romantic cities that can be found in the whole world. It is a perfect destination for spending your honeymoon or for enjoying your time with your beloved thanks to what can be found there. Everything is needed for spending a romantic time can be founded in this city even the hotels that are especially constructed as romantic hotels to allow the couples to enjoy their time throughout the day. If you are looking for a good romantic hotel to be able to spend an unforgettable time, take a look at the following top 10 romantic hotels in Istanbul.
10. Ayasofya Konaklari
The hotel is located on Sogukcesme Street between the Hagia Sophia and the Topkapi Palace which are the greatest imperial monuments in the city. The nine hotel buildings consist of a row of guesthouses in the street. Every house has about four or ten rooms which are furnished in the 19th century Turkish style with different colors as there are red, blue and yellow rooms. The hotel features a garden that allows the guests to have their breakfast with magnificent flowers around them.
It is a luxury hotel that is located on the European shores of the Bosphorus between Besiktas and Ortakoy and near Taksim. The rooms of the hotel feature a walk-in closet, balcony, LCD screen TV, writing desk, in-room safe, climate control, bathtub combined with shower and other amenities that ensure you a luxury stay.
It is situated in the center of the Old City which means that you can easily visit most of the historic places in the city such as the Blue Mosque, Aya Sophia, Topkapi Palace, Spice Market and the Gand Bazaar. The rooms of the hotel feature genuine antiques and artwork, handmade carpets and unique colorful lamps.
7. Park Hyatt Istanbul – Macka Palas
It is a luxury boutique hotel that is located near Taksim, Old City, Istanbul Convention Centre and Bosphorus. This five-star hotel features 90 rooms and suites, outdoor pool, fitness center, spa, two meeting rooms and more amenities that allow you to get what you need during your stay.
It is located at the center of Sultanahmet, Istanbul and features 25 rooms and suites. There are top terraces that allow you to enjoy the views of Marmara Sea, mosques, ancient walls, minarets and turrets. All the rooms are equipped with ensuite bathroom with shower, individually controlled air conditioning, central heating, direct dial phone, refrigerator, hairdryer and safety deposit case.
5. Four Seasons Hotel Istanbul at the Bosphorus

It is a luxury hotel that was an Ottoman palace before being transformed into a hotel. The hotel offers its guests a number of services and amenities including fitness facilities, pool, spa, business services, children's amenities, babysitting services and other amenities to enjoy your stay.
4. Villa Denise
It dates back to the 1800s and was turned to a hotel by Aydin Harezi. The hotel is located in Arnavutköy, Istanbul to combine the old history and classic buildings with the complete comfort that can be found in a five star hotel. The hotel offers a classic automobile for airport transfer and city tour options.
3. Four Seasons Hotel Istanbul at Sultanahmet

It is one of the most luxury hotels that can be found in Istanbul. The hotel is located in Istanbul's Old City near the city centre and several landmarks such as St. Sophia, Blue Mosque and Topkapi Palace. It offers different amenities and services such as health club, baby sitting services, twice-daily housekeeping, children's welcome program and more.
It was given this name in 2007 after being renewed as it was an old Ottoman stone mansion before being a hotel. The hotel is located in Sultanahmet (Old City) which is the most historical place of Istanbul. The hotel features a terrace café bar and 9 rooms including 1 Suite Room that is called Dolmabache Suite, 1 Triple Room, 1 Family Room and 6 Standard Rooms in addition to other services that make the hotel recommended by most of those who stayed in it. All the rooms are provided with air conditioning, private safe box, direct dial phone, wireless internet, mini bar, hairdryer and satellite TV. Some rooms allow you to enjoy the view of the islands and Marmara Sea through standing in their balconies.
It is a boutique hotel that is located in a quiet street in Sultanahmet, Istanbul. It lies near different historic places such as Grand Bazaar, Hagia Sophia, Topkapi Palace and across from the Blue Mosque. The hotel features 12 Standard Rooms including 4 twin-bedded and 8 double-bedded standard rooms and there are also 12 Deluxe Rooms that are provided with a queen-sized bed and a sitting area. All the rooms provide you with several amenities such as ensuite bathroom with rain shower, direct-dial phone, floor heating, air conditioning which is individually controlled, floor heating, hair dryer and other amenities that are presented by the hotel to you. 
Which hotel do you like the most?!!!