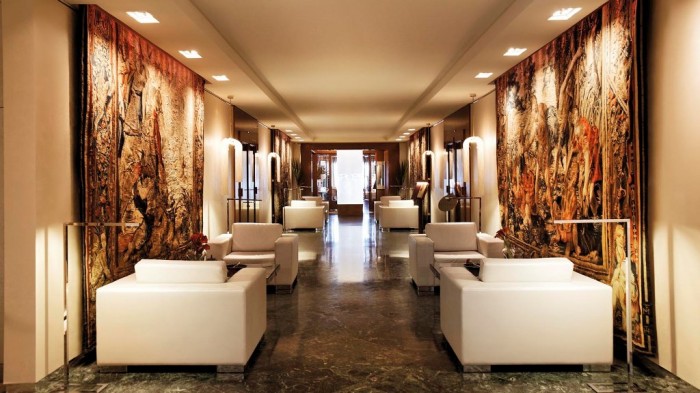 Travel
Top 10 Expensive Hotels in the World
Visiting new places is one of the most interesting things that we can ever do to refresh our bodies, minds and get rid of the routine life that we live everyday including working and facing different difficulties that lead to many problems whether they are physical or psychological. So, why don't we try to get rid of all of that and go somewhere to enjoy our time and seeing new places? If you really want to do that and need to live a permanent luxurious life, then you have to choose an expensive hotel in which you can experience living a royal life thanks to the various amenities and services that are presented there. All what you need to stay at one of these hotels is to allocate a reasonable amount of money and after that you will be able to enjoy unforgettable days without getting bored. If you want to know more about these hotels, take a look at the following most expensive hotels in the world that will dazzle you with their amenities and shock you with their prices.
10. Four Seasons Hotel George V in Paris, France – $15,277 per night
The hotel is located near the Champs-Elysées and has 244 guest rooms and suites. The Royal Suite in this hotel features antique items, private terrace, private office, oversized living room, marble fireplace, dining area that accommodates eight guests, large marble bathroom, steam room, sauna, walk-in dressing room, guest powder room in addition to other amenities that make this suite a royal and luxurious one.
9. Le Richemond in Geneva, Switzerland – $16,680
It presents to you its Royal Armleder Suite that features all the requirements for spending a luxurious stay such as king size beds, Carrara marble bathrooms, soaking tubs, guest powder room, open-plan living room, fireplace, dining room, flat screen TV, DVD player, iPod docking station and more.
8. Burj Al Arab Hotel in Dubai – $17,152
It is one of the most luxurious hotels in the world. It has a 780-square-metre Royal Suite that features majlis style lounge, library, cinema room, private elevator, private dining room, two oversized dressing rooms, private bars, two master bathrooms, Jacuzzi, 24 carat Gold iPad and other magnificent amenities that are especially presented to you.
7. Ritz-Carlton Hotel in Moscow, Russia – $17,355
It features a 237-square-meter suite that allows you to enjoy the view of the Kremlin, Red Square, St. Basil's Cathedral and Christ the Savior Cathedral through its windows that extend from the ceiling to the floor. The luxurious suite features spacious living room, grand piano, library, dining area, marble baths, oversized dressing room, iPod docking station and other facilities for you to enjoy your time in the suite.
6. Atlantis Resort Hotel in the Bahamas – $23,835
It is located in one of the most fascinating places on earth that allows you to the sun, sand and beach. It has a 440-square-meter suite that features 10 bedrooms, marble bathrooms and other facilities to enjoy your visit to Bahamas.
5. Hugh Hefner Suite, Palms Casino Resort Hotel, Las Vegas, Nevada – $38,070

It allows you to enjoy having a rotating bed, private butler, Jacuzzi that allows you to enjoy a view of Las Vegas during relaxing in it and other amenities that enables you to enjoy an unforgettable stay in Las Vegas.
4. Ty Warner Penthouse Suite, Four Seasons Hotel, New York – $41,836

This dazzling suite is known for its breathtaking and magnificent views including skyscrapers as it is located in the 52nd floor. It features a 600-square-foot master bedroom with one king bed, one full marble bathroom with soak tub and floors with radiant heat, guest powder room, four glass balconies, spacious multi-room, spa room that can be converted to a second bedroom, spacious living room, spa, fitness center and other facilities for a royal stay.
3. The Presidential Suite, The Raj Palace Hotel, Jaipur, India – $45,000
This hotel is ranked as the world's leading heritage hotel. It offers a Presidential Suite that is called Maharajah's Pavilion and it is a four-floor apartment that has a private entrance, private elevator, 4 bedrooms and features other luxurious amenities such as private lounge, library, dining room, kitchen, terrace, small Jacuzzi, swimming pool, private bar and more.
2. The Royal Villa, The Grand Resort Lagonissi, Athens, Greece – $47,527

It dazzles you with its design, decoration, services and amenities that are presented to the guests. This magnificent villa offers two master bedrooms with king size beds, two marble lined bathrooms, guest bath, living room with dining table and fireplace, business center, wired and wireless internet access at high speed, printer, fax machine, laptop, scanner and video phone, separate bar area, heated floors, remote controlled mattresses and curtains, indoor heated pool, gym, steam bath, personal trainer, private parking area and other several amenities that ensure you the most luxurious stay that you can ever find.
1. Royal Penthouse Suite, Hotel President Wilson, Geneva, Switzerland – $68,355
Here is the most luxurious and most expensive hotel in the world. Hotel President Wilson is renowned for its Royal Penthouse Suite that is known as the largest and most luxurious suite in the world. This luxurious suite features 12 rooms, 12 marble bathrooms, private terrace, private gym, billiards table, Steinway grand piano and Bang & Olufsen BeoVision 4-103 flat-screen TV with sound system. All of these luxurious amenities are accompanied by the maximum security that is offered through the bulletproof glass and the private lift. Nothing more can be desired to live a luxurious and secured life.