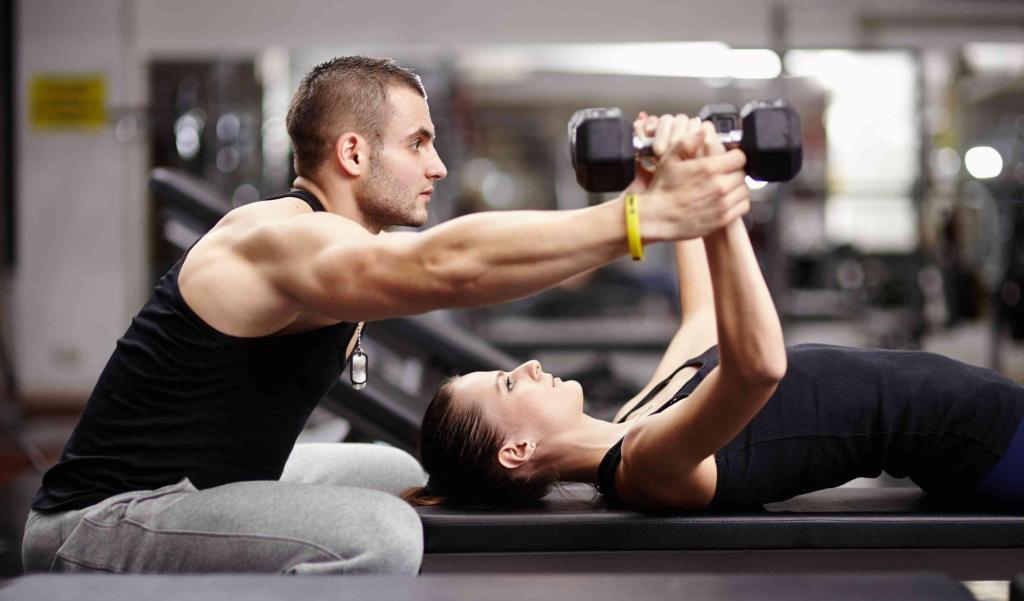 Gaining weight is one of the worst problems that you can ever face in your life since it destroys the shape of your body and affects your health which makes it essential for you to lose weight, but how to do this? It is really difficult and tiring to try losing weight on your own as you find yourself lost and confused because you do not know what to do or even how to start. This problem can be easily solved by choosing a good personal trainer who can help you to quickly transform your body without the need to waste your money or spend a long time waiting for achieving the results that you dream of. The personal trainer shows you the right way to lose weight and motivates you to achieve your goals including feeling great, getting in shape, and living a healthy lifestyle. If you are looking for a professional personal trainer to transform your body, take a look at the following top 10 best personal trainers in the world with being based on their experience, fame, and efficiency.
Luke Hines is one of the best personal trainers in Australia and the whole world making him highly sought after by many people who want to live a healthy lifestyle. Luke is the owner of TrainerLuke and specializes in TRX suspension fitness training, mixed martial arts, kettle bell training, one to one, one to two, group and corporate training in addition to offering gym, home and outdoor fitness training making it easy for you to choose the environment that suits you to quickly get the best results. Luke's goal is to help the Australians and others around the world to live a positive lifestyle through optimal training for fitness and clean nutrition for a good health.
Joe Dowdell is a famous strength coach and personal trainer. His unique teaching style and expertise are highly responsible for making him one of the most famous fitness specialists in the whole world. His clients include famous pro athletes, musicians, fashion models and stars of television and films from different areas around the world. Joe has earned many certifications and appeared on several national television shows which are really famous such as Dr. Oz, ABC News, The View, Fox News, TV Guide Channel and more. Having over 18 years' experience has also allowed Joe to contribute to many books and national publications.
8 Billy Blanks – United States
Billy Blanks is a professional fitness expert and personal trainer who helps many people around the world to feel great and get in shape. He travels to several areas all over the world to train groups. He went to different countries such as Kosovo, Iraq, Italy, Germany, Africa, Greece and more for training U.S. Armed Forces and other groups. Billy Blanks is not just a professional personal trainer as he is also a creative author, actor, Karate Champion, humanitarian, philanthropist and motivator which helps him to provide his clients with all what they may need to feel great. Billy has trained many celebrities such as Pamela Anderson, Catherine Bell, Neve Campbell, Justine Bateman, Rebecca De Mornay, Farrah Fawcett and Queen Latifah to name a few.
7 Jackie Warner – United States
Jackie Warner is a famous fitness expert, celebrity trainer, entrepreneur, artist and a musician as well. She has helped many people to live a better life through exercise, nutrition, healthy recipes, fitness and lifestyle tips that are highly effective. She has the ability to train anyone as she worked with different people starting from those who suffer from diseases and obesity and mothers who want to lose weight after pregnancy to addicts, athletes and celebrities. Jackie is not just a famous fitness expert as she is also a successful author who wrote two New York Times bestselling books; the first book is "This is Why You're Fat (and How to Get Thin Forever) and the second book is "10 Pounds in 10 Days".
6 Neghar Fonooni – United States 
Neghar Fonooni is a fitness and lifestyle coach, veteran, writer, entrepreneur and has over 14 years' experience in personal training. She helps women to live a happy life which is free from stress and guilt and she believes that this can be easily achieved through training intuitively, eating mindfully and living joyfully. She tries to make people learn that exercise and nutrition are essential for living a happy life and not destroying it or making it full of stress and frustration because they do not do what they love or get what they want.
5 Chris Freytag – United States
Chris Freytag is a certified personal trainer, health coach, group fitness instructor, weight loss consultant, motivator, speaker and author as well. She has over 24 years' experience and has written seven books in addition to releasing dozens of fitness DVDs. She tries to make staying healthy a habitual and natural choice for people without making them feel that they are controlled or forced to do what they do not like. She encourages women to take care of themselves in order to get healthy and feel beautiful and not because their clothes do not fit them.
4 Alex Folacci – United States
Alex Folacci is a celebrity personal trainer in NYC, who quickly became one of the most reputable personal trainers in the USA thanks to his athletic achievements, unrivaled expertise, and the results of his clients.
He is a 2 time National Champion of France in the Decathlon, an international medalist, and was elected "the Best Personal Trainer for Men in NYC" 2 times. He coaches A-list celebrities, Royal family members, billionaires, businessmen, etc.
His online reputation displays an average of 5 stars reviews on every platform for certified personal trainers in NYC.
Being the best personal trainer in NYC, which is the most competitive city in the world, definitely makes Alex Folacci one of the best personal trainers in the world.
Bob Harper is a celebrity trainer, television star, author, owner of DailyBurn.com and the designer of Black Fire workout program. He takes you through his workout program to the next level of fitness with short and full-body exercises that depend on using minimal equipment. The health and fitness expert has over 20 years' experience and is also a three-time #1 New York Times best-selling author making him highly sought after by many people. Bob Harper is also known for appearing on the reality television series "The Biggest Loser".
2 Lou Ferrigno – United States
Is there anyone who does not know Lou Ferrigno? Louis Jude Ferrigno who is commonly known as Lou Ferrigno is a professional fitness trainer and consultant, motivational speaker, actor and was the biggest professional bodybuilder. Lou is widely known for his role in the famous television series "The Incredible Hulk" and he also appeared in other interesting films such as "Hercules", "Cage", "Hulk", "I Love You, Man", "The Avengers" and "Sinbad of the Seven Seas". Lou won several titles such as IFBB Mr. America, IFBB Mr. Universe, IFBB Mr. International, NABBA Mr. Universe, IFBB Mr. Universe, Mr. Olympia and more.
1 Jillian Michaels – United States
Jillian Michaels is a certified personal trainer and one of the leading health and wellness experts in the whole world and not just in the United States. She is also a television personality, entrepreneur, life coach, nutrition and wellness consultant, motivator and a New York Times best-selling author. She is the author of several books and DVDs such as "Master Your Metabolism", "Unlimited: How to Build an Exceptional Life" and more. Jillian is best known for her appearance on different television shows such as Losing It with Jillian, The Doctors and The Biggest Loser. Being a health and wellness expert did not prevent Jillian Michaels from being named as "One of the Most Beautiful People" by People Magazine in 2012.