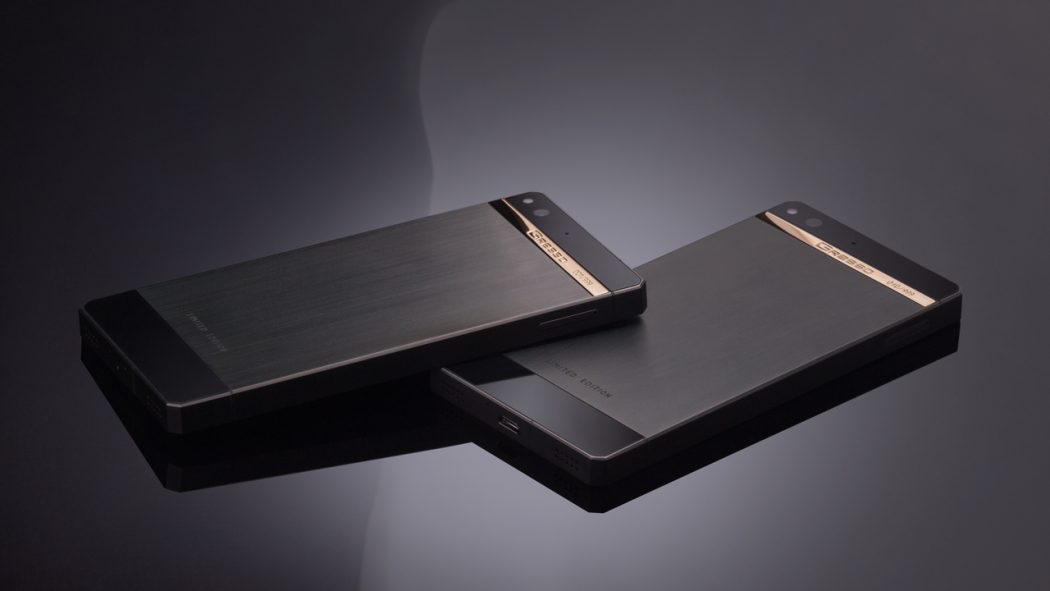 Smartphones are of great priority these days. No matter how costly they are, many still purchase them. It might seem an exaggeration, but smartphones can hold nearly your entire life; your schedules, personal e-mails, and messages, saved photos and probably important documents. There is a whole life inside these small devices. Now, Android smartphones are more widespread and expensive than ever; they cost a fortune. There's a pool of Android phones out there, and the following are the most expensive 10 of them.
10 Vertu Aster Collection
Vertu Aster Collection is a series of luxurious products from Vertu. They provide their devices with a Titanium finish in a number of different colors and leathers; some devices are quite colorful. Their prices start at $7,000. However they are fairly expensive, their android versions are outdated and considered a bit slow compared to today's standards.
9 Mobiado Grand Touch EM Marble
A phone made of marble stones? How extraordinary is this? Yes, it is weird, but in a beautiful way of course. This is the Grand Touch EM Marble from Mobiado. Despite the fact that it costs $3,100 which is kind of expensive, it is not the same exciting from the inside; it works pretty much like any usual smartphone, but probably the whole design was about the outside casing.
8 Tonino Lamborghini 88 Tauri
This device was named after Tonino Lamborghini, which definitely rings a bell; Lamborghini has always been linked to fabulous and high-ranking cars. They have produced only 1947 devices. The price tag of the device is $6,000; it is fairly pricey but has good specs as well: Snapdragon 801 CPU, 3GB RAM along with a 20-megapixel rear-facing camera, 8.0-megapixel front-facing camera, and 5.0-inch Full HD screen. Besides its well-recognized brand, the steel and leather were another reason for the surge of the price.
A lot of luxurious companies, as Deluxe, have gone for partnership with others for producing an extraordinary smartphone of their own, but Aston Martin has decided to go for it on their own. If you are a fan of James Bond, it will be so hard for you to pass this one up. The 808 is a $6,000 smartphone that can drastically go up to $24,000 if you choose to add some real diamonds. With its massive design and ceramic headphone, this is deemed to be one luxurious smartphone that's bound to stun its audience.
Goldvish Eclipse falls in the same list of the quite expensive Android smart phones, but it has more to offer than just its luxurious look. The Eclipse grants a Snapdragon 801 as well 3GB RAM, 64GB storage, and a 5.5-inch Full HD display. It is also with a 13.0-megapixel rear-facing camera along with a 5.0-megapixel front-facing camera. This might be the first interesting addition on this list. It costs around $7,700. Another reasons for its quite expensive price is its Swiss-made, which promises a great quality, and its leather and titanium back.
5 Gresso Regal Gold
Here's another pricey smartphone that was produced in a limited number. If gold is your thing, then Gresso Regal Gold should be on your shop list as soon as possible, for there are only 999 devices. Gresso Regal is embellished with yellow and white gold. But a sad fact about this device is that, like almost any fairly expensive smartphone that is way good looking, it has an outdated version of Android that cannot be compared to the standards of today's impressive software. Gresso Regal Gold's price tag is $6,000.
4 Vertu Signature Touch for Bentley
Chances are that you most probably have come across people having a conversation about a fairly expensive smartphone, because there are plenty of them, but have you heard of Bentley's Vertu Signature Touch? Well yes, it is designed by Bentley, the well-known car brand, and is luxuriously equal to their cars. It costs about $9,000. Bentley's Vertu Signature Touch is designed in black and red leather; it is handmade in England and the logo is neatly printed on its back. The smartphone is supplied with a Titanium casing as well; such a classy one.
3 Savelli Jardin-Secret White Ice
This smartphone was exclusively designed for women; it is made of white crocodile leather as well as gold, and small in size compared to today's standard phone sizes, which makes it look feminine and sophisticated. This device costs around $10,000, but taking into consideration its elegant look, there are probably some women, and men, out there willing to pay such a fortune.
2 Dior Reveries Haute Couture
Dior Reveries Haute Couture smartphone was very limitedly produced in 2013, and did not last for so long. The reason behind its relatively short lifetime is probably its massive price, about $102,222, and archaic version of Android compared to today's prominent software advancement. The back and sides of this device were inlaid with a gigantic 1,539 diamonds as well as 46 pieces of pearls. No wonder this phone disappeared in no time, it was only impressive on the outside.
1 Sirin Solarin
Sirin's Solarin the first phone to be launched with a feature called WiGi, a new wireless standard that presents a transfer speed up to 7 gigabits per second. This phone comes at the top of expensive Android smartphones; it costs nearly $16,000. This phone offers another exclusive feature which is super security as it only allows for phone calls and encrypted messaging; besides, it is covered with leather back, available of gold too.