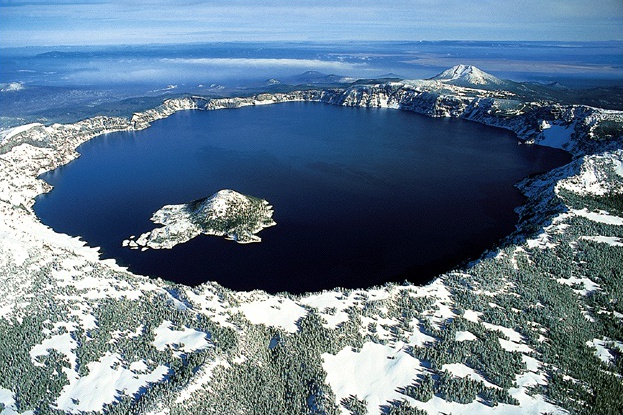 Travel
Top 10 Most Beautiful Lakes Around The World
Lakes are expanses of water bordered by grass or sand. They are featured of their crystal clear water and calmness. Being tranquil and peaceful places, lakes are deemed to be one of the most relaxing and romantic spots in the world. Moreover, they are unique in beauty. Even though a lake covers a small area, comparatively to a sea or an ocean, it still represents a different feature of waterbodies. Enjoying your time around a lake can make you smoke the peace pipe. Thus, we provide you with the ten most beautiful lakes in the world to check out.
10
 Maligne Lake:
Maligne Lake is an amazing one that situated in Canada. It absolutely symbolizes the drama and the birthright of the Canadian Rockies. Trout fishing is unprecedented at Maligne Lake, within the view of the rainbow crossing the lake. The Curly Phillips Boathouse existing on Maligne Lake, is an ancient building, where you can borrow a canoe if you seek camps. Your moments at Maligne Lake will not be forgotten.
9
Lake Pichola:
It is located in Udaipur city, Rajasthan, India. Lake Pichola is an artificial freshwater lake, formed in 1362 AD. It was named after Picholi village. Being an extraordinary lake, it is the most picturesque in Rajasthan. You can easily get to it either by taking local buses, auto-rickshaws, Tangos and taxis. Concerning its area, it is 3 miles long, 2 miles wide and 30 feet deep. You will take pleasure from the islands embraced by Lake Pichola, where calmness adds a touch.
8
Lake Como:
One of the most beautiful lakes in Italy! It covers about 146 square kilometers. When it comes to its size, it is classified the third after Lake Garda and Lake Maggiore. Lago di Como is the most popular in Italy. Out of being surrounding by mountains and hills and bordered by resort villages, Lake Como symbolizes both freshness and antiquity of the city of Lombardy. There, you can enjoy water activities and boat trips. Do not miss the chance.
7
Lake Powell:
It is the most telling lake that assures the concept of Man vs Nature. It is artificially created in 1963, to be the second largest artificial lake in the United States. It covers about 658 km² of Arizona. You can record your moments while benefiting from the lake activities including swimming, scuba diving, water skiing, snorkeling, sightseeing and hiking.
6
Dove Lake:
It is placed in Cradle Mountain national park at the north of Tasmania. There is a shuttle bus running from the Park Visitor Information Centre till Dove Lake, you can have a walk in the region of the lake. Featured of visibility, you can see the reflection of Cradle Mountain.
5
Derwentwater.
It is one of the most striking waterbodies in England, placed in the Lake District National Park at the northwestern edge of England. It covers 3 miles in length, 1 mile in width and 72 feet in depth. It is surrounded by four islands: Lord's Island, Derwent Island, St Herbert's Island, and Rampsholme Island. It represents a clear mirror for the morning sky, as it is very apparent and pure. So make hay while the sun shines.
4
Lake Atitlan
It is a lake bordered by a series of three volcanoes, it is placed in Guatemala. The sights are fantastic and the weather can be considered the best in the globe. There is a perfect thing to enjoy at Lake Atitlan, which is Zip Lines; two groups of zip lines are overlooking the lake. The best ever single distance is an 860-metre flight all the way through the trees.
3
Lake Superior:
It locates in Munising, Michigan. Lake Superior is the largest, deepest, and coldest of the five greatest lakes in the world. It is the largest freshwater lake in the globe, representing 10% of all the earth's freshwater. It is 1300 deep! Furthermore, the lake is connected to both Duluth and the Bahama Islands. Actually, it is a piece of heaven. You should sit pretty and enjoy your life at this lake.
2
Crater Lake
Crater Lake is formed by the rain and snow that fell into the caldera basin, in South-Central Oregon. It is isolated from neighboring streams and rivers, so there is neither an inlet nor an outlet to the lake. The lake is America's deepest lake and the world's seventh deepest one. You can take a volcano boat cruise. The road is cultivated to Rim Village, yet it may be closed for the time being due to harsh storms. Snow tires and chains are indispensable. Catch the chance and plan for a tour there. Many people are waiting in the wings to visit this lake.
1
Lake Tahoe
It covers an area of 496.2 km² in California and Nevada. It is the largest lake in North America. In summer, this is the most perfect time for biking, hiking, off-roading, and boating. Get the chance to try camping at a campground. The crystal-clear blue water is a very amazing feature in this lake.
After checking out the world's most beautiful lakes, your eyes will sparkle to join a trip to one of them. You can have a vested interest.