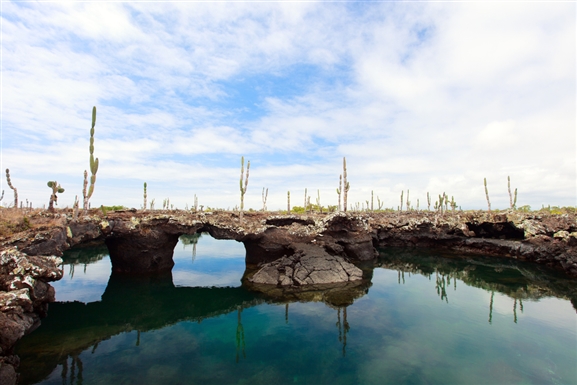 Nowadays, businesses get a considerable part of our thoughts that in turn cause much pressure. This sort of pressure makes us nervous, as we try to keep up with the high tempo of our daily life. Eventually, this leads us to be in a cleft stick. Therefore, relaxation is necessary in the hustle and bustle of this life. Thus, when you think to have a holiday for some relaxation, you have to pick up the most suitable place, where you can get rid of all these stresses and problems, and then you can figure out solutions for these problems and renew your soul, to produce fresh ideas. Undoubtedly, no one can deny that islands are the most relaxing places in the world. There, you are able to enjoy the calm atmosphere and your eyes will share the stars their glossiness. In order to make it easy for you to take a decision, ten stunning islands are shortlisted, they will blow you down. They are arranged in a descending order as follows:
10 Galápagos Islands:
With its wild terrain and intrepid creatures, Galápagos Islands are different from others. Galápagos Islands cover about 600 miles west of Ecuador and mark not less than 15 out-of-the-way isles. In order to be on good terms with the Galápagos' well-known dome-shaped tortoises, begin with El Chato Tortoise Reserve at Santa Cruz Island. The wild atmosphere will swallow you up; do not fail to remember bringing your camera.
9 Koh Samui Island:
It is an island that locates off the eastern coast of the Kra Isthmus in Thailand. It is part of Surat Thani Province. White sandy seashores and coconut trees are beautiful features of this island. Tourism is continuously in progress in this island, due to the increase of resorts and comfy villas. Indonesian and Indian cuisines are most famous dishes there. You will be in the seventh heaven in Koh Samui Island.
8 Bali:
Bali is a region located in Indonesia that covers some petite islands together with the isle of Bali. Bali is famous for its sculpture, dance, music, leather, etc. it is the largest tourist place in Indonesia. Bali covers a part of the Coral Triangle, the region with the utmost biodiversity of marine creatures. There are more than 500 reef building coral species. Concerning the tourism industry, it is first and foremost developed in the south, whereas it takes a noteworthy part in the other places of the island.
7 Isles of Scilly:
These islands are sited in England. They are a group of minuscule islands off Land's End, Cornwall, covered with water in the Atlantic Ocean. You can feel the mixture of emotions found there. The climate of Isles of Scilly is temperate Oceanic. You can take pleasure in the innumerable golden sandy seashores. Moreover, flowers of this place are unprecedented. Fleeing from your business, you can enjoy the peace and tranquility of Isles of Scilly. When it comes to sunrises and sunsets, they are deemed to be the most eye-catching views there. If you are lucky, you can take some shots.
6 Nantucket:
It is one of the impressive places in America. It is the Little Grey Lady of the Sea, according to some sailors. Travelers can enjoy the oceanic climate of Nantucket. If you hope for diversity, there are flashing lighthouses and a pleasant pace of life on this island of 50 square miles. Biking is highly recommended there. In addition, harbors include beautiful inns. You will be on cloud nine at this island.
5 Canary Islands:
It is one of the best places where you can get pleasure from your holiday. The climate there is exceptional. The temperature ranges between 70°F and 75°F during the first two months in the year. Visitors love this place because of the beaches and the volcanic nature, as well as the energetic everyday life.
4 Maldives:
It is a tropical paradise, it is located between the Arabian and Laccadive seas, 500 miles off southwest of Sri Lanka. It is the foremost tropical beach. The warm seas of Maldives are see-through all over the year. The clear water allows you to observe the fine-looking variety of fishes. For a new married couple, it is the most suitable place for a honeymoon. Furthermore, you can find the relaxation you dream of in the Spa of Maldives and let your hear down!
3 Cayman Islands:
The charming Cayman Islands are deemed to be a desirable Caribbean getaway. The Cayman Islands are considered to be an archipelago of three islands, located 90 miles south of Cuba. The Cayman Islands are some of all the rage Caribbean destinations for a full-of-zip vacation, including golfing, diving, snorkeling. In Cayman Islands, you will be full of the joys of spring.
2 Seychelles:
If you are dreaming of a bright blue sky and waters, with extraordinary sands, focus on Seychelles. Seychelles is celebrated for having some of the most excellent beaches in the world. You will hit upon national monuments, good-looking Creole houses, national reserves and aquatic parks.
1 Santorini:
The mix between black and red sands will make you grin from ear to ear. Enjoy walking by the side of the dust road to reach the tiny beach with the cliffs and plunging into the deep waters! Consequently, the Santorinian structural design is really inimitable. The cave houses, after being a shelter for the poor, have become deluxe holiday resorts. Taking pleasure in Santorini will get you over the moon!
Now, you can make your decision and start your holiday in one of these amazing islands. Plan for a trip now!