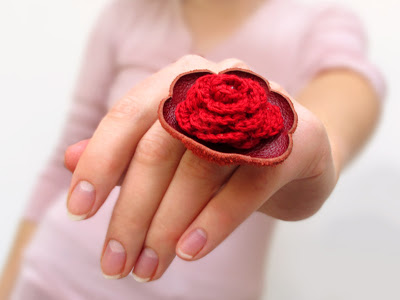 Accessories such as rings, bracelets, necklaces and earrings are available in different shapes, materials, colors and prices. They are needed to be worn on different occasions whether they are casual or formal for increasing the beauty of women but what about their prices? You can save the money that you spend on your accessories through making them on your own. For crochet rings, you can easily start creating them through learning how to create crochet patterns. You will need to use cheap materials that do not require a lot of money and to use your imagination for creating your own crochet rings. You can also create barefoot sandals that are perfect for being worn in the summer season while walking on the beach with your bare feet.
Choosing different colors for creating your crochet rings or barefoot sandals depends on your taste and you do not have to abide by the designs and ideas that are presented to you but do not forget that the colors which you choose should match each other. You can increase the elegance of your crochet accessories through adding beads, crystals, colorful stones, pearls and other items of embellishment.
You can present these crochet rings or barefoot sandals that you create as amazing gifts to your friends instead of buying them or other accessories that cost you more money. If you want to personalize the crochet rings and barefoot sandals, then it will be a good idea to use the colors, shapes and decorations that the recipient likes to make your gift more impressive.