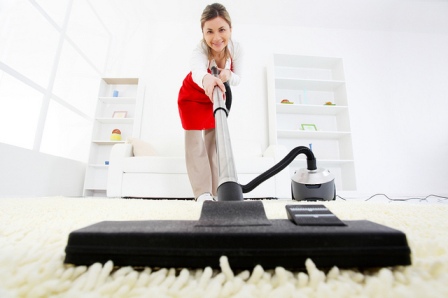 To clean your home and make it comfortable for all of those who stay in it and spend a long time there or others who visit you and want to find your home clean to be comfortable while sitting with you, you need to get what helps you to complete this tiring task. Cleaning your home is not really an easy task and this is why you have to look for what helps you to always keep your home clean without the need to exert a huge effort or spend a long time doing this.
The only solution for you to get the result that you want is to resort to vacuum cleaners that can help you not only to clean carpets and rugs but also to clean other spaces at your homes such as kitchen floor, furniture, and those areas with dust. If you want to clean your house perfectly in a simple way, you have to choose one of the vacuum cleaners that are available on the market. But firstly, you have to decide your needs before purchasing. Here is a list of the top 10 best vacuum cleaners.
10

 Panasonic MC-CG917 "OptiFlow" Bag Canister Vacuum Cleaner
This vacuum can easily move and clean in any direction with a 360-degree swivel hose. It removes dirt from rugs and floors and has many features including HEPA filtration, capturing small particles such as allergens, irritants and pollutants, Air Turbine Brush which is able to remove stubborn pet hair from stairs, crevice tool, floor brush, pet turbine mini-brush, dusting and upholstery brush, aluminum telescopic wand, OptiFlow System and Powerful 12-Amp Motor that offers powerful cleaning performance.
9

 Hoover Platinum Collection Upright UH30010COM
This vacuum will make you astonished by the patented Wind Tunnel technology combined with direct airflow technology. This vacuum has a lot of useful features including self-propelled, scuff guard bumper, filter, headlight, open foot window, motorized brush roll, cord storage, edge cleaning, bag change indicator, HEPA filtration, 14-foot cleaning path, flexible hose, telescopic wand and crevice, brush and floor tools. So, it can simplify your life and the cleaning process.
8

 Shark Navigator Lift-Away Professional Upright
If you want something perfect to clean your house every day, you should choose both Shark Navigator Lift-Away Professional Upright as well as a Shark vacuum for tile floors. This vacuum will help you to remove dust, dirt, and pet hair from different surfaces in your house. The most amazing thing about this vacuum is that it is very easy to be used. It has different awesome features such as swivel steering, easy to maneuver, suction technology, large capacity portable canister, anti-allergen complete seal technology, HEPA filtration in addition to the lightweight feature making it easy to carry the vacuum for cleaning any space.
7

 Dyson DC59 Animal Cordless Vacuum Cleaner
Dyson DC59 Animal Cordless Vacuum Cleaner is the most powerful cordless vacuum. This amazing vacuum is powered by the Dyson digital motor V6 making it 3 times faster and more powerful than conventional vacuums. This vacuum has a lot of features such as the ability to increase airflow and capture fine dust, fade-free power, re-engineered nickel manganese cobalt battery, run-time enhancing trigger, crevice tool, mini-floor tool, powerful forces to spin dust and dirt out of the air into the bin and it can remove fine dust on hard floors. It can be used for cleaning everything from the floor to the ceiling making it one of the best vacuums.
6

 Miele S2121 Olympus Canister Vacuum Cleaner
You can use this vacuum on different surfaces such as low pile carpeting, smooth flooring, and rugs. This vacuum is an amazing one as it has a lot of features such as the exceptional lightweight, dusting brush, Air Clean filter, crevice nozzle on VarioClip, upholstery tool, long electrical cord, non-electric hose, telescopic and stainless steel wand, 29.5 feet cleaning radius with automatic rewind, and motor protection function.
5

 Bissell CleanView with OnePass
With this vacuum, you can remove dust, pet hair, and dirt with one pass since it is fast and powerful. It can be used for easily cleaning your home thanks to its high speed, lightweight, and powerful suction. This vacuum features an innovative and powerful brush, Cyclonic System for strong suction, easy to empty dirt tank, washable foam tank filter, flexible hose, the ability to rotate about 90 degrees, multi-level filtration and TurboBrush tool for cleaning stairs, furniture, upholstery and more. This vacuum is relatively quiet and easy to maneuver making cleaning your home easier.
4

 Eureka Easy Clean Hand-Held Vacuum
This hand-held vacuum cleaner is also another amazing one as it is great for quick pickups on stairs, upholstery, cars, bare floors, and other different surfaces. Also, you can use it under the computer desk to clean up and remove dust and animal fur from around power cords. But, you have to know about the most powerful features in this vacuum that include 1 motor which powers the revolving brush, second motor for suction, onboard crevice tool, easy to empty, lightweight and portable, flexible hose, Riser Visor for carpeted stairs and for effective cleaning whether it is vertically or horizontally and strong 5.5 amp motor for suction with a stretch hose.
3

 Black & Decker CHV1510 Dustbuster
This vacuum cleaner is a fantastic one as it has a lot of benefits such as targeting dirt in tight spaces, no loose items to misplace, easy to see dirt and easy to empty, hygienic cleaning, ideal for quick cleanups and it can save energy and help in protecting batteries. Also, it has many good features including rotating slim nozzle, wide mouth design for large debris, lightweight, portable, removable and Washable dirt bowl and filter for easy hygienic cleanup. So, it can make your life easier.
2

 iRobot Roomba 650
With Roomba, you can remove dirt, dust, pet hair, and more with the ability to work on carpets, hardwood, tile, and linoleum. The only thing that you need to do is to press "clean" or enter a program that schedules the robot to clean for up to 7 cleaning sessions a week. This robot has many useful features that can simplify the cleaning process such as a 3-stage cleaning system for efficient vacuuming, Dirt Detect technology to spend more time cleaning the dirtier areas, iAdapt for cleaning all the areas that you cannot reach, automatic adjusting to tackle different floor surfaces and the most amazing feature is that it can be programmed to clean while you're away outside your home.
1

 Shark Rotator Professional Lift-Away (NV501)
Shark Rotator Professional Lift-Away (NV501) is ranked as one of the best vacuum cleaners for the amazing features that can be found in it including a detachable and portable canister that makes cleaning your home effortless, large capacity dust cup, cyclonic technology, washable filters, HEPA filtration, pivoting head, ergonomic handle, Anti-Allergen Complete Seal Technology, super quiet technology, ultra-maneuverable swivel steering to reach any place, extra-long (30-foot long) power cord and premium pet power brush. This amazing vacuum cleaner can be used on both carpets and bare floors making cleaning your home easier.
Other perfect vacuum cleaners from which you can choose what you like and suits your budget
Miele S 7580 Premium Class, Riccar Deluxe Brilliance, Sebo Automatic X 4, Oreck Touch, Sebo Felix 2 Premium, Hoover Air Pro Bagless Upright UH72450, Hoover Anniversary WindTunnel U6485900, Hoover Platinum Collection UH30010COM, Sebo Felix 4 Kombi 9825AM and Shark Rotator Pro Lift-Away Vacuum NV500.
So, there is a wide variety of perfect vacuum cleaners from which you can choose what changes your house and makes it more comfortable.