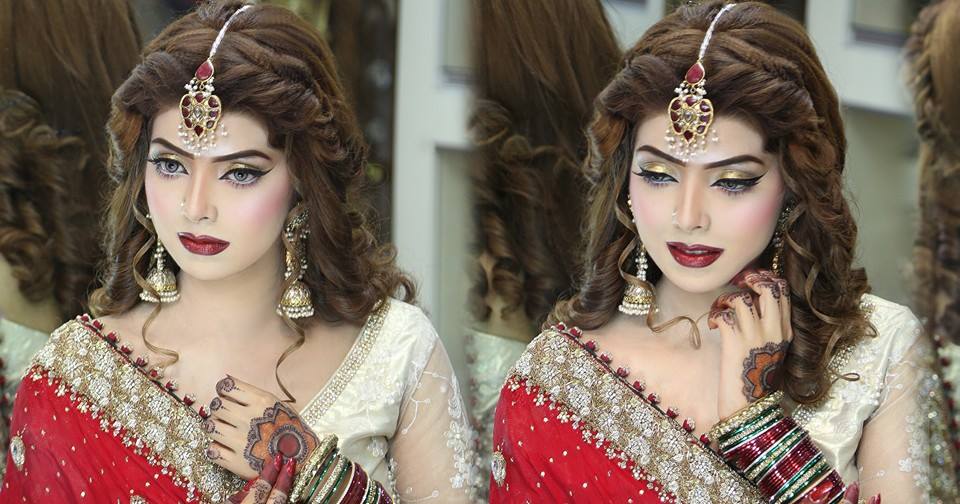 Makeup Artist is one of the new jobs that became very popular in the last few years. The Popularity of job became very wide to the extent that there were awards given for this new profession in the entertainment industry such as the Academy Award for Best Makeup and Hairstyling and other several entertainment industry awards such as the Emmy Awards and the Golden Globes. There are many Makeup techniques such as Fashion makeup, Theatrical makeup, Special make-up effects, Airbrushing, Bridal makeup, and High definition. In the following article, you will find the top 10 makeup artists around the world.
10. Preeya:
Preeya is an Indian makeup artist who has a unique makeup style. Like all makeup artists she is specialized in bridal and engagement makeup and hairstyles. Though she is not that popular yet, she is trying very hard to prove her talent and to achieve success.
9. Roobia Din:
Roobia is an experienced and qualified makeup artist and hairstylist. Robia is specialized in Bridal, Editorial, Photographic, Fashion, Catwalk, and Vintage hair and makeup. Roobia is not only an amateur, but she is also a professional makeup artist. She gained a diploma in Makeup Artistry from L.A Makeup Academy. Roobia's career wasn't easy, she started by working in Department stores and suffered a lot until she proved her professionalism.
8. KritiDS:
KritiDS is an Indian young, creative and professional makeup artist and hairstylist. She worked as a freelancer with multiple photographers. In addition, she manages a Salon with her name where she does various types of makeup such as bridal, engagement, party, and photoshoot makeup. Although she is still young, she managed to achieve a respectable amount of success.
7. Pearypie:
Pear Amata Chittasenee who is known as Pearypie is an Asian well known makeup artist. She was raised in Thailand however, she has travelled to England and lived there for 8 years to study. She has worked as a makeup artist in London for 1 year, and then she moved back to Thailand and became Beauty and Fashion Influencer. Pear had cooperated with many different makeup and fashion local and international brands such as: Lamer Thailand, Maybelline, Too Faced, NYX Cosmetics, MAC Cosmetics, Tarte, Urban Decay, Make Up For Ever, and many other brands as well. Currently, she has many fans who love her works and are keen on following her.
6. Tal Peleg:
Tal Peleg is a passionate visual artist who is extremely talented. Tal does not do the normal makeup looks that all makeup artists do. Yet, she does a different kind of makeup that looks like a perfect drawing. You will find attached with the article, some pictures that will make your jaws drop from the surprise. Though Tal is still young, her talent is very big and unique.
Wayne Goss is an English talented and professional makeup artist. Wayne has a YouTube channel who has over 2 million subscribers. In addition, Goss is the creator and owner of the self-eponymous makeup brush line launched in September 2013. Goss started his career by reading makeup books that was written by contemporary artists such as: Way Bandy and Kevyn Aucoin. Then he study makeup artistry in London and trained professionally as a makeup artist. Though he is working as a freelancer Artist, his YouTube channel gave him big popularity.
4. Malak Ahmed:
Malak Ahmed is an Egyptian makeup artist who managed to achieve some popularity and success in the last few years. Malak is specialized in bridals and engagements makeup look and in fact, she is very talented. Her makeup looks are loved by various girls to the extent that many girls now dream that their wedding makeup will be done by her. In addition, Malak has a facebook page that have over 1,300,000 fans; most of them are girls and women who enjoy Malak's makeup.
3. Kashee:
Kashee is one of the most popular makeup artists around the world. Kashee's beauty salon is one of the largest beauty salon in Pakistan. You will find there a well experienced ladies staff that offers all different types of beauty services for women in a modern and good environment. The Salon is managed by both Kashif Asalm and Anum Aslam; and they are responsible for the makeup and the hair styling of the customers. Even though Kashee's makeup styles are not everyone's favourite, he managed to achieve a great success not only in Pakistan but around the whole world.
2. Saleha Abbasi:
Saleha Abbasi is an international professional makeup artist that founded SALEHA BEAUTY Cosmetics. Though she was a normal girl with high hopes and expectations not that long ago she is currently one of the most popular makeup artists worldwide. Saleha was very picky about the products she used on herself as well as her clients, so she wanted to create a cruelty free cosmetics line. Moreover, she gives online makeup classes for those who want to start their own makeup career as well.
1.Jeffree Star:
Jeffree Star is an American singer-songwriter, make-up artist, fashion designer and model. Even though Jeffree started his career as singer and he achieved a good amount of success, he did not stop there. In fact, his love for makeup since he was young always pushed him to follow another dream. So, he worked at makeup counters, freelanced and worked on many celebrities and weddings. And after 10 years of experience, he now gives makeup classes. In addition, in 2014, Jeffree Star launched his own cosmetics brand called Jeffree Star Cosmetics. His brand achieved great success and popularity among many people and celebrities as well.