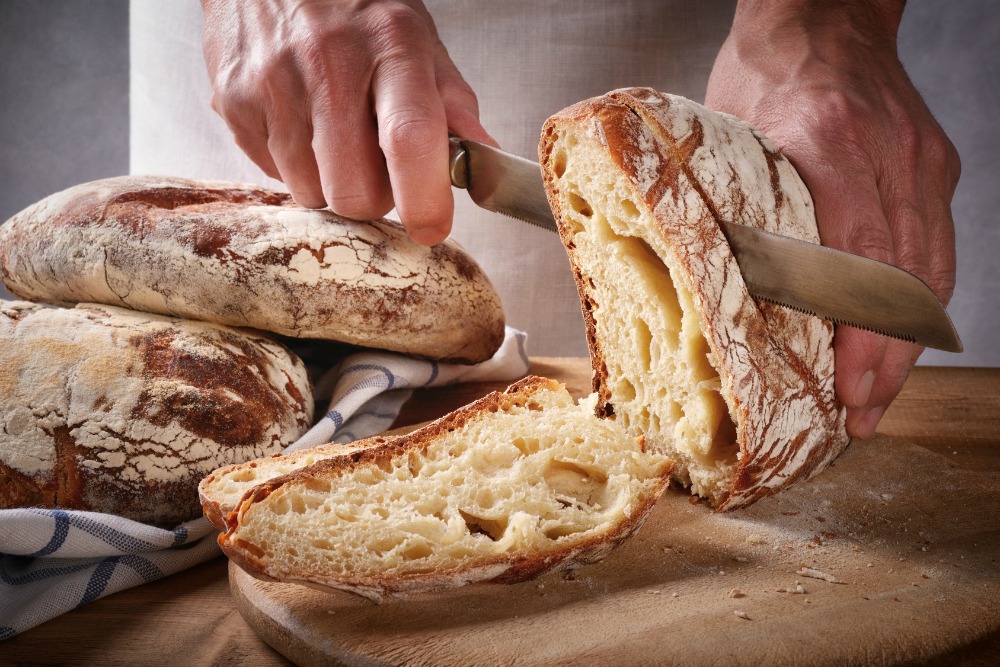 Bread can be good or bad, but the fact is that it is the key part of global diet. Staple to various nations across the world, bread is cheap, tasty, and easy to bake! However, many people avoid bread due to different reasons like fat, sugar, carbs, and gluten. You may come across many such reasons to consider bread unhealthy, but the right choice of bread can fetchboth convenience and health on your plate. When you talk about the healthy bread, one bread type that tickles the taste buds and tops the list is sourdough bread. It is one of the healthiest forms of bread available in distinct flavor that most of the foodies may admire.
If you are irked by the thought of eating a sour tasting bread then you may think again as here are some good reasons to include this mildly tangy delight in your first meal of the day followed by all other meals too!
1
Low on gluten
Gluten sensitivity is one of the most common problems experienced by many people around the world and sourdough bread is answer to this. This bread requires elaborate preparation like rinsing, soaking, and resting that breaks the protein gluten present in the flour. Breaking of gluten during the process of cooking may help those with mild gluten sensitivity.
2
Longer shelf life with fewer preservatives
Sourdough bread can be preserved for longer period owing to its natural acetic acid content, which prevents mold growth effectively. Self-preservation properties of sourdough bread helps it last longer without adding any harmful preservatives.
3
Quick on digestion
Starch present in the bread gets predigested due to the yeast and bacteria present in sourdough. The starch digestion process begins much before it reaches the stomach. It is digested faster than other bread types making it light on stomach.
4
Regulates blood sugar levels
Lower glycemic index of sourdough bread makes it healthier bread compared to other available breads. The blood glucose levels were tested for subjects after consumption of sourdough bread and the results were quite promising. Spikes in blood sugar levels were considerably reduced on consumption of this tangy bread.
5
Contains Lactobacillus
Sourdough bread contains good amount of lactobacillus bacteria known for forming lactic acid. The lactobacillus content is quite high compared to other bread types available in the market. Lactic acid fights phytic acid that is believed to be potentially dangerous. Higher production of lactic acid results into better absorption of minerals and also quicker digestion. This is the same bacteria that we find in yoghurt and yeast.
6
All Natural Ingredients
The ingredients used in making of this bread are all natural. You can use the sourdough starter available readily in the market or you can make it even more natural by preparing the starter on your own. However, this will require seven days' time for natural fermentation before you can use it for baking the perfect bread. If you have planned earlier and have seven days to wait then this bread can be made from a simple mixture of flour and water mixed and left for certain days to encourage the growth of bacteria.
7
Packed with nutrition
It is an awesome feeling to know that the bread you are eating is nutritious. Sourdough bread is not just a good source of carb, but it also contains vitamins and minerals that most of the breads may lack. It won't be enough to fulfil your daily need of nutrition but you can always expect moderate amount of minerals like potassium, zinc, iron, calcium, manganese, phosphorus, magnesium, and much more. Vitamins B1 to B6, B12, and vitamin E are also found in this bread.
8
Made with ancient art of cooking
The breads that we get to eat these days are all loaded with some kind of rising agents, chemical, and lot of yeast. Sourdough bread on other hand has ancient art of baking backing its health quotient. This bread doesn't contain unhealthy chemicals and yeast that accelerate the process of baking, but it is prepared in the most natural way as per the ancient art of baking that is much in unison with nature.
9
Checks weight gain
Another reason why bread is considered to be unhealthy is the sugar and carbs present in it. As mentioned earlier, sourdough bread has low glycemic index, which keeps you full for longer period and that makes it good for the weight watchers too.
10
It tastes really good!
This should be the first reason to have this bread, but if you are not convinced with the above 9 reasons to have this bread, then this last reason would surely work! Just put a piece of this mildly sour bread in your mouth and you will note the difference.
Sourdough bread brings with it an age old art of baking. Add the dash of health to your every meal with this naturally baked tangy delight.