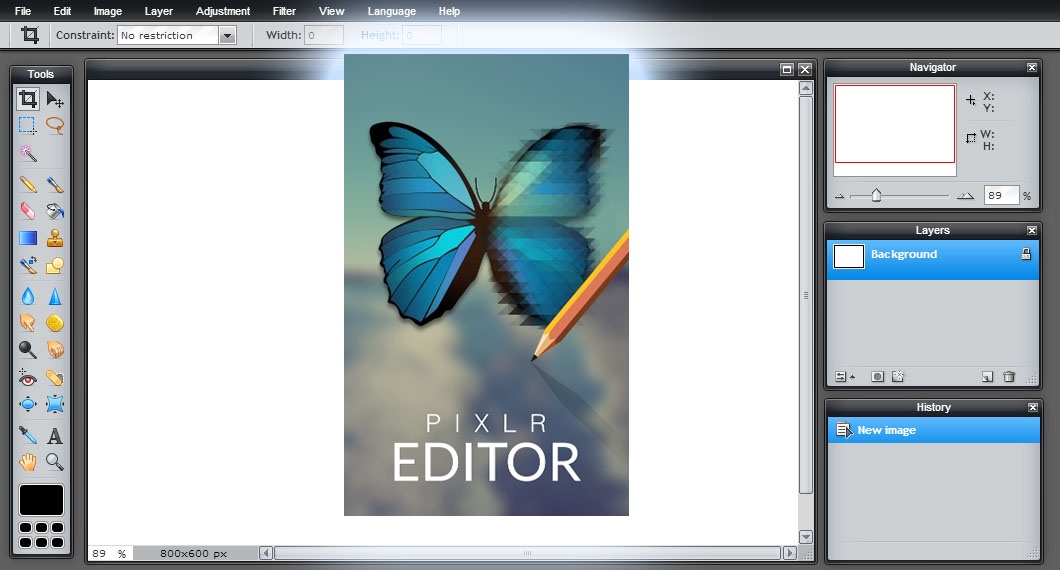 Photography
Best Online Photo Editors That You Should Know
If you need to quickly fix your photo without downloading any software, use these web services. Almost all of the photo editors on this list are free but offer premium services at reasonable prices. Most are based on Flash technology, so make sure that your browser supports the Adobe Flash Player plugin before using it. Keep in mind that these are not professional photo editing tools. But these services can save you in case of an emergency.
1

Pixlr
Pixlr is one of the most functional online photo editors. Its interface is similar to Photoshop: there is also the main toolbar and additional ones with a history of previous actions and a list of layers. Pixlr has all the basic tools, including selection, filling, gradient overlay, blurring, and transformation of images. The editor is available in many languages, so you can easily understand its features. The created image can be saved in JPG, PNG, BMP, TIFF, and other extensions that you need.
A simplified version of the editor, Pixlr Express, is also available on the Pixlr website. It contains fewer tools and is designed for simple and fast correction of images. In Pixlr Express, you can crop the photo, change its brightness and contrast, apply lighting effects, leave the cool inscription font, add different filters, frames, stickers, and other elements. By the way, Pixlr Express features are periodically supplemented with new stickers, for example, in the theme of the current holiday.
Advantages: rich set of editing tools, simple management, you can choose a semi-professional editor or a simple and convenient for beginners.
The disadvantage: advertising in the free version.
2

Fotor
The simple and user-friendly interface of the Fotor editor includes five main categories of tools. The first category includes basic editing functions: cropping, rotating, resizing, etc. The next category is the various effects you can use to take photos in black and white, superimpose colored flashes, glare, and more. Next, are the retouch functions. Girls will especially like them, as they can draw new makeup, mask skin defects, improve the color of the face, and even change its shape. The following groups of tools are used to add text, frames, and stickers. After editing, you can save the photo to your computer or post it immediately to social networks. You can also create collages, greeting cards, and HDR pictures.
Advantages: simple interface, many interesting effects, and the ability to quickly share the result in social networks.
Minuses: the need to pay for additional content, advertising in the free version.
3

PicMonkey
PicMonkey is an online editor focused on usability. You can upload photos from Flickr, Dropbox, Facebook, or your computer and edit them using a variety of tools. PicMonkey makes it easy to perform basic operations from color correction to resizing, as well as to apply effects, textures (clouds, for example, or space), frames, and stickers. The Touch Up section contains many features for creating virtual makeup. You can also use PicMonkey to make collages or create business cards, postcards, and social media covers using predefined templates, but, anyway, we recommend offshore clipping path for business goals and objectives. Previously, the basic editor functions were available free of charge, but now you can only save the results after subscribing. But the developers offer a seven-day trial period for which there is no need to pay.
Pros: a large number of intuitive tools that are very easy to understand.
Minuses: no free version, and no possibility to edit photos with a resolution of more than 16 MPs.