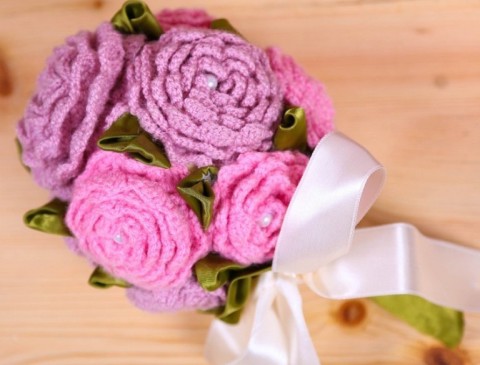 It is impossible to see flowers without being affected by their breathtaking beauty or dazzling smell when you come closer to them. Because flowers are really effective and can attract the attention of any one, they are presented as impressive gifts especially for women on happy occasions and they are also arranged in a creative way for being carried by brides as bridal bouquets at their weddings. Natural and fresh flowers are more impressive than other types of flowers which are artificial and can last for a long time and may be forever but do not have the same breathtaking smell of the natural flowers. There are many brides who do not like to be traditional on their wedding day and this is why they adopt creative and non-traditional ideas that make their wedding unusual and memorable forever because of being unique. If you are one of those brides who do not like traditional ideas and want to be unique on your wedding day, take a look at the following top 10 unusual bridal bouquet ideas which are really dazzling and fabulous. Make sure that you select the most suitable bridal bouquet idea that suits your taste, reflects your personality and matches your wedding theme.
10. Baseball bouquet
Do you like sports? Does your partner like baseball? If it is yes, then you can choose this baseball bouquet for your wedding. It features two unique colors which are white and red that are preferred by most of the women.
9. Just one big paper flower
Instead of carrying a group of small flowers which are arranged to form one bouquet, you can carry just one big flower that comes in different colors to surprise all the attendants who expect to see you carrying the traditional bridal bouquet.
8. Butterfly bouquets
Do you like butterflies? If it is yes, then why do not you carry them at your wedding? Butterflies are really fascinating and can be used in different sizes to form a breathtaking and unique bouquet instead of the traditional bouquet of flowers.
7. Edible bouquet
Do you imagine carrying a bouquet of different types of food instead of flowers? In fact, this is possible as there are bouquets which are created from different types of fruits and vegetables. Warning! Do not eat your bouquet before the end of your wedding. 🙂
6. Brooch bouquet
Are you one of those brides who like carrying luxurious items? You can get this at your wedding through carrying a brooch bouquet. This bouquet can be easily formed through making use of the brooches that you have and you can also get some from your mother and friends to finally create a fascinating and luxurious bouquet. Note: do not use those expensive brooches to create your bouquet.
5. Button bouquet
It is easy to create your bridal bouquet on your own through using different cheap materials such as buttons that you can easily find at your home and do not cost you a lot of money. You can use buttons in different sizes and colors to create the bridal bouquet that you want for your wedding without the need to purchase it.
4. Air plant bouquet
This type of plants looks strange especially when it appears in a bridal bouquet. You can use air plants alone to create your bouquet and you can also pair them with different types of flowers to make your bouquet more fascinating.
3. Feather bouquet
Feather is among the cheapest materials that can be used for decorating bridal bouquets. It is used for decorating different items that we use in our life such as accessories, clothes and more but to find feather in a bridal bouquet is strange and not traditional for most of us. Feather can be used alone or paired with flowers that match its color.
2. Seashell bouquet
It is perfect for beach weddings and is ideal for those brides who look for a creative bridal bouquet that meets their wedding theme and does not cost them a lot of money. You can create your seashell bouquet on your own trough making use of the different seashell bouquet ideas that are presented to you through different online sites.
1. Knitted flower bouquet
Bridal bouquets are usually created through using natural and fresh flowers or other artificial flowers that are made of paper, but what about crochet flowers? Crochet flowers are available in a diversity of patterns and they can be easily made at home to save money and create your bouquet as you want. Make sure that the colors which you choose match each other.
Other creative and non-traditional bridal bouquet ideas that will fascinate you
Which bridal bouquet do you choose for your wedding?
"Wishing you the best on your wedding day"