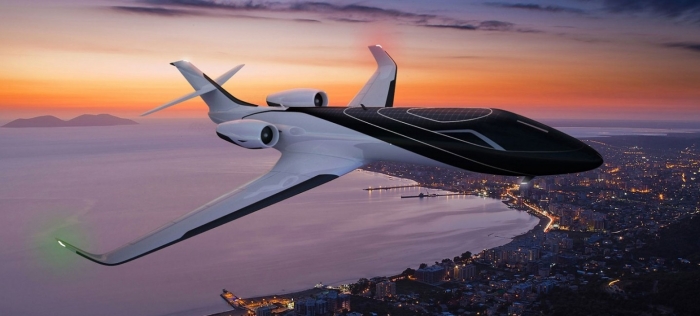 Travelling from one place to another is one of the most interesting things that you can ever do especially when you travel to a new place that you did not see before. In order to enjoy travelling, you need to look for a comfortable way that allows you to get to your destination. Travelling by planes is considered to be the most comfortable way for travelling as it does not tire you like other means of transportation and it also allows you to quickly arrive at any place without taking a long time. If travelling by traditional planes which are available for all travelers is comfortable and enjoyable like this, what is it like when you travel by a private jet that is especially designed for you to satisfy your needs and meet all of your requirements? Can you imagine that? Take a look at the following top 10 most expensive private jets to be able to imagine such a feeling.
10. Boeing Business Jet 2 – $73 Million
It is placed at the bottom of our list to be the 10th most expensive jet in the world. It is owned by Mukesh Ambani who is the richest man in India. It features a large space which is 1000 square feet, private suite that comes with a bedroom and bathroom and there is also an executive lounge that has a boardroom seating for satisfying the business needs of the owner of this plane.
9. Boeing 737 – $80 million
The 9th most expensive private jet in the world is owned by an American businessman. This plane originally costs $57 million and what increased its price to be $80 million are the interior changes that were made to improve it. It accommodates up to 19 passengers and offers sleeping facilities for eight of them. The plane also features other facilities such as a bedroom with a king-sized bed, a bathroom with shower, a kitchen which is fully equipped, high-definition video system, surround sound audio for more entertainment and there is also a conference room with connectivity for computers and smartphones to satisfy business needs of the passengers.
8. Boeing 757 – $100 Million
The 8th most expensive plane is owned by Donald John Trump who is an American business magnate, television personality, author and investor. This plane was not especially designed and made for Trump as it was used before by Paul Allen who is the Microsoft co-founder. There are several modifications that were made to customize this plane. It has many facilities such as a television room with a 52in flatscreen TV and a control box that allows Trump to access more than 1000 movies, master bedroom which features an integrated home theatre system and a work desk and there is also a bathroom with a circular shower and gold plated sink and faucets. The main and guest cabins feature gold plated seat belt buckles to finally give us a lavish and luxury plane.
7. Gulfstream III – $125 Million
It is owned by Tyler Perry who is an American producer, director, actor, author, playwright, songwriter and screenwriter. Perry's plane provides its passengers with all the facilities that may be needed to allow them to enjoy their time during flying as it features a theatre that has a 42-inch HD LCD screen, satellite TV, iPod docking stations, multiple Blu-ray players and theatre lighting with the ability to control window shades electronically.
6. Boeing 747-81 VIP – $153 Million
It is also known as "Dreamliner" and belongs to Joseph Lau who is a billionaire real estate tycoon from Hong Kong. Lau's plane features spiral staircases, vaulted ceilings, video displays on walls for more entertainment during a flight and there are also other facilities that are presented by this plane through using the latest technology to provide the passengers with a unique VIP class traveling experience.
5. Boeing 767-33A/ER – $120-170 Million
It is also called "Bandit" and is owned by Roman Abramovich who is a famous Russian billionaire and is the owner of Chelsea football club. This plane which is nicely painted was made to carry up to 300 passengers. It can accommodate a whole team to be easily transferred from one game to another. The lavish interior features a dining tale that is enough for up to 30 persons, gold decorations and there is an anti-missile system for more protection.
4. Boeing 747-400 – $220 Million
It is owned by the Prince Al-Waleed bin Talal of Saudi Arabia and was designed to accommodate over 400 passengers. The plane was modified after being purchased in 2003 to suit the Saudi Prince and fit his own needs. It features two lavish bedrooms, throne in the middle of the plane, dining table enough for 14 persons in addition to 11 flight attendants for serving the prince and ensuring a comfortable flight for him.
3. Boeing 747-430 – $233 Million
It is owned by the Sultan of Brunei who is known as one of the richest rulers in the world. It originally costs $100 million and what increased its price to be $233 million is that it was customized to satisfy the Sultan of Brunei. The interior decoration of the plane makes it really luxurious thanks to the gold details that can be found in the whole plane. Gold and crystals are used for decorating the bedroom, living room and even the bathroom that has gold sinks which are made of solid gold.
2. Airbus A340-300 – $350-500 Million
The 2nd most expensive plane on our list that is also known as "Bourkhan" is owned by the billionaire Alisher Ashmanov who is known as the richest man in Russia. It is also the largest private plane in Russia to be even larger than that of the President Vladimir Putin. The exterior part of the plane is nicely painted and reflects the luxury interior design and decoration of the plane.
1. Airbus A380 – $500 Million
Coming to the most expensive plane in the world that is owned by The Prince Al-Waleed bin Talal, it is the 2nd plane on the list to be owned by the Saudi Prince as it seems that he is not satisfied with the first plane and this is why he purchased the second one. The original price of this commercial aircraft is estimated to be around $400 million and it was customized for the prince to cost $500 million. This lavish plane is highly designed and decorated to the extent that it is called the "Flying Palace". It features a prayer room which is provided with electronic mats that have the ability to be automatically directed to face Mecca. There is also a Turkish bath, concert hall, wellbeing room, boardroom, lift, spiral stairs and a garage that is large enough to accommodate a Rolls-Royce.
You are of course jealous of those persons who have such lavish private planes
Do you want to get one like them?
Unfortunately
It is an impossible dream