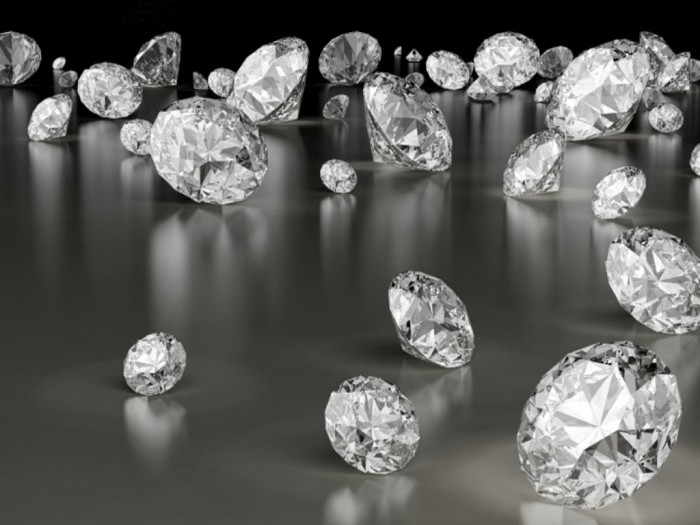 Who believes that just a small stone costs millions of dollars? These stones are diamonds that are used for manufacturing and encrusting the most magnificent pieces of jewelry in existence. A small stone that is placed at the center of a ring or bracelet costs more than one million dollars and this is because these precious stones are of high quality and can be rarely found. It is difficult to find that these costly diamonds are commonly sold because they are unaffordable for many people and are not available in large numbers. If you are curious about these diamond sand their prices, take a look at the following top 10 most expensive diamonds on earth. The prices that are revealed here are not accurate prices, but they are just estimation because the real ones are not known.
10. Moussaieff Red Diamond – $20 Million
It is also known as Red Shield Diamond. It weighs 5.11 carats and is cut in triangular shape which is commonly known as trilliant or trillion cut. Although this diamond is ranked as the 10th most expensive diamond on our list, it is the largest red diamond on earth. This red diamond was discovered by a Brazilian farmer in the 1990s and was cut by William Goldberg Diamond Corp. It was sold to Shlomo Moussaieff in 2001 or 2002 and is now possessed by Moussaieff Jewellers Ltd.
9. Cullinan Heritage – $35.3 Million
It is the 17th largest rough diamond on earth as it weighs 507 carats and has the same size of a chicken egg. This diamond was found in Cullinan Diamond Mine in South Africa. It was discovered in 2009 and is currently possessed by Chow Tai Jewellery.
8. Princie Diamond – $40 Million
It is a cushion-cut intense pink diamond that weighs approximately 34.65 carats. It was discovered in Golconda mines in India 300 years ago. This diamond is ranked as the 3rd largest pink diamond on earth and it was auctioned by Christie's in 2013 for $39.3 million.
7. Graff Pink – $46 Million
It is one of the rarest and greatest pink diamonds that can be found. It weighs 24.78 carats and was owned by the American celebrity jeweler Harry Winston. It was auctioned by Sotheby's auctioneers in Geneva in 2010 for $46 million. This emerald-cut stone is currently owned by Laurence Graff.
6. Wittelsbach-Graff Diamond – $80 Million
It is a fancy deep-blue diamond that weighs 31.06 carats and was originally known as Wittelsbach Diamond. It was discovered in India in 1600s and was sold in 2008 to Laurence Graff to be named Wittelsbach-Graff Diamond. The diamond was originally owned by Philip IV of Spain and is currently owned by Hamad bin Chalifia Al Thani.
5. Steinmetz Pink Diamond – $83.2 Million
This is its original name as its current name is Pink Star. It is a Fancy Vivid Pink diamond that was discovered by De Beers in 1999 in South Africa and was unveiled in 2003. It is the largest Vivid Pink diamond and it weighs 59.60 carats. It was privately sold in 2007 and it is currently owned by Isaac Wolf.
4. Centenary Diamond – $90 Million
It is the 3rd largest diamond to be produced in the Premier Mine in South Africa. It was discovered in 1986 and it weighs 273.85 carats. The diamond was cut by Geoff Woolett, Jim Nash and Gabi Tolkowsky and it was originally owned by De Beers.
3. Hope Diamond – $250 Million
This is the common name but it is also referred to as Le Bijou du Roi, Le bleu de France and the Travernier Blue. It is widely described as the most famous diamond in the world and is believed to be cursed. This large deep-blue diamond weighs 45.52 carats and it is currently housed in the Smithsonian Natural History Museum in Washington, D.C. The diamond was discovered in Kollur mine in India and was taken after that to France, Britain and is finally placed in the United States.
2. Cullinan Diamond – $2 Billion
It is the largest gem-quality and non carbonado diamond in the world. It is also known as the Star of Africa. It weighs 3,106.75 carats as a rough weight and was discovered in the Premier No.2 Mine in South Africa and this was in 1905. This magnificent diamond was cut by Asscher Brothers and was originally owned by Premier Diamond Mining Co. It is currently in the Crown Jewels of the United Kingdom.
1. Koh-i-Noor – Priceless
This name means in English the Mountain of Light. Its rough weight, before being cut, is 793 carats and is now 150.6 carats. It was discovered in Andhra Pradesh in India and was cut by Hortenso Borgia. The diamond is currently placed in the Crown of Queen Elizabeth in the middle of the front cross.