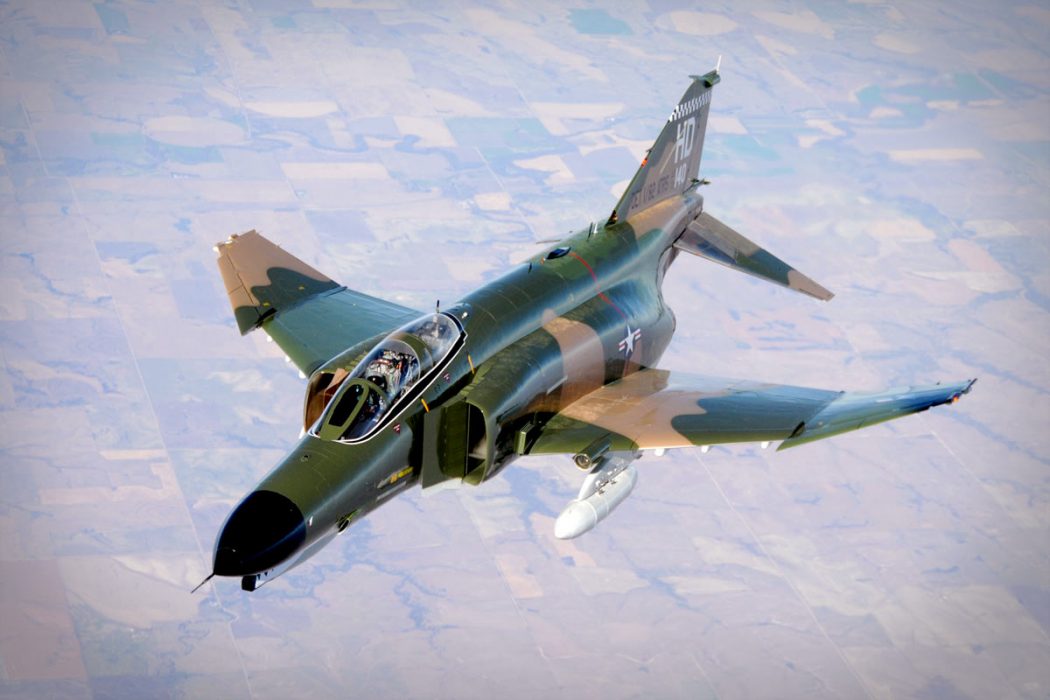 Fighter jets, or aircrafts, have been essential in the battlefield since World War I. These war equipments were viewed as the secret key for victory, although they cannot be used in battles as the only attacking weapons; there has to be ground-attack techniques as well. Aircrafts provide great assist, which is why every military always seeks air supremacy. The efficiency of a fighter jet is determined by several factors such as speed, size, maneuverability and definitely the skillfulness of its pilot. Being the top military, the USA possesses some of the world's best aircrafts. Here's their best 10 fighter jets.
10 A/V-8B Harrier II
Here's a McDonnell Douglas' aircraft, known as AV-8B Harrier II. It has a single engine as well as two seats, and is designed for ground attacking. This fighter jet performs both vertical and short takeoffs and landing. AV-8B Harrier was first created in the late 70's. Its main purposes are air support, defending the ground soldiers and light attacks. It was used by the Navy of several nations, besides the United States, such as Spain and Italy.
9 A-10 Thunderbolt II (Warthog)
A-10 Thunderbolt II, mainly known as Warthog or Hog, is a straight-winged American jet aircraft characterized by its twin engines. It was designed by Fairchild-Republic in the early 1970s. This jet's main purpose was to support and protect the ground forces. Its defenses are sort of limited, but it is capable of attacking several ground targets such as tanks and resistant vehicles. The A-10 Thunderbolt is considered one of the heaviest jets, weighs about 540 kg, and such heaviness is extremely competent in allowing it to bear several major damages, and survive.
8 F/A-18 Hornet
Another McDonnell Douglas fighter jet, with two engines this time. F/A-18 Hornet was originally designed to be both fighter and attacker aircraft. It has not only used by the US air forces, but many other countries as well. This fighter jet has incredibly high speed, and quite capable of carrying great amount of bombs and weapons. The Hornet performs different acts and is of many purposes, but its primaries' are defending fleets as well as guiding other fighters.
7 F-35 Lightning II
The Lockheed Martin F-35 Lightning II has single seat and engine. It is a fifth-generation multirole fighter that was created to perform ground attacks and air defense missions. This fighter jet's first flying process took place in 2006. Besides the fact that the F-35 was descended from the X-35, it also has three basic forms; the F-35A which has a straight takeoff and landing options, the F-35B designed for rapid take-off and vertical-landing options, and finally the F-35C which is a carrier-based variant.
6 F-14 Tomcat
The Grumman F-14 Tomcat is characterized by two jets, two seats, and a variable-sweep wings. The F-14 Tomcat was developed for the United States navy in the "Naval Fighter Experimental (VFX) program". It was first introduced to the world in the 70's; and its first operation as a US Navy's jet was replacing McDonnell Douglas F-4 Phantom II. This aircraft served as the foremost air superior fighter of the American navy, but it did not last for long as expected; the navy abandoned it in 2006.
5 F-15 Strike Eagle
The F-15 Strike Eagle was designed during the 80's, and it was commonly sent for military missions in several countries such as Libya, Iraq, and Afghanistan. It is characterized by its high speed and extensive air support. The F-15E has performed several profound strikes aligned with high-value aims and battle air patrols; it also provided close air support for alliance troops. The United States Air Force, or the USAF, differentiated between U.S Strike Eagle and the U.S Eagle by designing darker camouflage suit for the former. The F-15 is well recognized for its strength, and therefore has exported to a great number of countries.
4 F-117 Nighthawk
The F-117 Nighthawk is with a single seat and two engines. It was extensively used during the Persian-Gulf War in the 90's, and commonly known as the Stealth Fighter; the F-117 was also used during the battle of Yugoslavia under the control of the United States Air Force (USAF). It is the first operational fighter jet that was intended to be a secrecy technology, however, it was abandoned in April 2008 by the Air Force for the new versions F-22 and F-35.
3 F-4 Phantom
The F-4 Phantom is an outsized aircraft with an incredibly high speed. It has two seats and two engines. The Phantom is capable of carrying over 18,000 pounds, equal 8,400 kg, of weapons. This aircraft was widely used from the early 50's to the late 70's. McDonnell Douglas was the first to develop the F-4 Phantom II, and it was mainly designed for the US Navy, but later it was possessed by the Marine Corps and Air Force of the United States.
2 F-16 Fighting Falcon
F-16 Fighting Falcon is the official name for this jet, but it is actually called Viper by the pilots. It is a single-engine aircraft; it has been one of over 4,500 aircraft that were approved on in the 70's. However the US army no longer acquire this jet, it has drastically improved and is being exported. The F-16 was designed with a reclined seat to protect the pilot from severe damages; it also has a frameless top that is originally established for better vision. This jet was basically made by General Dynamics for the United States Air Force (USAF), but later it was sold to the Lockheed Corporation.
1 F-22 Raptor
The Lockheed Martin's F-22 Raptor has a single seat and two engines, and it is a fifth-generation of their fighter jets. It was primarily created to be an air superior fighter, and also designed for ground attacking, which means the ability to attack both air-to-ground and air-to-air. This aircraft is well-known for its strength, speed, swiftness and accuracy, which promoted it to be the most exceptional aircraft ever created.