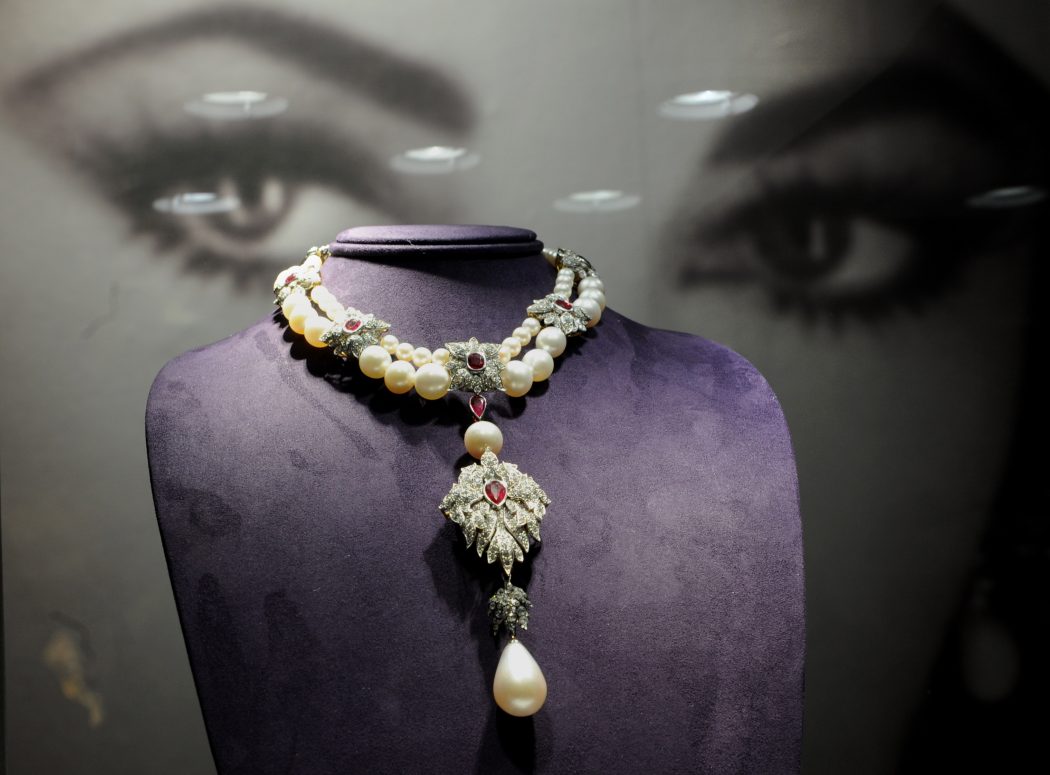 You can wear the perfect outfit and get praised for your choice and fashion taste. But, sometimes an outfit needs a delightful and chic piece of jewelry to compliment it. Here are designs of the world's most expensive necklaces. Whether you have millions laying around or not, they may inspire you to create your own necklace. I know your passion for jewelry will not keep away from this.
10 Leviev's Vivid Yellow Diamond Pendant [$10 million]
Created by the house of Israeli diamond tycoon Lev Leviev, the vivid Yellow Diamond Pendant is said to be available for the public, priced at $10 million and it may go higher if people go after it. Leviev himself found the stone in one of his mines and took advantage of it as he turned it into one of the largest cut diamonds in the world. It is pretty simple as the 77.12-carat vivid yellow diamond is suspended by a string of white diamonds.
9 Briolette Diamond Necklace or The Star of China [$11.1 million]
Sold at Christie's Hong Kong auction in May 2013, outshining every briolette ever auctioned. Interestingly, it was sold to Tiffany Chen, the vice chairman of China Star Entertainment Ltd, for $11,151,245 million. Then she named it "The Star of China". William Goldberg, a master craftsman, spent six months cutting a 160.5-carat rough diamond into such an output, the biggest perfect briolette diamond ever made. The alluring briolette diamond weights more than 75 carats with a purple-pink marquise diamond suspended to it. Smaller briolette diamonds are attached to 18-carat white gold chain, placed on it.
8 Elizabeth Taylor's La Peregrina [$11.8 million]
Among Elizabeth Taylor's collection, La Peregrina is the steepest. In December 2011, the necklace was sold for $11,842,500 at auction at Christie's New York to an anonymous buyer. It is a pearl, diamond, and ruby necklace made by Cartier. But, what is the story behind the necklace? Originally, the pear suspended in the necklace was found by an African slave in Gulf of Panama in the mid-16th century. Four centuries later, Richard Burton bought the pear-shaped pearl at Sotheby's auction in 1969 for $37,000. she entitled Cartier to design a ruby and diamond necklace for the pearl.
7 Begum Blue [$12.3 million]
The story behind the name "Begum Blue" consists of two parts: Blue is the colour of the blue heart-shaped centrepiece; however, Begum is the name of its former owner Princess Begum Salima Aga Khan, former British model Sarah ("Sally") Frances Croker-Poole. The necklace was a gift to her from her husband, His Royal Highness Prince Karim Aga Khan IV. In 1995, after the divorce, Princess Begum Salima Aga Khan gave it to charity, as it was sold at auction at Christie's Geneva and sold to Laurence Graff for $7,790,708 (or $12,309,266 today). The necklace has a 13.78-carat blue heart-shaped diamond, followed by a 16.04-carat D-color heart-shaped diamond.
6 Magnificent Ruby and Diamond Necklace [$12.99 million]
The necklace outdid Crimson Garlan as it has been marked as the most expensive necklace has ever been sold at auction after such potential was entitled to the Crimson Garlan. In summer 2015, it was sold at Christie's Hong Kong for $12,997,122 to a buyer who has refused to reveal their identity. Designed by Etcetera, the necklace has offered itself as a brilliant-cut diamond lattice-work band. Two rows of oval-shaped and cushion-shaped rubies are chained together with 13 internally flawless pear-shaped transparent diamond mounted in the centre.
5 Heart of The Kingdom [$14 million]
What makes a piece of jewellery impressive and expensive is the implication that it may contain rare gemstone, designed by a well-known jeweller or designer; or it has been worn by a celebrity in an important, cover-worthy ceremony. But, what if I told that a certain piece of jewellery can be crafted into another form of one. Yeah, it happened and here is the proof; Heart of the Kingdom is among Garrard & Co many's creations. Moreover, the 155 carat diamond necklace contains a 40.63 carat Burmese Ruby centrepiece. Truly, It is worth the $14 million.
4 Blue Belle of Asia [$17.3 million]
An alluring name with an implication, right?! Okay, let me put this for you! "Blue" indicates to the mesmerising blue sapphire, the centrepiece of the necklace; "Belle" means beautiful and Asia refers to the origin where it was first found in Sri Lanks, in 1926. In 2014, in Christie's Geneva, the necklace was sold at auction for $17.3 million. Anyways, the buyer's identity is never revealed. Designed by O.L.M Macan Markar & Co., the eye-catching 392.52-carat cushion-cut blue Ceylon sapphire was adorned by one of the hugest tantalising sapphires. Further, it is unheated and of Ceylon origin.
3 Heart of the Ocean Diamond Necklace [$20 million]
The name seems familiar to you, doesn't it? Of course, who does not know the queenly diamond necklace with the big, hypnotising blue jewels worn by the oscar-winning actress Kate Winslet, in the biggest hit of all time Titanic, in 1997? No only did Winslet reel us in with the blue sapphire diamond necklace, but also Gloria Stuart appeared, flaunting it at the 1998 Academy Awards. Winslet's necklace cost $10,000. Designed by the worldwide famous jeweller Harry Winston, the necklace has a 15 carat blue diamond and costs $20 million; which justifies the fact its presence on the list of amazingly high-priced necklaces.
2 L'Incomparable [$55 million]
The luscious piece of jewellery has found any rival in the market till now. Designed by Lebanese jeweller, David Mouawad, who founded his company in Beruit, Lebanon, in 1891. However, L'Incomparable was sold at Singapore Jewel Fest in October 2013 for $55 million. Unsurprisingly, we are dying to learn about the buyer's identity, yet it remains unrevealed as they stay anonymous. The necklace weighs 407.48 carats; moreover, it is convoluted by 18K rose gold branchlet. Further, 90 white diamonds are placed on the necklace, weighing approximately 230 carats. what makes it impressive is the fact that, in 2013, the 637-carat diamond necklace have set a record at Guinness World Records, as the world's most expensive necklace.
1 A Heritage in Bloom [$200 million]
The heirloom-quality piece of jewellery draws its uniqueness from the fact that there are no jewellery pieces in the world can be compared to such creation. Only then, we know that the Chinese artist Wallace Chan has outdone himself with his masterpiece A Heritage in Bloom. With his genuine passion for jewellery, Chan tended to create a mark of authenticity, and that original mark that makes sure that Chan's name remains on the top of the list is A Heritage in Bloom. The
top spot is currently held by the Hope Diamond
Necklace, owned by the Smithsonian Institution. The design is make of 104 carats with divine colourless diamond carved out and bought for $35 million. In other words, the necklace includes 19 more divine colourless and internally alluring diamonds, almost 600 pink diamonds, 114 icy green jadeites, and 72 white mutton fat jades. After all, it is a heavy necklace , weighing approximately half a pound.