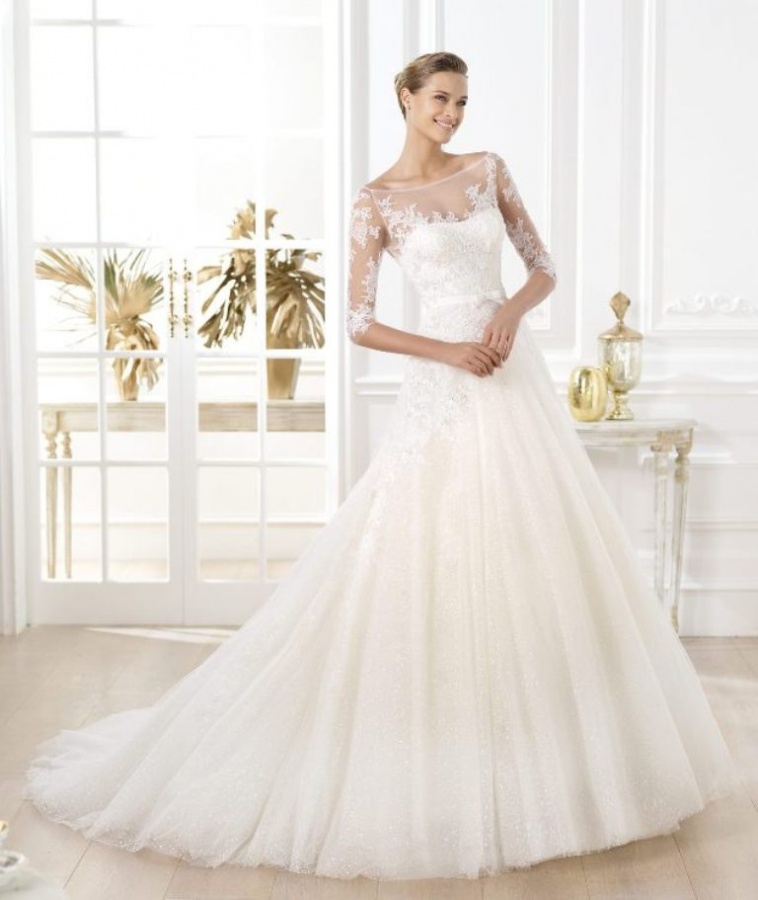 There is no girl who does not care about her wedding day and what it will look like in the future. All the girls care about the wedding dress that they will wear on their wedding day and give it most of their time after being engaged. Even those girls who are not engaged and are still single, dream of this day and the wedding dress that they will wear for just one time. We spend a lot of money on this single day and we may need to borrow money from others to be happy and to also make other guests happy. So, what should we expect from those girls who are very wealthy and belong to high classes and rich families? Can you imagine what do they look like on their wedding? Can you guess the cost of their wedding dresses which are worn for just once? Do you know why their dresses cost a lot of money? The answer is revealed to you here through the following top 10 most expensive wedding dresses in the world.
10. Victoria Beckham's Wedding Dress
Victoria Beckham's strapless wedding gown is one of the most expensive celebrity wedding dresses in the world. The cost of this magnificent wedding dress is estimated to be approximately £ 10,000 which means about $16,484.
9. 9,999 carats of gems Wedding Gown
It is also referred to as the glittery gown and is considered to be the most expensive wedding gown that can be ever found in Vietnam. This unique dress that was created by Huy Vo is embellished with a large number of diamonds and precious stones including 100 red precious rubies and 222 diamonds. All the jewels that are used for embellishing this dress weigh about 9,999 carats while the weight of the whole dress is nearly 40 pounds. The approximate price of this wedding dress is $158,874.
8. Platinum Wedding Dress
It is also known as Mauro Adami wedding dress as it was designed by the Italian designer Mauro Adami. This fabulous and off-shoulder sleeve dress is created through using luxurious and precious materials such as platinum and silk for knitting the fabric which is about 40 meters. The cost of this amazing dress is almost $395,626.
7. Kate Middleton's Wedding Dress
It is one of the best wedding dresses that were created in the last years. The Duchess of Cambridge's wedding dress has nine-foot train and is thought to be inspired by the dress of Grace Kelly. The silk net and lace details that were used for creating this dress give it an elegant and royal look. The dress was created by the luxury fashion house Alexander McQueen and it took months to be completely finished. The value of this royal dress is nearly $400,000.
6. Melania Knauss's Wedding Dress
It was made for Melania Knauss to wear it on her wedding day with Donald Trump. This costly wedding dress is made of 300 feet white duchesse satin and is embroidered with 1500 rhinestones, crystals and pearls. The whole dress weighs about 50 pounds and has a 13-foot train.
5. Peacock Feather Wedding Dress
You can guess from the name of the dress the main cause that makes it included in this list. The dress was created through using peacock feathers, 18k gold and is embellished with diamonds. It was designed by Vera Wang and it costs nearly $1.5 million.
4. Yumi Katsura White Gold Diamond Dress
This white gold diamond dress is named after its designer who is Yumi Katsura. The dress is made of satin and silk and is also created through using white gold. It is embroidered with an 8.8-carat green diamond, more than 1000 pearls and a 5-carat white diamond. The value of this dress is estimated to be approximately $8.5 million.
3. Diamond Wedding Gown
This stunning dress was designed by Martin Katz and Renee Strauss. It is embroidered with 150-carat diamonds through using lace and its veil is embellished with rhinestones. The cost of the dress is nearly $12 million. The dress is still unsold, so it is your chance to buy it.
2. Grace Kelly's Helen Rose Gown
It is an amazing and historical dress that was designed by Helen Rose for Grace Kelly to wear it on her wedding with Monaco's Prince Rainier. The dress that comes with a round collar and a fitted bodice was created through using 25 yards of taffeta and 100 yards of silk net.
1. Princess Diana's Wedding Dress
Who does not know or love this Princess? Her wedding dress is ranked as the most expensive one in the world. The most expensive wedding dress in the world was designed by David and Elizabeth Emmanuel for Princess Diana to wear it on her wedding in 1981 with Prince Charles. It is embroidered with 10,000 pearls, features a 24-foot train, a 50-yard lace, ivory silk taffeta and gold thread.
Have you ever dreamt of wearing one of the most expensive wedding dresses in the world?