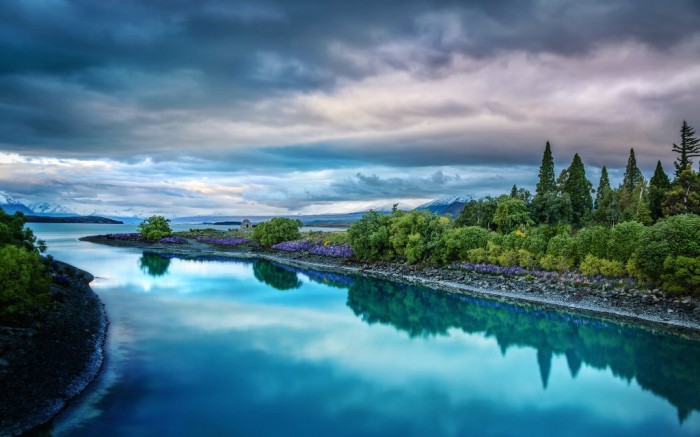 Countries
Top 10 Most Beautiful Countries in the World
All the places that can be found on earth are not the same. There are places that may look traditional for you, while there are others that stun you once you see them because of their breathtaking beauty which makes you feel that you moved from this plant to another place which is paradise. You may say that it is impossible to find a place like paradise on earth but the marvelous landscapes and the unique features that you can find in some places make you think that they are slices of paradise. The most beautiful countries in the world are the places where you can find what you are looking for in order to enjoy your time, refresh your body, relax your mind and give your eyes the chance to enjoy the dazzling beauty. Every country has its natural and man-made wonders that are more than enough for creating a beautiful country which attracts people from around the world to enjoy its beauty. Are you curious about the various beautiful and fabulous places that exist on this planet? Let's start our tour. Here is a quick glance at the top 10 most beautiful countries in the world and other wonders that exist on our planet.
10. Australia
It is one of the most famous tourist destinations that can be found in the world for the number of natural attractions that it has such as seashores, deserts, islands, lakes, grasslands and parks. You can enjoy watching whales in Hervey Bay and visiting the Great Barrier Reef, Fraser Island, Uluru, Kakadu National Park, Great Ocean Road, Kangaroo Island, Byron Bay, the Outback, Gold Coast, Blue Mountains and Namadgi National Park.
9. Brazil
It is full of a diversity of natural attractions that are visited by many tourists every year such as the Amazon Rainforest, Itatiaia National Park, dunes, Pantanal, Chapada dos Veadeiros, Fernando de Noroha, Ilha Grande and beaches in Santa Catarina and Rio de Janeiro. There are also other historic and cultural attractions that you can enjoy in different states in Brazil such as Minas Gerais and do not forget to pay a visit to Rio de Janeiro which is one of the most beautiful cities in the world.
8. Iceland
The beauty and peace that can be found in Iceland is really unique and is difficult to be found in any other place around the world. In Iceland, you can enjoy the best moments in your life through visiting what you did not see before such as the black sand beaches, the volcanic mountains, Gullfoss, Geysir, glaciers, the Blue Lagoon and the hot springs that allow you to relax your mind and refresh your body in spite of the cold weather that can be found in this country.
7. United States
It is not just one of the most powerful countries in the world, but it is also among the most visited countries that are known for their tourist attractions. The United States is renowned for its Hawaiian islands that are really breathtaking and amazing, Grand Canyon that is known by many people around the world even those who did not visit it, Monument Valley, Yosemite National Park, Yellowstone National Park, Mesa Verde national park, Mount Rushmore, Great  Lakes, Lake Tahoe and its clear water, Alaska and its extraordinary wildlife, Big Sur in California, the Great Smoky Mountains National Park and other natural attractions that you can visit in the United States.
6. France
Who does not dream of visiting this country and walking in its romantic streets? France has several breathtaking places to visit as it is known for its fascinating resorts, beaches, parks and gardens and it allows you to enjoy visiting the French Riviera, Provence with its several natural sites, Loire Valley, the Atlantic beaches, French Alps, Camargue, Mont Saint Michel, Verdon Gorge, lavender fields, Disneyland Resort Paris which is the most famous park in France, Vanoise National Park, Parc national des Pyrénées and Mont Blanc.
In South Africa, you can enjoy the natural beauty and the wide diversity of species that can be found everywhere. You can find animals around you whether they are in the private reserves, parks, farms or even in the road while driving or walking. South Africa offers you different places to visit such as the Kruger National Park, Kgalagadi Transfrontier Park, the Cradle of Humankind, Robben Island, the Cape Floral Region, Ukhahlamba Drakensberg Park and other natural landscapes that dazzle you.
4. Italy 
It is home to art, monuments and different historic places that can be found everywhere. In addition to the man-made attractions and the mouth-watering cuisine, you can also find other natural wonders including the Italian Alps, Capri Amalfi Coast, Lake Como, Lake Garda, Matera, Vesuvius and numerous islands that can attract you with their beauty such as Dino Island, Aegadian Island, Aeolian Islands and Capri.
It has all the fascinating natural attractions that you may need to enjoy your time and the beauty of the surrounding nature. In New Zealand, you can find mountains, lakes, pasture land, rivers, glaciers, geysers, flightless birds, beaches, islands and active volcanoes. You can visit Abel Tasman National Park, Bay of Islands, Aoraki Mount Cook National Park, Coromandel Peninsula, Hawke's Bay, Milford Sound, Taupo, Wanaka, Westland National Park and Tongariro National Park.
It is the largest country in North America in terms of its size and is renowned for its fabulous landscapes which make it one of the most famous tourist destinations in the world. The most important destinations and natural attractions that are visited by many tourists in Canada include Waterton Lakes National Park, Saint John River Valley, Terra Nova National Park, Niagara Falls, Cape Breton Island, Algonquin Park, The Interlake Area, Banff National Park and Jasper National Park. You can also enjoy the wildlife in this country in addition to spending the most interesting time while watching bears and whales.
It is blessed with many natural attractions and landscapes that dazzle you once you see them. It is renowned for its wildlife, mountains, hills, valleys, gardens, forests, canals, fields and coastlines. It offers us numerous natural places to visit such as the Cairngorms, Loch Lomond and the Trossachs which is the first national park in Scotland, Loch Ness, Glencoe, Ben Nevis, Torridon, Wester Ross, Skye, Islay, national nature reserves and other major destinations and attractions that allow you to enjoy your time in this country without getting bored or even feeling that you lack something to make your journey complete.
There are other countries that are ranked among the most beautiful countries in the world and are worth mentioning because of the dazzling and fabulous places that they have such as: China, Spain, Greece, Portugal, Germany, Myanmar, Chile, Nepal, Jordan, Egypt, Wales, England, Indonesia, Switzerland, Finland, India, Mexico, Japan and Slovenia.
Enjoy the serenity of these places
&
"Have a nice time"