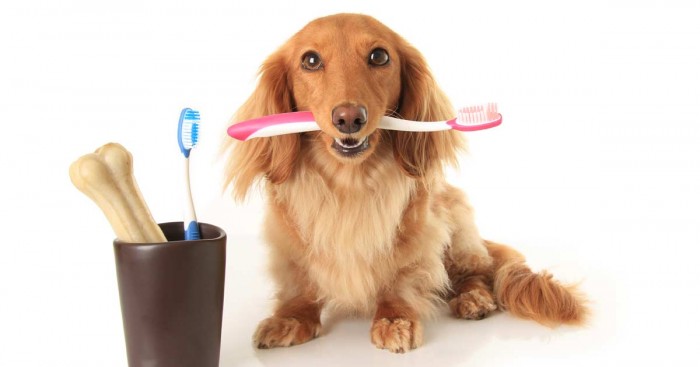 Animals
Top 10 Best Toothbrushes For Dogs
Dental disease is one of the known diseases that can harm the health of your pet. However, there are many specialists who can help you to protect your pet from such diseases. Tooth brushing is one of the most effective ways that can help you do so.   To protect your dog well, you should start early. You should take care of your young dog's mouth, which would make it easy for you to keep your pet's teeth and gum clean. You should also use a toothbrush with soft bristles that would make tooth brushing comfortable and pleasant. It would also make you able to clean areas that need a special way for cleaning. Veterinary toothpaste is recommended because it contains flavors that would make your dog excited.  Daily tooth brushing is recommended in order to prevent the buildup of the harmful plaque and tarter. Here are the top ten toothbrushes that help you protect dog.
  10KissAble Combo – with Toothbrush & Toothpaste
This is one of the dog toothbrushes that were designed in a special way. It was made in USA. It has a hand that you can grab easily. It also soft bristles and a wonderful cleaning design. This toothbrush enables you to wash three sides of your dog's teeth. It would help you protect you dog from heart diseases and gum infections.
9Petrodex – Toothbrush Dog Dual-ended Soft Bristle
It has a long handle, which would make it easy for you to clean your dog's teeth. You can get one of these neon colors toothbrushes and enjoy washing your dog's teeth. It comes with soft toothbrush which would make the washing comfortable. It has two tips of different sizes which enable you to wash areas that you can not get easily.
8  Petrodex – Finger Toothbrush Dog & Cat – 2 ct
This toothbrush represents innovation in the field of dogs' toothbrushes. This is one of the toothbrushes that are easy to use as you would just put it in your finger and start to clean the teeth and clean it from the harmful plaque. It is characterized by flexibility. It can be used for dogs of all ages.
7 EZDOG – Triple Pet Finger Brush
This toothbrush has its special characteristics that distinguishes it from all the finger toothbrushes available. It is designed in a way that would make cleaning a pleasing experience for you and your dog as well. It reduces choking. It has a good quality and an affordable price.
6 Four Paws – PetDental Starter Kit for Puppies
The kit of this product gives you a trial packet of toothpaste. The toothbrush has a wonderful long handle that makes cleaning easier. It reduces the buildup of plaque and tarter and provides your dog with a lovely experience.  It is a perfect one for all ages.
5 Denta Clean Finger Tooth Brush for Dogs
This toothbrush is very effective. It would clean teeth and gums, prevent tarter and plaque and make your dog's breath fresh. It is recommended for both medium and large hands. It is suitable for puppies and kittens as well. There is a rectangular square on the fingertip. It suits your finger well.
4. Nutri-Vet Dental Hygiene Kit
The whole kit of this product contains finger toothbrush, toothbrush and toothpaste. It is appropriate for dogs of all ages. It has soft bristles of a gentle touch. It can eliminate the bad smell and fresh the breath of the dog.
3Petmate Bamboo Quadbrush Dog Toothbrush & Holder
This toothbrush has a special design that would give you thorough cleaning. There are four bristle heads that make you able to clean all the three sides of the teeth. It has two varieties, the small and the large one. There is also a cover for the brush which would keep it intact and clean.
2EZDOG  Triple Pet Finger Brush Kit
This kit has a finger brush and toothpaste. It comes with soft rubber bristles for a gentle and pleasant brushing. The toothpaste that comes with it is non-foaming. Therefore, there is no need for rinsing. It plays a big part in reducing the effect of choking.
1C.E.T. Pet Toothbrush
It is designated for small dogs and cats. For sure your pet will accept the soft bristles of the toothbrush. It has a small head with reverse angle that makes it easy for you to deal with small dogs. It plays an important role in removing tarter and plaque that would in turn please your dog and give him a good health.
These are the toothbrushes that would give your four-legged friend a lovely smile. They would remove plaque, fresh the breath, clean the teeth and please your dog.