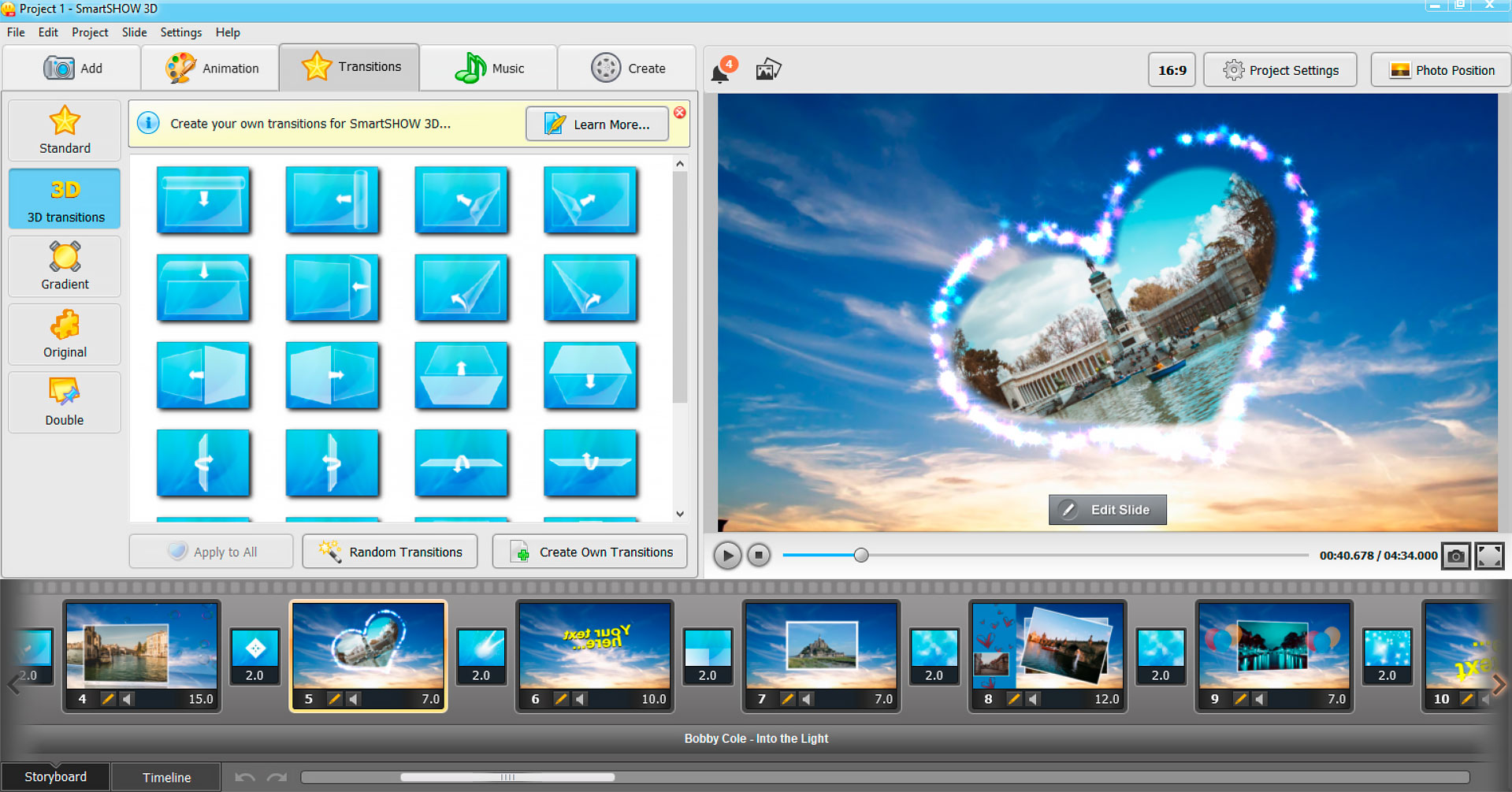 With the right slideshow software program, you can create stunning and impressive presentations that fit all kinds of situations. Whether this is making a birthday or wedding more memorable, creating a business video presentation to nail that meeting, or creating a school presentation to make that A-grade, slideshows are the best way to show off creative flair in a personalized way.  While it is quite easy to find numerous photo slideshow software options online, it can be hard to know which one is the best one for you. So, we've compiled a list of the top 10 slideshow programs for you to select from.
1

SmartSHOW 3D
SmartSHOW 3D is a simple to use video slideshow software that lets you jump right in, create a 5-minute slideshow, or choose to spend time customizing the 180+ slideshow templates and designs. The storyboard comes with a tab interface, drag and drop menu, and over 350 transitions with 100 professionally designed templates to choose from. Plus, you can select from its large library of music and sound effects or add in your own. 30 video formats too!
2

Photostory Easy
While the storyboard isn't equally impressive with this photo slideshow software, it does come with a hefty 72 transitions and almost 30 backgrounds to help you get that personalization that you want in your shows. Unlike other slideshow software, this one does allow you to adjust your images in the way of contrast, brightness, hue, and saturation. It comes with a large library of effects, the ability to burn to disc, and share to social media.
3

CyberLink MediaShow
This is a free and professional slideshow software that does something a bit different than the others on this list. It allows you to categorize and tag both your images and videos for easy access to any videos and images that you upload. It comes with 31 transitions, provides quick links for social media websites, and has an album content slider that allows you to preview media in their folders without having to open them. The program supports native files and works with 3D playback and even has built-in photo correction options like picture effects, red-eye fixes, and the ability to fix white balance, contrast, and lighting.
4

PhotoStage Slideshow
If you need a quite simple slideshow program for Windows 10, PhotoStage slideshow works well with its user-friendly interface and ability to fine-tune the brightness, saturation, and color of your photos.   You can add thousands of photographs, video clips, and easily add in narration and music. It comes with a simple drag and drop design, the ability to zoom, fade, and pan your slides, and the ability to add text captions and share your slideshow directly to social media. You can also burn it to disc. Effects are viewed in real-time, which is an awesome touch.
5

PicturesToExe
This is a fantastic option if you want a simplified slideshow program that offers basic transitions and a clean and uncluttered user-interface.  It comes with more than 50 types of transition effects, allows you to control the display time, and add in both video clips and text captions. There are no illustrations or clipart and doesn't come with as many editing features. However, it does have password protection and includes customer support.
6

Animoto
This one comes with a 14-day trial, which gives you access to the professional account. It comes with a very simplified user-interface but can only create one slideshow at a time to share or download. You can arrange photos, change your music, add a logo, and create transitions, as well as upload your video footage. It has professionally designed themes and a built-in audio library.
7

Slidely
This brand promotes itself as a leading video maker rather than a slideshow maker, but it has a "show" product that works as its slideshow software. It is well known across social media as you can create curated collections with it from your fellow creators. You can import both videos and images into the program and comes with the ability to mark your videos as private or public. It has many customizable options for transition speeds for photographs, and its main winning feature is its community-based sharing features.
8

Kizoa
While you can register with Kizoa, it does provide many of its impressive features for free without going through its registration process. It comes with an advanced editor that supports animations, effects, transitions, and music for interactive video creation. You can customize the position, duration, timing, and size of your video and images. The downside is that high definition is only supported in their professional plan, and their user-interface isn't as friendly as others.
9

Windows Movie Maker
While Windows Movie Maker is discontinued, being replaced by Movie Maker 10, it is still downloadable and one of the best on the market in the picture slideshow software category. You can combine all of your clips into digital movies, combine all of your photographs into a very-easy-to-view slideshow, and enjoy a very intuitive interface. It is super easy to use and preview animations, themes, transitions, and effects as you can hover over them to see what they do.  It offers voiceovers, a simple video editor, and some transition effects. The top toolbar in Windows Movie Maker is very similar to Microsoft Word, so learning the ropes will be quick and easy to do.
10

iMovie
If you have a Mac computer, whether it be an iMac or Macbook Air/Pro, iMovie is definitely one of the easiest to recommend with its elegant interface and clean, user-friendly design. The program includes a top left section for your photographs and videos, a top-right section for your slideshow preview, and a storyboard section below where you have access to your outline and storyboard. You can make Hollywood-style movie trailers, choose from a large range of professional-looking templates, and even include a studio logo, movie title, and credits! It cuts through 4K video with ease, and you can use AirDrop or iCloud Drive to work on the project from all IOS devices. You get extra-special effects, high-fidelity filters, simplified soundtracks, and studio-quality titles and animations.
Conclusion
While a lot of these slideshow programs are fantastic and simple to use, we would indeed recommend choosing SlideSHOW 3D over the others in this list. This is mainly due to the number of transitions, animations, and professionally designed templates that it offers. Making a slideshow should be about customization and personalization, and that's what SlideSHOW 3D provides. Plus, being able to make a 5-minute slideshow is pretty awesome.