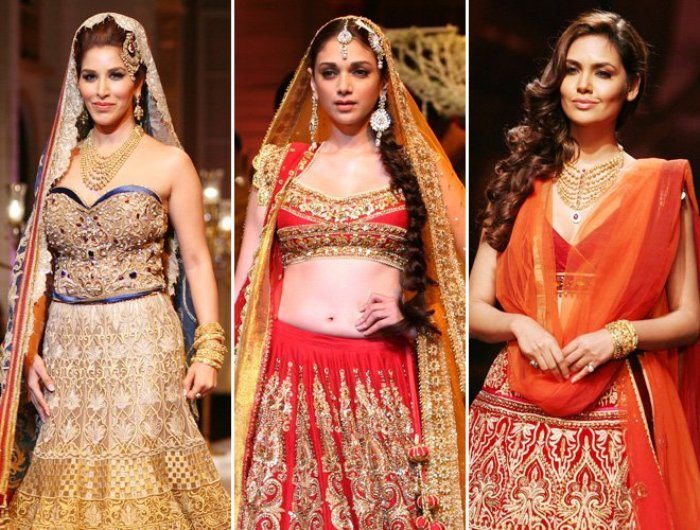 Fashion
Top 15 Elegant Women's Ethnic Wear Fashion Trends
The Indian fashion industry is continuously evolving to getting better with each passing day. So to keep up with its dynamic nature and not to miss any of its latest trends, check out below some of the stylist ethnic wear trends that will rule this year:
1
Indo Western Trend
Fashion Fusion is the new trend which is taking the fashion industry to a new level. Indo western wear is a perfect amalgamation of Indian and Western Wear to make you look chic and stylish. Tried out with various style combination and colors , this style will surely  make  you look ravishing and adorable.
2
Long Jackets with Palazzos
Pairing up the palazzos with the long jacket is yet another trendy look you can give a try this year. The best way to achieve this subtle look is to either have long jacket unbuttoned from the belly button or have a see-through floor length jacket over your normal crop top paired up with your palazzos to achieve a mesmerizing look.
3
Long Jacket with Lehengas
The long jacket with lehengas is yet another popular choice to go for this year. Long slit lehenga jacket either at the front or on the side will definitely shoot up your persona this wedding season.
4
Capes
Cape is the biggest successful trend which took the fashion industry altogether to a new level. Cape blends with any ethnic outfit you can think of. Team it up  with any of your lehenga, saree , gowns, anarkali; it will surely make you feel and look like a stunning diva.
5
Shirt style/high Neck Blouses
The high neck blouse designs in a new rage among the females to compliment their unique saree style quotient. High neck blouse patterns combined with either embroidery work, stone work or kundan work looks ravishing and classy. Another new trend which is experimented upon is the shirt style saree blouse .It's a perfect fusion where indo meets western and looks perfect for both the casual and festive affairs.
6
Slits
This season flaunt your versatile personality with slits. Slits combined with either on front or side of your dress will definitely make you look elegant. Try out your slit kurti with dhoti pants or with palazzos or even with lehenga to impart an ethnic grace to your overall look.
7
Silk Sarees
Silk sarees are a number one choice which was and is still ruling the fashion world. Its vibrant color, beautiful patterns and designs are captivating and never fail to capture the fascination of any women who wants to buy a silk saree. Silk sarees are made in every major regions of India. All have their unique fashion sense but once worn they all look beautiful and irresistible.
8
Floral Lehengas
Floral lehengas have sparked a fresh and refreshing look which is a delight to your eyes. This season ditch your heavy lehengas and go for this light and carefree look. Match up your floral lehenga with crop top or high neck sleeveless blouse or with a cape or long jacket – any of these styles will surely make you look alluring and eye-popping.
9
Phulkari Dress Design
Adopted from the popular ancient Indian work, this new "Flower Work" on the fabrics have glorified the fashion world. Simple plain dresses paired up with any of phulkari shawls, trousers , dupatta or jacket add the vibrant color and looks exquisite.
10
Sari Gown
Another successful fusion of traditional and modern look is the saree gown. Available for all body shapes and size and can be prepared with different fabrics; this style surely makes you look immensely beautiful and trendy. This fabulous piece of work looks ravishing paired with silhouettes.
11
Ruffled Gowns
Inspired from the western wedding attire, ruffled gown is the customized Indo western look which is getting popular among the brides. Available in soft pastel colors with beautiful gold thread work looks stylish and classy. The ruffles added to your gown will make you look no less than a princess.
12
Stylish Kurtis
Kurti is the most favorite choice of women for both the casual and traditional occasions. The most B-town divas like to experiment with their regular style kurtis to add an extra flavor of panache and femininity to their overall presence.
13
Crop Top and Skirts
Another trend set by our superstar celebrities is the crop top with skirts.Crop tops have now replaced the traditional choli or traditional blouse designs and looks fab with the lehenga skirts. Try different styles of crop top with your lehengas suiting your body shape to look beautiful and comfortable at the same time in every wedding function or other festive occasions.
14
Flowy Lehengas
Elegance and stylish are the two words that perfectly describe the flowy lehengas. The flowy lehengas have extra volume added with numerous pleats to give a fuller flare at the bottom and make you look breathtakingly amazing.
15
Stylish Dupattas
No ethnic look be it a lehenga , salwar suit or kurtis is complete without a dupatta. Dupatta be it simple or heavily embroidered adds the magical spark on your ethnic wear. Wide variety of fabrics ranging from net to silk to cotton  and ample designs are available to craft this beautiful piece of cloth to complete your ethnic look.