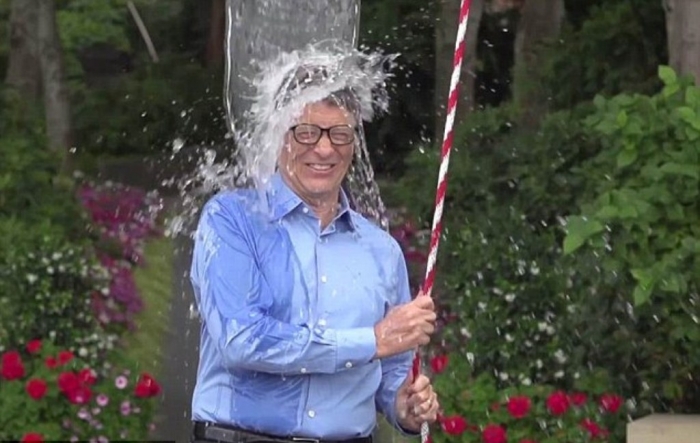 Do you sometimes feel that you are stressed or bored and want something that can allow you to get rid of this or even reduce it? One of the best ways for solving such a problem is to watch comedy and funny videos that force you to laugh and change your mood. Among the hottest videos that spread nowadays at an increasing rate are those which show ALS ice bucket challenge.
The popularity of these videos is not limited to a specific place or country as they spread around the world and go viral in an unbelievable way, but what is the story of these videos and why do people try to do that? First of all, you have to know the meaning of ALS which is the name of the challenge. ALS is short for Amyotrophic Lateral Sclerosis which is also referred to as "Lou Gehrig's Disease". It is a neurodegenerative disease that is very serious as it affects the spinal cord and the nerve cells that exist in the brain. It also makes the patient weaker and this increases over time which makes the situation worse and causes the patient to suffer more and more as it may lead to paralysis in the later stages.
Because ALS is a serious disease that requires increasing awareness and raising money for doing researches and curing the disease, ALS Association devised the idea of Ice Bucket Challenge that started on June 29, 2014 and those who do not want to participate in this challenge are asked to donate at least $100 to this association. It is easy to pour water over your head, but what will happen if you replaced ordinary water by iced water? It is impossible to imagine your feeling or what you are going to do until you try doing this. In the ALS ice bucket challenge, you need to pour a full bucket of iced water over your head and enjoy your time while shouting and shivering. These attempts are videotaped and posted on social networking sites such as Facebook, Vine and YouTube and you have to nominate or tag friends to participate in this challenge or ask them to donate money.
There are many people who participated in this challenge and did it successfully while there are others who failed to do it which turns the challenge videos into hilarious videos that are really interesting and even more attracting than other videos which show us successful attempts that are traditional and not entertaining like those which gone wrong with mistakes and fails. If you really want to enjoy your time, entertain yourself, reduce your stress, refresh your mind and also want to laugh while participating in raising money and awareness of this serious disease which is called ALS, take a look at the following top 10 most entertaining and hilarious ice bucket challenge fails you can ever watch.
10. Do not forget to keep the sources of electricity away from you before trying this like Mark Kaye.
9. Children cannot do this, they will make you fail.
8. Oh my God! It's blood.
6. This is too much.
5. Do not keep your mobile phone in your pocket while doing this challenge.
4. Ouch! Do you think that the helmet saved him from certain death?
3. She is certainly dead now.
2. Styrofoam coolers are not suitable for this challenge man.
1. Try to ask another one who is capable of carrying the bucket for you.
It is really an interesting thing to watch Bill Gates doing this by himself without even any help from others. He accepts the challenge in response to Mark Zuckerberg's nomination and he challenges other three persons who are Ryan Seacrest, Elon Musk and Chris Anderson.
What do you think of these videos? 
Are they interesting?