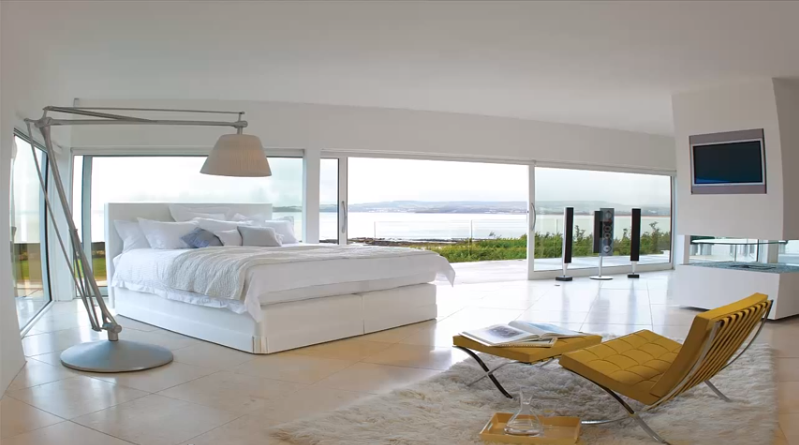 We all know that beds are beds which indicates that they all serve the same purpose, providing a place for good sleep and rest no matter what their sizes are, or how they look like. But no, this is not true anymore; with all the progress the world is witnessing, beds are no longer just beds. Some beds are created with a luxurious touch and for other different purposes more than just sleeping, but these kinds of beds are not actually affordable for everyone. You probably might come across one of them on TV or in a movie. Check out this list featuring the most expensive beds in our world.
10

Quantum Sleeper
Well, this is not just a bed; it is actually a WONDER BED. The Quantum Sleeper Bed is provided with very high technology and exclusive features. It can be locked down where you can sleep, hide to be more accurate, inside it. It is also provided with a ventilation system, oxygen sensors, alarm for intruders, and a toilet. We are not trying to exaggerate here, but these are the exact features of the Quantum Sleeper Bed, and that is the reason why it is worth 160,000$. This is fairly expensive for a bed, but it protects you from robbers, makes sure you are breathing fine, can be your secret place and it has a toilet so you will not have to walk long when your sleeping is interrupted; as a result, it is worth the expensive price.
9

Jado Steel Style Gold
Jado Steel Style Gold Bed is the best combination of luxury and technology. It is made of real gold and Swarovski crystals, which explains its price tag, 676,550$. But this is not where the magic ends; Jado Bed with its well-chosen mattress provides you with all the comfort you need and makes sure you are having a good time as well, for it is provided with DVD player, an internet connection, PlayStation and sound surround systems. It is loaded with brilliantly high technology capable of soothing you.
8

Sphere Bed
Sphere Bed literally embraces you, and the great thing about it is that you can customize its shape and color according to your own personal preference. This bed comes with a champagne holder as well as a set for TV to make sure you are having a good time; it is also laden with mirrors and LED lights. This bed is available at a price tag of 50,000$, which is still expensive for a bed, but it is the cheapest and most affordable price on this list.
7

Starry Night Sleep Technology Bed
Starry Night Sleep Technology Bed is genuinely designed to care for your well-being. It is customized for those who have sleeping disorders such as snoring, and its job is to reduce it or to heal it altogether. It sounds weird and unbelievable, but this actually happens, for this bed is loaded with sensors for snoring, they detect the vibration caused by snoring and tilt the bed to help you reduce or stop it. It also loaded with good technology features; an iPod slot, internet connection, and settings for temperature. This bed is also available at the cost of 50,000$.
The Monarch V-Spring Bed is one of the most luxurious and comfortable beds existing. What do you expect from a bed made up with more than three thousand springs? Yes, it is, beyond doubt, very snug, squishy and soft like a cushioned pillow. And this is probably the purpose of creating such bed; to make it feel mushy and restful for you upon coming home from a long exhausting day. The Monarch V-Spring Bed is offered for $50,000.
5

Cosmovoide Bed
The Cosmovoide Bed is actually a theater-themed one. It is unique in both shape and features as it is loaded with a full home theater system that includes TV, sound surround system and a DVD player. Oh! And there is a phone too, so you do not have to get out of bed. This bed is available at the cost of 60,000$, and this price makes it another affordable one compared to the others on the same list.
We all would agree that the Monarch V-Spring Bed sounded dreadfully soft and cozy, would not we? Well, this one, Majesty VI-Spring Bed, would absolutely beat it in its softness and elasticity, since it is made up of almost six thousand springs, yup, twice as the Monarch's, and it is utterly made of silk, cashmere, and cotton. The design also presents a handful layers of silver and gold. The designer put great effort into designing the mattress of such bed because, after all, comfort is all you look for when you purchase a bed. The Majesty VI-Spring Bed costs about $84,425.
If you are a person who loves the ultimate and most luxurious things, then here is another well-appointed bed that the world has to offer, the Parnian Furniture Bed. This is another hand-carved bed designed by Abdulhai Parnian, and made of gold, wood, and stainless steel. The lavishness of this bed does not stop at this point; it is also laden with brilliant technology such as a spinning TV and holders of iPads. This bed can be purchased at a price of $210,000.
2

Magnetic Floating Bed
The floating bed looks magical and quite cool; it is commonly known as the Magnetic Floating Bed, for it is designed with built-in magnets that weigh more than 680 kilograms. These massive magnets help in keeping the bed floating, but they are not the only thing this magical invention is made of; in fact, there are also sturdy wires attaching the bed to the ground in order to prevent it from drifting away. A bed with such a delightful attribute would, undeniably, be expected to be of a great cost and this is entirely true since it is obtainable at the price of $1.6 million. It is very expensive, but it is so cool too, right?
1

Baldacchino Supreme Bed
The internal design of the Baldacchino Supreme Bed is made of the optimum types of wood; Ash and Cherry; and it is with a classy canopy and over 24 carats of pure gold that weighs almost over 200 pounds. This bed is hand carved by Stuart Hughes, a famous designer, and there were only two of it ever crafted in the world. This bed costs $6.3 million, and it is, on the whole, the most expensive bed available in the market. If you are someone who is insanely wealthy and love to stick out of the mass, then this bed is totally for you.