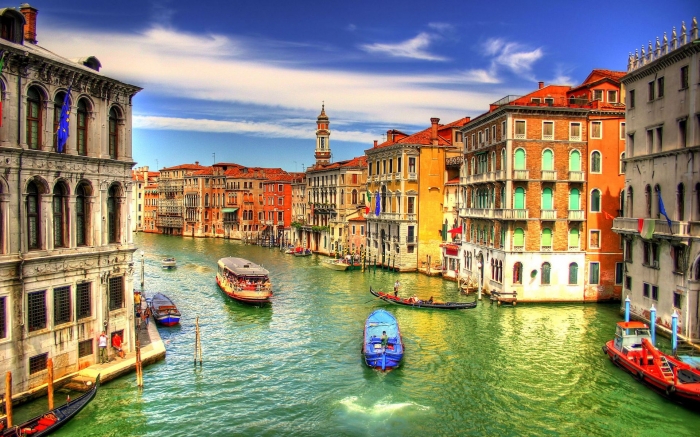 Our world became very small and easy to discover it .All counties have its own feathers and landmarks to attract visitors and tourists.  We will discuss at least to ten countries you can visit, interested and have a fun with its land marks.
1 Italy:
It is the best country in the world to visit. Italy is the symbol of beauty in the world. It has the most beautiful and famous landmarks all over the world. Such as
*Leaning Tower of Pisa
It is the most important land marks of Italy and is a very famous and well-known in the world.
*Rialto Bridge
The reason that make Rialto Bridge is known in the world is that the only way to cross the Grand Canal. This bridge was the reason that made a boom in trading and vogue in commerce at Italy.
*St Mark's Square
It is also a well-known landmark in Italy. This place feathering that is often crowded with people and at the same time is known to be a very claim place.
In my opinion, Those three landmarks sufficient to make Italy the best and top country to visit. But Italy also has more tourist attraction places so over 40 million foreign tourist visit Italy every year. Such as
*Lack Como:
its Italian lack district popular with fresh air and good weather, so tourists and visitors prefer this place to fresh their minds and relax their bodies.
All of those landmarks make Italy at the top to visit.

2 Second top ten countries is France:
When we say France the first thing light in our minds is Paris the city of light and fire. Paris the symbol of beauty .we will discuss Paris and France landmarks.
*Le Marais
It is well-known as a museum such as Picasso Museum, Museum of French history and Carnavalet Museum. This place also include many hotels and we can't forget that in this place the oldest houses and buildings of Paris
*Place Vendome
It's famous for giant and amazing hotels in france  such as Ritz hotel.
*Eiffel Tower
Needless definition. It is the most famous landmark in Paris and in France.
*Montparnasse
It is a historical place famous with music halls and café life .but the most important thing that the Montparnasse skyscraper is located there.
*AreDe Trimphe
It is stand for who fought during French Revolution and die for France .this place is very near from Eiffel Tower.
 Eiffel Tower
3
Spain:
The most attractive country to visit because it's amazing celebration and festivals such as:
*Autumn festival:
it is a musical festival attracts visitors who adore music.
*Feriadel Caballo
This festival express about Spain traditions and customs.
Now we will discuss the best landmarks and coasts in spain
*Palacio Real
(Royal Palace of Madrid) was built between 1738 to 1755
*Running of the bulls :
is a famous festival held each year of july during this festival people running in front of a dozen bulls.
*la Concha:
one of the best beaches in Europe
 Royal Palace of Madrid
4
Turkey
It is consider one of the countries those have an artistic heritage. Top tourist attractions as:
*Aspendos theatre
was built during the role of roman emperor.it is an ancient theatre and has been able to survive to those days without losing any of its original qualities.
*patara Beach:
it is the largest sandy beach found anywhere in the Mediterranean sea.
*Pamukkale :
(meaning cotton castle ) it is un real landscape .famous for its white terraces this  terraces are made of travertine.
*Bodrum Castel:
from it's name it's a castle located in Bodrum city .the castle now operates as a museum for all visitors
Those places the most famous places in Turkey that attract visitor. but there are many places also attractable  such as (Blue Mosque, Library of celsus and Hagia Sophia a master work of roman engineering .
Patara Peach
5 Japan:
The country of beauty and strange habits, traditions and customs. Tourist attractions in japan:
*Tokyo tower:
consider a great achievement of Japanese and express about advancement of technology and modern life
Tokyo Tower is the second tallest man made structure in Japan after Eiffel tower. Tourists and visitor can climb tower an interested with wonderful views as well as they can visit shops and restaurants.
*Tokyo Imperial Palace:
the home of emperor of Japan was constructed at Tokyo imperial palace
6
Brazil:
Brazil is the fifth largest country in the world. Brazil differentiates with Tropical Island, white sand beach and musical festivals.
The top tourist attractions in Brazil
*Ouro preto
Meaning (back gold) was founded at the end of 17th century. oure preto consider one of brazil colonial towns  that represent Portuguese colonial architecture
*theatro Amazonas
Amazon theatre in English.is an opera house in the middle of Amazon Rain fores.it was built by using materials from all over the world .Furniture from Paris, marble from Italy and steel from England, so it is wonderful theatre.
 *Slavador Beaches
Consider one of the best beaches all over the world
7
Germany:
Deserve to be at the top ten countries to visit. the top  tourist attraction places are :
*Romantic Rhine
Rehine is the river in Germany. Romantic is the most famous section of Rehine river .many small towns constructed along the river and those towns  became  a historical heritage today   in Germany.
*Landau
The historic city in Germany. This city connected with the mainland by bridge and railway. Landau is a very famous tourist attraction.
*Cologne cathedral
The most famous cathedral in Germany
*Holstentor
One of the two Lubeck city gates. The gate now considers a museum due to the giant towers around the gate at the entrance of the city. Holstentor consider as a symbol of  lubeck.
The other interesting and attraction places Oktoberfest the famous festival in Germany, Heidelberg old city the bridge located in the Neckar River. And Brandenburg Gate
For all those tourist attraction. Germany considers one of the best countries to visit and spending an interesting holiday.
8
Philippines:
More than 7000 island located in Philippines .famous for beaches, wonderful nature and historic sites. The most visited places and tourist attraction in Philippines.
*Mayon volcano
Visitors can enjoy a number of activities here such as camping, climping, hiking, bird watching and photography .
*Malapascua Island
A small island consists of fishing villages. this island famous for diving spots , sandy white beaches and crystal clear water.Malapascua Island The only place on the world famous for seeing sharks and wonderful views under the water.
This is not only the tourist attraction places in Philippines .There are another places such as Chocolate Hills and Boracay is an island with a beautiful resorts.
9Greece:
The country of historical and culture sites .the most famous county in the world with its islands, beaches and towering mountain. Famous tourist attraction in Greece :
*Myrtos beach
Amazing beach famous for its magical color of water. This beach express about the beauty in the world.
*Delphi Theatre
Represent the religion life of Greek. And it is a historical Theatre. Today Delphi Theatre is one of the top tourist attractions in Greece.
*Mykonos
IT is a Greek town famous for its sandy beaches, tiny streets, bars and nightclubs.
Other attractions places in Greece are Santorini is a volcanic island famous for dramatic views and white houses.
10
United Arab Emirates:
No wonder that Arab country occupies a place on top ten countries to visit. UAE became better than any European country. Today UAE consider as a piece from Paris.
The most popular places to visit:
*Dubai Museum
*Burg Al-Arab
*Burg khalifa
*Dubai Gold Souk
*Sheikh Zayed Grand Mosque
*Abu Dhabi Corniche
*Emirates palace
*Dubai Mall
*Palm Islands
All of those countries are the top ten countries you can visit and interested with its historical places, islands, Towers and its magic beaches.