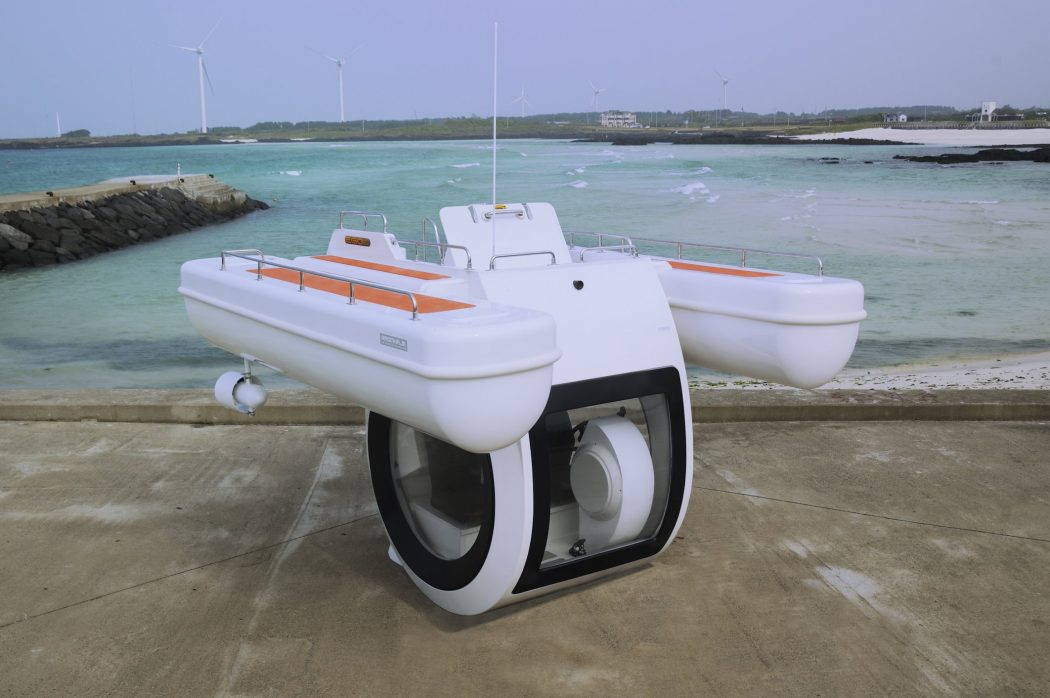 Who did not get killed by curiosity while watching little mermaid and her the underwater world, overwhelmed with the desire to learn more about them? Okay, if Ariel, the little mermaid, wanted to be part of our human world, then, we have to admit that which are ready to switch places and roles and get to know part of her world, the world undersea. Here are the world's most expensive and luxurious submarines, that gives you a close look at the world undersea, while offering you a luxurious and unforgettable deep-sea trip.
10 Nautilus VAS Luxury Submarine [$2.7 Million]
The Nautilus VAS is a massive and luxurious submarine. It can take up to eight passengers, taking them underwater to an awe-inspiring 6,500 feet, offering pure comfort to its lucky passengers. What are expecting from a private submarine?! It is more than you think, trust me! Traveling down to the depths with the Nautilus VAS is a truly inspiring experience we all dream of. Thanks to the airlock, the submarine allows the divers to exit the vessel while it's underwater and it also renders a close look at the deep sea, in order to immensely enjoy yourself.
9 Triton 3300/3 [$3 Million]
Triton 3300/3 is a submarine vehicle with numerous jaw-dropping potentials. The 13.3-foot-long, 9.8-foot-wide submarine can accommodate up to three people -a pilot and two passengers- to 3300 feet under. Owing to its transparent acrylic bubble, all three can have the time of their lives, enjoying panoramic views of the deep sea, powered by the vessel's powerful LED headlights. The machine's price stands at $3 million, including four weeks of pilot training, during which the owners learn and know more about the operation, the initiation, and the development of the submarine.
8 Marion Hyper-Sub [$3.5 Million]
The Marion Hyper-Sub is a cross between a powerboat and a submarine. It is like both, a powerboat and a submarine get combined to produce this functional submersible vehicle. On the surface, the watercraft can reach speeds of up to 40 knots owing to the 440 horsepower diesel engines it boasts. Also, its 525-gallon fuel tank gives it a range of 500 miles. Thanks to its self-charging, electric/hydraulic dive system, it can dive up to 250 feet. The submarine is made for 5 people to enjoy the sea trip while enjoying leather seats and a wooden interior.
7 Nomad 1000 [$6.5 million]
The Nomad 1000 is a submarine designed and undertook by diesel engines. The way Nomad 1000 functions is like this: it stays on the surface for a minute, then it goes under during the next phase. With re-charging batteries and high-pressure air tanks, the Nomad 1000 can travel up to 1000 nautical miles and get submerged, offering you up to 10 unforgettable, undersea days. Wait till you see this, it has 16 1000-watt quartz-halogen undersea lights for the sake of you desire for details of the
underwater world
. It is attached with a toilet and shower, a queen-sized bed, a galley, and it is so generous for almost 30 passengers up to enjoy trips in a submarine that can fo 1,000 feet under.
6 Proteus [$8 Million]
Designed and developed by Herve Jaubert, a French Navy commando who is also the CEO of Dubai-based luxury submersible makers Exomos. "An underwater bus," Jaubert says. However, it is also a 65-foot-long luxury yacht, that fulfills its purpose as it has been designed. Moreover, from 14 to 16 passengers can sit and take the Proteus submarine to underwater below the surface. The dry cabin can seat up 8 people inside for an incredible viewing. It actually bears the name of the mythological Greek sea-god, pretty interesting, huh?!
5 James Cameron's Deepsea Challenger [$8 million]
He conquered Hollywood by making the most two successful movies Titanic and Avatar -two of the most expensive movies in Hollywood. No only is James Cameron adventurous and spontaneous about he does, but also he wanted to explore the world underwater, the ocean. In early 2012, Cameron managed to be the second manned submersible -designed for research and exploration- to reach the bottom of the Mariana Trench, the deepest part of the world's oceans.
4 Paul Allen's Yellow Submarine [$12 Million]
Welcome to the luxurious life of Paul Allen, Microsoft's co-founder. He showed the money -$12 million- to buy this sweetheart. The submarine is marked with the yellow color as it has not been made in any other color. Further, it can stay in the sea up to a week since Allen was fond of having deep-sea trips; he also declares that he found shipwrecks while spending time in his beloved yellow submarine. It would not come to our surprise to know that Paul Allen is actually a member of a small, exclusive clique of ultra-rich underwater explorers.
3 Seattle 1000 [$25 million]
The Seattle 1000 is a huge 118-foot-long, three-story-tall with five staterooms, five bathrooms, two kitchens, a gym, a wine cellar, and a 30-foot-long by 15-foot-wide observation portal submarine. Its 3,000 maritime mile cruising range implies that it is made for you to cross Atlantic, taking you from one shore to the other. It also can stay underwater for up to 20 days and perhaps more, so it gives you with the ultimately unforgettable deep-sea trip that everyone dreams of. It stands at $25 million, marked as the third most expensive luxury submarine in the world.
2 Phoenix 1000 [ranging from $78 to $80 Million]
The Phoenix 1000, the second most expensive submarine in the world, has 10 bedrooms, gymnasiums, wine cellars, jacuzzis, and more. It's equipped with deck salon with an amazing view of observations, both on the surface and when submerged. It is a 65-meter private submarine, it is capable of going to a maximum depth of 45 meters, which implies that it is a means of transportation that gives you a deep-sea trip. Its interior area space is over 460 square meters. In other words, it boasts 5000-square-feet of interior space.
1 Migaloo Private Submersible Yacht [$2.3 Billion]
Oh yeah! The world's most
expensive and most luxurious
submarine-superyacht hybrid. Named after an albino whale. But what makes it special and impressive? Not only is Migaloo submarine/yacht, but also it is more like a floating city. Moreover, it boasts a 3-meter swimming pool, cinema room, helipad, library, gym, laundry room, and private lounges, elevator shafts, it a means to maneuver the levels, a two-level owner's suite, eight VIP-suites, and a spacious over-bridge pass. Migaloo Submersible Yacht costs an arm and a leg -$2.3 billion, which makes it the jewel in the crown, compared to other private submarines.