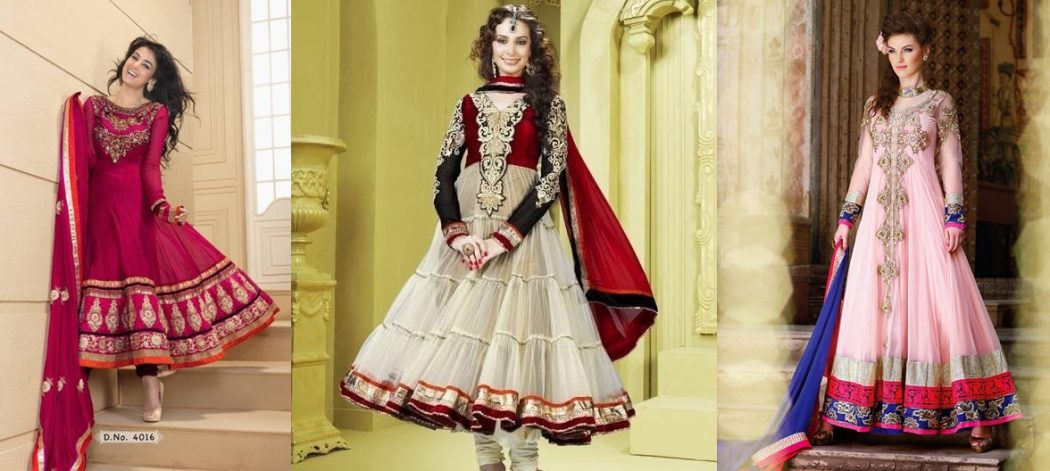 Fashion
Top Styles in Ethnic Anarkali Dresses To Sizzle Like a Diva
The irresistible charm of anarkali dresses is at the helm of the Indian fashion scene revival since the golden era of the Mughals. It's said that the term "Anarkali" was coined after the famous Mughal courtesan in Emperor Akbar's court, who enchanted spectators with her danseuse skills. Shifting through the sands of time, today the heritage of this grandiose ethnic outfit has become a fashion statement for every woman. Today, the beautiful anarkali dresses fit into the fashion scheme of every festive occasion. With a taut upper bodice blossoming into flamboyant "kalis" or flares at the bottom, anarkali suits arethe most coveted pieces of a woman's wardrobe. Anarkalis have become a fashion passion for women of all age groups and sizes, from the tall,lissome ones, to the petite,dainty types. The fitted embellished top is usually adorned in rich fabric of silk, chanderi, satin or lycra, paired with a frilled bottom in exuberant patterns of georgette, chiffon, net and crepe.
The trendiest anarkalis storming the fashion scene are lavish floor length ones, which are designed with stylish slits, lengths, layers and asymmetric patterns. Displayed in rich and elegant colors like turquoise, emerald green, teal, red, fuschia, magenta and maroon, anarkalis set the style code for every occasion.
From the sheer opulence of net layers, to the glitter extravaganza of resham, you'll always find an anarkali for any gala or sombre affair.
Seasons's Most Sizzling Anarkali Dresses Designs:
1
Georgette Coffee Colored Party Wear Embroidered Anarkali
Get a million dollar look and bedazzle onlookers in this plush coffee colored embroidered anarkali. The snug fit of the kurta flowing into the soft georgette flares, flaunting the intricate resham work, makes it a visual treat.
2
Exclusive Green and Gold Embroidered Anarkali
Step into the high-definition realm of designer anarkali suits, through the exotic rustle of this silk and santoon anarkali in green and gold. What truly makes this ensemble a piece de resistance is its ornate dori embroidery in vines.
3
Off White Georgette Anarkali with Rosette Embroidery
Capture the fresh, vibrant feel of a Bollywood diva, in this off white georgette anarkali, with red rosette embroidery. This attire packs loads of attitude to be flaunted at any occasion like a mehendi or engagement ceremony. Fashion tip: Velvet red high-heeled pumps and any ethnic danglerscan make this outfit even better.
4
Floral Net and Silk Designer Anarkali
Embrace the veiled magic of this blue overall floral designer anarkali. The colorful floral patterns peeking out of the sheer net layer make this outfit stand out like no other. It's best paired with swinging locks, blue pumps and metallic danglers.
5
Grey Matka Silk and NetEmbroidered Anarkali with Pink sequins
Delve into the mystic hues of this grey and pink embroidered anarkali. The exquisite pink sequins and stone work make it look like the will o' wisp of dreams. Polish the look with a top knot and floral earrings, and you're raring to go!
6
Blue and Off White Net Embroidered Anarkali
If you're looking for a downright regal splendour, then this off white and blue jacket style anarkali is ready to set the ramp on fire. With its ornate gold embroidery on the kurta and an elegant Chinese collar, you're definitely set to be declared as the catalogue queen.
7
Aqua and Beige Raw Silk Embroidered Anarkali
Catapult your dreams into reality, by donning the magical elegance of this aqua and beige embroidered anarkali. The unusual combination of beige on aqua blue is what makes this ensemble a standout. Top off this look with embellished blue heels to steal the show.
8
Green and beige net Embroidered Anarkali
Simulate a silver screen diva by flaunting this layered green and beige anarkali with rich zardozi work. The layered look of the kurta, the slender fitted sleeves and the gorgeous embroidery, infuses a retro charm for the ages. Grab a set of antique stone studs to add to the sheen.
9
Navy Blue Silk Anarkali With Silver Embroidery
This fantastic plush silk anarkali with silver zari work, is surely to send the mercury soaring a few notches higher and leave you awestruck. With a snug, short fit kurta and glittering embroidery at the bottom, sleeves and around the neck, you can shower your chic magic in this exuberant number.
10
Blue and Yellow Net Embroidered Anarkali
If you're falling short of brightness, then bring out this yellow and blue net embroidered anarkali. With perfectly embellished blue vines on the top contrasting the vibrant yellow flares, this anarkali leaves you completely wide-eyed and speechless.
11
Chanderi Silk and Crepe Blue Printed Anarkali
Pose like a diva in this royal blue and floral printed anarkali. The striking combination of floral crepe salwar topped with a rich blue silk kurta, gives you an unconventional look to rock any occasion. Soft pearl earrings and red lipstick is perfect for this look.
12
Red and Blue Silk Embroidered Anarkali
This exotic red and blue anarkali instantly gives you the impression of a Victorian gown. With fiery red flowers at the bottom and a dash of red border peeking out of the flares, you're nothing short of a showstopper in this ravishing ensemble.Fresh glowing make up with a cascading hairdo and minimum jewellery is what can set this outfit a class apart.
So are you all set to rock the ramp with these dazzling anarkali salwar dresses? You can find an unlimited number of anarkali designs online. These online shopping portals offer you custom fit anarkali dresses with a very friendly payment, return and exchange policy. If you're yet to begin your online shopping bonanza, then it's time to give it shot and purchase your favorite anarkali dresses online.