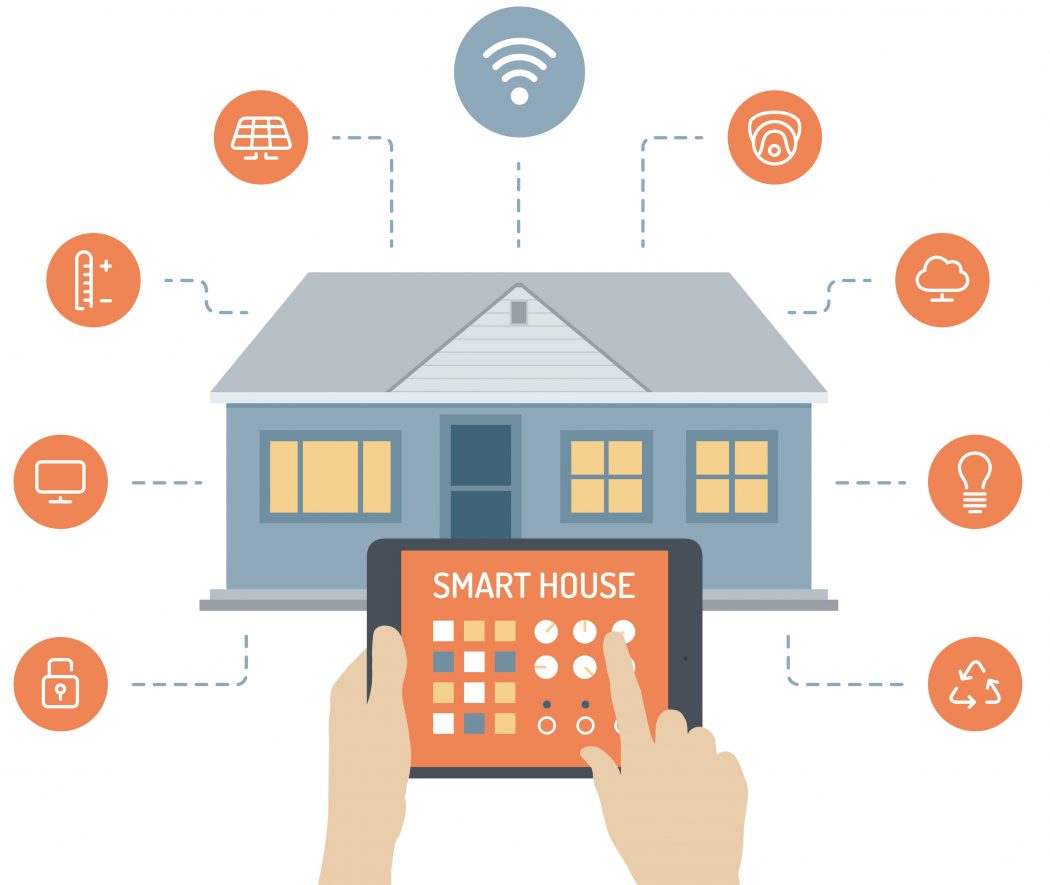 Home automation is almost exactly what it says on the tin – parts of a home which run automatically. More and more companies are working on ways to automate their products and services; we currently have quite a few electronic devices which are automated, such as fridges, lights, and sound systems, but the future could hold so much more in that vein. The one thing really standing in the way is money – creating an automated way of switching a light on or off is relatively cheap to manufacture; creating an entirely automated surveillance system is completely different.
The ultimate aim of automation is to connect people to their house more intimately – it is their home, and home automation will make them more comfortable. What if, aside from being able to come home to a house which was pleasantly warm and lit with a few well-placed lamps – they could also control the height of the chair they sat in from day to day through the use of micro actuators in the chairs design, or change the angle of table and TVs if there are guests. Perhaps they could even control the blinds just by touching a button, or giving a voice command in the future. An extra side to all of this is the better functionality that an automated home can give you: having lamps that can be switched on and off is a plus, but what if they can tell you how long the bulb has before it is worn out and needs to be replaced?
More and more companies are experimenting with the possibilities of home automation, and there are products which range from heating to sound systems available today. This article will consist of ten of the top smart home designs out there.
1

Thermostat – Nest 3.0

Nest is a thermostat and a Smartphone app which allows you perfect control over your boiler. The thermometer itself is a digital wheel which is almost like a clock face. There are two main advantages to using Nest: one, people can control the temperature of their home via the Smartphone app which connects them to the digital thermostat, letting put the heating off for the day, and yet have it turned on for them coming home, or for when someone else will be home unexpectedly. Two, Nest offers spectacular hot water control. This is particularly useful because hot water is something which is finite – it needs to be heated up by the boiler, which uses a lot of energy, and then kept hot until it is needed. Nest lets users control exactly when the hot water comes on, and also how much there is, so that there is a minimal amount of waste and loss of power.
2

Heating – Hive Active Heating 2

This home automation tool is a thermostat which attaches to your router, and from there, connects to your mobile devices, allowing for complete control over the temperature of your home, and the hot water tank. Having Hive installed will allow you to control the temperature, even switching the heating off if you will be away for longer than the day. The same can happen with the hot water heater, allowing you to save energy and water by controlling when it heats up, and for how long.

Hive also gives its users an additional piece of home automation in the form of schedule setting. Rather than manually adjust your thermostat every day (although that can be handy if you have a schedule which changes every day), Hive lets you put the heating and hot water on a schedule – on at a certain time, off at a certain time, to be on again yet again later. The schedules can be daily (again, useful for someone with a variable schedule), but also weekly and monthly if that is more appropriate.
3

Security Camera: Netatmo Welcome

This is a very basic security camera set which can be either wired or wireless, depending on what is more convenient for you. It is very compact, making it easier to blend in among the other items which might be in your home, making it more difficult for people to see. The video recording can be up to 1080 resolution, and while the Netatmo has its own memory card, it can be linked to Dropbox or another online cloud system, and upload video there too. The app also offer face recognition and alarm detection to its features.
4

Surveillance Systems: Netgear Arlo Pro

The Netgear Pro is a completely wireless entity, which connects directly to the cloud to upload its recordings. As well as having the accompaniments that would be expected from such a device, such as mobile upload, the flexibility of being wireless so it can be placed anywhere, and a USB port if something needs to be downloaded, the Netgear is fully water-proof, and possess full audio capabilities, which puts it a step above some other forms of home automated surveillance systems on the market. There are subscription options available, but they are not necessary for the basic service, which allows for video upload to and retrieval from the cloud.
5

Lighting: Hue

The Hue lighting range allows for two things: control over your lights, and a greater choice of what colour those lights are. Most bulbs we buy are either clear or pearl, and they give off a white light. To get coloured bulbs we need to buy speciality packs. Hue gives us a number of bulbs which can be put into a variety of sockets, allowing for ambience to be created by the effects of the different lights.

In addition to the coloured bulbs, Hue offers a hub which connects to the router in a home, which allows users to control the lights via their mobile device of choice. Thus, users can control when the lights are turned on, and also use them to create a specific atmosphere by dimming or brightening them as they choose.
6

Radio: Echo

The Alexa model has been called the 21st century answer to the radio, and it is that, but also so much more at the same time. It has what is almost a free-standing version of Siri, in that it responds to voice commands, but it also has a button on the top to control it. Echo is designed to be unobtrusive, but this is spoiled a little by the fact that it needs to be plugged in rather than being wireless. It takes in what you say and ask of it, and can respond by giving you headlines and weather reports ahead of the schedule of a normal radio.
7

Security: Smart Lock

Security systems are becoming more and more popular in the home automation scene, and while they take a variety of forms, Smart Lock is perhaps unique in its approach. Rather than replacing the locks entirely with an electronic lock which responds only to the proximity of a chosen smartphone, or collection of smartphones, Smart Lock fits over an existing deadbolt in order to connect the door it is on to a smartphone.
8

Coffee: NC-ZA1

There are already a number of coffee makers out there that have been integrated into home automation (it is quite an easy process when it comes to coffee makers), but NC-ZA1 in particular stands out as one of the best. It automates the entire process from grinding the beans to warming the cups, allowing users to enjoy a cup of coffee with minimal effort. The cleaning itself is mostly automated too, though the coffee maker can't clean the grounds out yet.
9

Baby: Withings Home

This baby monitor is sleek and wireless, allowing it to be placed almost anywhere it needs to be. It monitors many things besides the baby – it can give reports on the surrounding atmosphere, and sports night vision recording, as well as recording both sound and video normally.
10

All-rounder: Smart Thing

Samsung has created a product which is three sets of home automation in one: the multi-sensor deals with security, by keeping tabs on motion and presence within a home, the presence sensor connects with the locking system as a way for your system to know that it is you who are at home, and the power sensor lets you turn off commands to the other sensors. It also includes a smart switch, allowing users to control what is plugged into that switch.

Not only does this pack allow people to start in on home automation with a number of the most commonly used apps, it is also incredibly easy to add new home automation to the existing package.