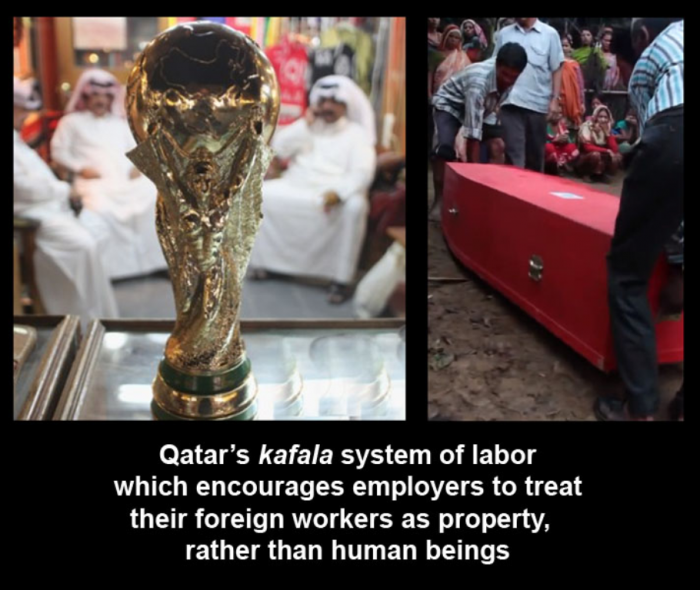 Lifestyle
Top 10 Photos of Enslaved Workers in Qatar for the Sake of the World Cup
Does making money really deserve killing people? Is it necessary to humiliate people for kicking balls? Will we return back to the age of slavery? And many questions that you will need to answer but after reading the following article.
It was announced before that the 22nd FIFA World Cup will take place in 2022 and will be hosted in Qatar which is the richest country in the whole world. Such an announcement will make Qatar the first country in the Middle East to host this international and important event. For this reason, Qatar witnesses great changes and is now improved to be ready for hosting the greatest and most important event for it. But who believes that constructing it costs a lot of money and lives before money? The richest country in the world, as it is claimed, treats its foreign workers like slaves without mercy and cannot ensure a decent life for them while building it. The poor workers toil for 15 hours a day and all what they get is just $8 living in bad conditions as if they are working in one of the poorest countries in the world.
Constructing Qatar for hosting the 2022 World Cup has led to the death of a large number of Indian migrant workers and their number is estimated to be more than 450 in the last two years. AFP reported that 237 Indian migrant workers in Qatar died in 2012 and there are other 218 Indian migrants who died in 2013. The average number of Indian migrants who die every month for constructing Qatar and making it ready for hosting the 2022 World Cup is approximately 20 Indian migrants. The largest number of dead migrants was in August 2013 as it recorded 27 fatalities. It is also estimated that 4,000 workers of those who work for constructing Qatar will die before the beginning of the 2022 World Cup.
FIFA said that all what it can do is little and it cannot save the poor Indian migrant workers from what they suffer and from being treated like slaves. In addition to that, there are FIFA employees who say that moving the World Cup from Qatar to another country after being decided is a "serious option" while there are others who said that announcing Qatar to host the 2022 World Cup was a big mistake.
Who believes that the RICHEST country in the world strip its foreign workers of their rights?
Are you with or against slavery in Qatar? 
Express your opinion 
&
Say it LOUDLY