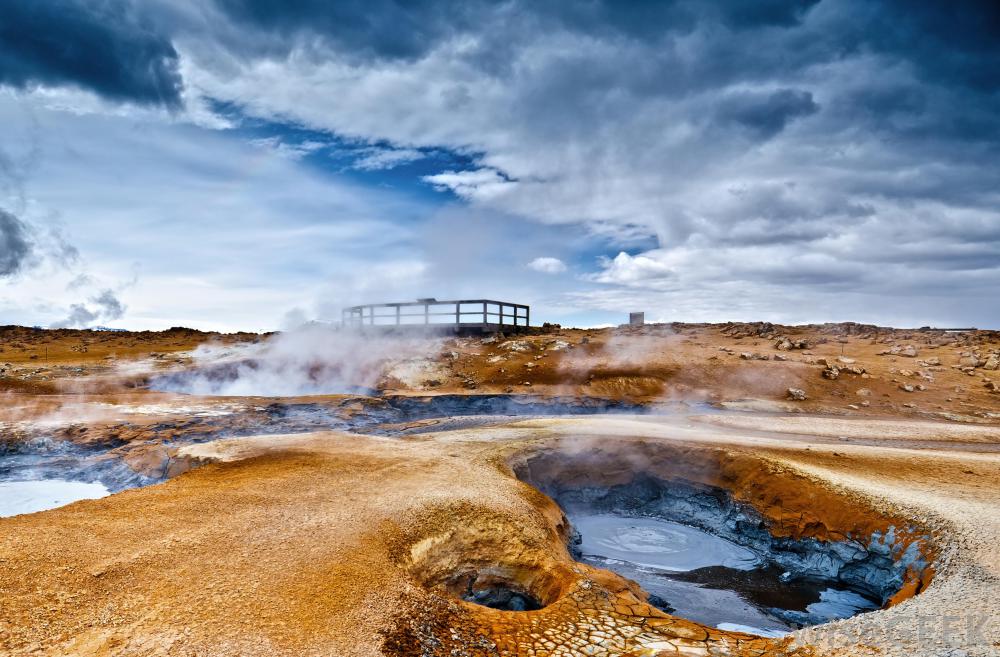 Energy is known to be the operator of everything. Types of energy have been used, some have been a success, pricy, cheap, nonrenewable, and so on. Yet a new type is called geothermal, it is a thermal energy produced and stored in the Earth. The Earth's geothermal energy is more than enough to provide humanity with all energy needs. So, in this article, we provide you with top ten countries producing geothermal energy.
10 El Salvador
El Salvador has a geothermal field called Ahuachapán that has provided energy since 1975. Barely two geothermal amenities are present in the little Central American country, the second is in the Berlin power plant. About 204 MW is its installed capability, and 14% is the National Energy Production.
9 Kenya
With 167 MW Installed Capacity and 11.2% National Energy Production, Kenya uses geothermal energy commercially.  The African country is located in Africa's Great Rift Valley, it is the first in Africa to use this sort of energy. The Great Rift Valley is a deviating plate boundary with extreme geothermal potential.  Kenya aims to augment geothermal capacity by 576 MW in 2017, to decrease foreign oil need and supplying 25%of the country's energy needs.
8 Japan
It Installed Capacity of the geothermal energy reaches 536 MW. About 3% is reported to be its National Energy Production. Japan is close to the Izu-Bonin-Mariana Arc, it is a convergent border of consisting four tectonic shields in the Pacific "Ring of Fire." The Asian country is located in a perfect place for the geothermal activity.  Mitsubishi Materials Corp. and J-Power at present lead Japan's geothermal endeavors.
7 Iceland
With about 30% National Energy Production, Iceland's five main geothermal power plants produce electricity for about one-third of the country and provide 90% of the energy required for water and buildings. Iceland's geothermal capacity is so vast that it in fact provides heat to city streets near geothermal fields all through the winter.
6 Italy
Italy's Installed Capacity attained 843 MW and 10% National Energy Production. Italy has the very first geothermal power plant at the Larderello dry steam field in Tuscany. Ancient Romans employed the geothermal heat in the area to temperate their water and control heat vents to have warm buildings.
5 New Zealand
Its Installed Capacity is 700 MW. New Zealand is the second country following Italy to use geothermal energy, in the European continent. New Zealand's geothermal systems have offered steady energy generation more than the other renewable energy sources. About 10% is provided to its National Energy Production
4 Indonesia
Indonesia attains 40% of the global geothermal capacity under its thousand of volcanic islands, according to about 28,000 MW of latent energy. Indonesia develops 44 geothermal power plants, to increase capacity to 4,000 MW, and the country has future plans to produce 9000 MW of geothermal energy by 2025.  Currently, 1,197 MW Installed Capacity of geothermal capacity are Indonesian, its National Energy Production reaches 3.7%.
3 The United States
The United States is one of the global leaders in geothermal energy production, about 77 geothermal power plants are American. Most of the United States' geothermal energy is derived from the western states, geothermal sources could offer about 20% of the American energy needs. The U.S Installed Capacity reaches 3,086 MW, while National Energy Production is 0.3%.
2 The Philippines
The Philippines employs geothermal energy since 1977, the country's initial geothermal power plant was constructed on the island of Leyte. Chevron is the biggest geothermal producer in the world, it has advanced more than $2 billion into Philippine geothermal energy systems, rising the Philippines. About 1,904 MW are the island's Installed Capacity, and 27% is the National Energy Production.
1 Mexico
The Cerro Prieto Geothermal Power Station provides 720 MW installed capacity. CerroPrieto is placed on the edge of the Mexican states of Sonora as well as Baja California Norte. Installed Capacity reaches about 958 MW, with 3% National Energy Production.