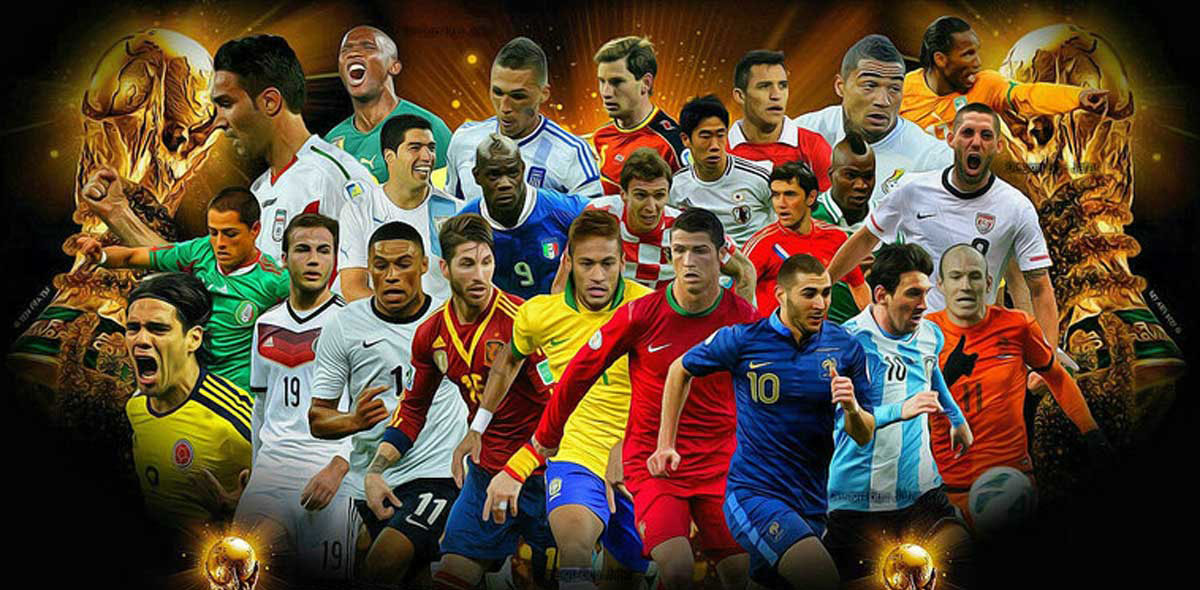 Sports
Top 10 Most Expensive Football Players in the World
As the days are getting by, football is increasingly becoming more popular than ever before. This has made the game to be more lucrative than it used to be as players, coaches, and everyone who is into the system in one way or another you seem to be smiling to the bank. However, it is important to point out to the fact players are the happiest as they are the highest-paid.
Are you wondering who the most valuable players are? Do you know that these individuals are worth more than what most people do imagine? The amazing thing is that clubs are cueing up to get their signatures. The major aim of this post is to have you exposed to some of the most expensive players in world football. There is no doubt that you only know how good they were on the pitch but you never knew that they could command such fees in the football transfer market.
1
Neymar
This is presently the world's most expensive player. Although his transfer to PSG during the summer raised plenty of eyebrows as regards his level of loyalty for whomever that will become his employer, there is no doubt that he is worth every penny spent on him. PSG was able to go that extra length
breaking the bank thereby paying his release clause of €213m
just to ensure that he becomes their player and someone who will help them achieve success in Europe. There are rumors that he may be heading towards the exit door after the football season. However, anyone that wants to get him should be ready to cough up around €400m.
2
Lionel Messi
It may shock you to know that
Lionel Messi
happens to be behind Neymar as he commands €202.2m in the transfer market despite all his achievements in the game. This is all justified given the fact that there are various factors that determine the value of a player in the transfer market. The most important factors are the player's ability and age. The latter factor seems to be always considered whenever a player is being sought after by other clubs. For a player who is over the age of 30 to command over €202m, it is fair enough.
3
Mohamed Salah
This Egyptian's stock seems to be
rising continuously
. He has been an inspiration to other players who must be experiencing deep in the form of their respective clubs. From being a rejected player at Chelsea, he went to Roma and made his mark. He has turned out to be one of the best players after being signed by Liverpool during the summer break.A proof of this is that he was able to rack up over 40 goals during his first campaign for the club. Even though he is valued at €140.5m, there is no doubt that Liverpool will be doing everything within its powers to keep its best player away from potential suitors. The 26-year-old's campaign has been a memorable one indeed.
4
Kylian Mbappe
This happens to be another of Europe's hottest prospect. He is the
most expensive teenager that football has ever known
commanding €192.5m. There have been lots of questions whether he is worth the amount which is employers (Monaco) have placed on him in the transfer market. The truth is that given his achievements over the past 18 months, there is no doubt that he can move on to achieve greater things in football. After all, there have been lots of flops in the game that attracted heavy fees but couldn't deliver for one reason or the other.
5
Paulo Dybala
Paulo Dybala
has been really impressive for Juventus ever since he was bought. He has been tipped as the next Lionel Messi in Argentina which hasn't helped in any way as his form for both club and country has been patchy. He is currently valued at €174.6m which isn't bad considering the fact that he is very young (24 years) and will only improve as the years go by. He is one of the
hottest players
currently in Serie A and any club that wants to win the race for his signature will need to do some really serious negotiating so as to convince his employers.
6
Dele Alli
Just as mentioned earlier, players from Tottenham aren't always sold for cheap.
Dele Alli
is simply one of the best midfielders in the game at the moment and as such commands, a whooping €171.3m in the transfer market. One thing that made this youngster's stock to rise surprisingly in the game is the self – confidence that he has shown in big games even at his age (22). Also, he is not only a midfielder that supports A team but also scores when the need arises.
7
Kevin de Bruyne
There are players who don't make the headlines but are still amongst the best around and Kevin de Bruyne seems to be one of such. Although he is currently 26 years old his understanding of the game is phenomenal in every sense. This is a player that
was pivotal to Manchester City's dominance
in the football season. It is no wonder he is being currently valued at around €167.8m. He is also a very strong candidate for the Ballon d'Or.
8
Romelu Lukaku
Romelu Lukaku
is a player who was initially referred to as the flat track bully by most football experts around the world. However, as time went on, he proved why Manchester United paid a whopping £75m for his signature. Even at the age of 25, it is interesting to know that he has been able to adapt to the ever-demanding nature of the English premier league. His exploits on the field for Manchester United have made his stock rise in the value of around €164.8m which isn't bad for someone who banged in over 25 goals in his first season with such a club.
9
Antoine Griezmann
Antoine Griezmann is one of
the best players in the world after Christiano Ronaldo and Lionel Messi
. He is 26 years of age and plays for Atletico Madrid. Although there are rumors that he will be leaving for another club after the football season, any club that wants to get his signature will be ready to pay a lot of money given the fact that he is valued at €150.2m.
10
Harry Kane
Harry Kane is gradually
becoming a household name
due to his achievements on the pitch with his current club, Tottenham Hotspur. The best part is that he is only 24 years old which simply implies he will only get better and better. Players who come from Tottenham are never sold cheap in the transfer market and Harry Kane isn't going to be any different as he commands about €194.7m. He is worth it though considering the fact that he has won the golden boot award over the last 2 years in England.