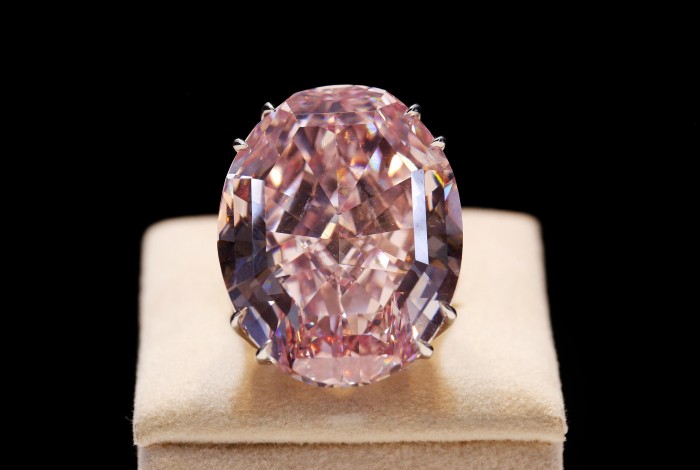 Diamond brilliance is incomparable due to many reasons. A diamond is classified as a rare one according to the following features: clarity, color, cut, and carat weight. Finding a match diamond to these attributes is an easy way to get rich. So it is a dream long sought by wealth seekers; it was the prime reason for political instabilities and disputes in central Africa and some other regions.
10 The Allnatt Diamond: $ 3 Millions
This diamond measures 101.29 carats (20.258 g) with a cushion cut. The Gemological Institute of America (GIA) rated the Allnatt Diamond's color as fancy vivid Yellow. The vividness of the color is really breathtaking.
9 The Moussaieff Red Diamond: $ 7 Millions
The Moussaieff Red Diamond is formerly known as the Red Shield Diamond. It measures 5.11 carats (1.022 g) with a triangular dazzling cut. It is the world's largest known red diamond. The Moussaieff Diamond's color is rated as fancy red by the GIA.
8 The Heart of Eternity Diamond: $16 Millions
The Heart of Eternity is a diamond measuring 27.64 carats (5.528 g), rated in color as "Fancy Vivid Blue" by the GIA. It was found in the Premier Diamond Mine of South Africa. It is really unique for its color and special cut.
7 Wittelsbach Diamond: $ 16.4 Millions
The Wittelsbach Diamond is a 31.06-carat (6.212 g) deep-blue diamond with internally flawless clarity. In 2008, Laurence Graff purchased the diamond for £16.4 million. Graff had the diamond re-cut by three diamond cutters to remove flaws. It is now more than 4 carats (800 mg) lighter and renamed the Wittelsbach-Graff Diamond.
6 The Pink Star Diamond: $ 25 Millions
The Pink Star is formerly known as the Steinmetz Pink. It weighs 59.60 carat (11.92 g), rated in color as Fancy Vivid Pink by the GIA. It is the largest known diamond having been rated Fancy vivid pink ever. Due to its unusual rarity, the Steinmetz Group took a cautious 20 months to cut it and then it was displayed in Monaco in 2003 in a public ceremony.
5 Century Diamond: $ 100 Millions
The De Beers Centenary Diamond is, at 273.85 carats (54.770 g). It is the third-largest diamond to have been produced in the Premier Mine. It is rated as D level by the GIA which is the highest grade a diamond can be classified due to its exceptional clarity.
4 The Hope Diamond: $350 Millions
This diamond is also known as "Le Bijou du Roi" ("the King's Jewel"),"Le bleu de France" ("the Blue of France"), and the Tavernier Blue, is a large diamond 45.52 carats (9.10 grams). A deep blue diamond (has been compared to Wittelsbach Diamond).
3 The Cullinan : $ 400 Millions
This Diamond is 3,106,75 carats (621.35 grams. It was found in 1905, in the Premier No. 2 mine, near Pretoria, South Africa. It was the largest until 1985 after the Golden Jubilee was found in the same mine.
2 The Sancy Diamond: (Priceless)
It is a pale yellow diamond which measures 55.23 carat (11.05 grams). It is thought to be of an Indian origin. The uniqueness of the Sancy diamond lies in the symmetrical cut of its facets.
1 Koh-I-Noor: (Priceless)
Koh-I-Noor means "Mountain of Light" in Persian. Before polishing it was 793 carats, but now the diamond measures 105 carat (21.6 grams). It is believed to be of an Indian origin too.
Indeed each and every diamond has its own beauty and special characteristics that made it worth to be on this list. Don't you wish to own any of them?