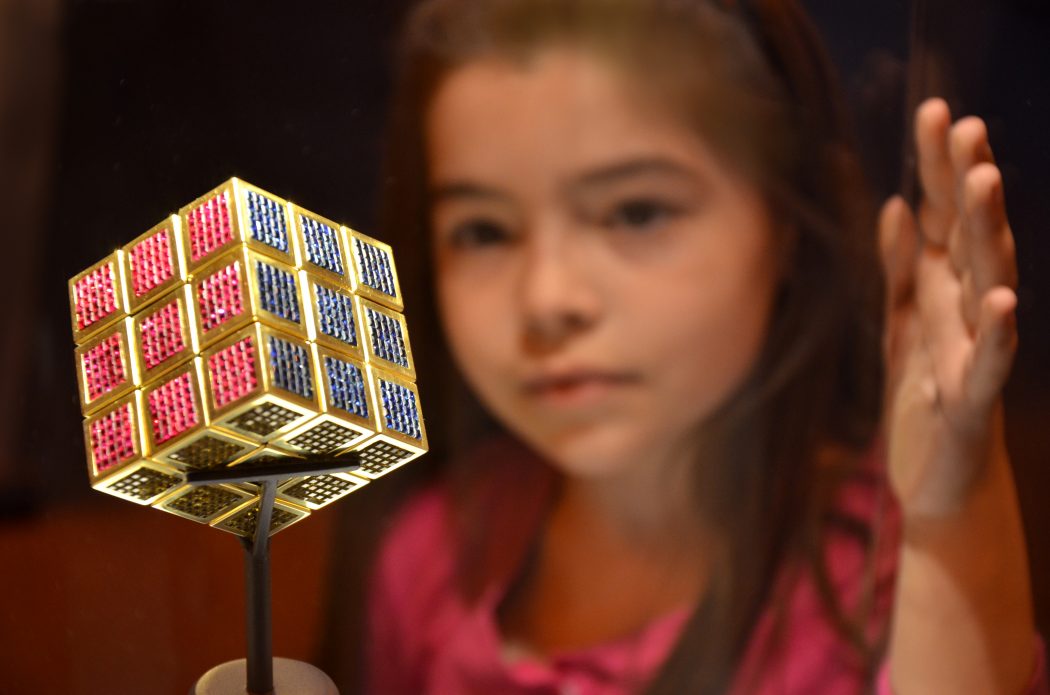 The expected prices for toys are pretty understandable if they are cheap. You know you can not spend a fortune on a toy that your child will get sick of and throw away after days from buying it. However, some designers in this list will surprise you with prices of the toys they have crafted.
10 Stefano Canturi Barbie or Diamond Barbie [$302,500]
Australian fine jewelry designer Stefano Canturi created this expensive Barbie by making one of the most desirable and worshiped doll by little girls. With a black strapless evening dress and a choker featuring a one-carat square-cut pink diamond, the doll has broken all the records. The doll was auctioned for Breast Cancer Research for $302,500 in 2010. However, the esteemed worth is between $300,000 and $500,000.
It took Stefano Canturi six months of hard work to craft this babe. Interestingly, the diamond necklace worn by the doll worth $300,000 alone.
9 Gold Rocking Horse [$1.28 million]
Who did not wish for a small wooden rocking horse in their childhood? Japanese Jeweler Ginza Tanaka crafted this 24 carat gold rocking horse, honoring the birth of Japan's only prince. The rocking horse weighs 80 pounds or around 26 kg. Interestingly, Jay-Z and Beyonce bought their one version of the toy for Blue Ivy from the same company and paid around $600,000.
8 The Masterpiece Cube Rubik's Cube [$1.5 million]
Shout out to those who love Rubik Cube and its colorful sides. You are about to be amazed when you find out that your favourite toy has version that costs $1.5 million. Why so pricey? Each side of the masterpiece cube contains 185 carats of queenly gems such as amethysts, emeralds and rubies. Moreover, our toy features 18 carat gold and each side has 185 carats of the above-mentioned gems: 22.5 carats of amethysts, 34 carats of emeralds, and 34 carats of rubies instead of stickers on plastic. In 1995, it was produced Diamond Cutters International. Unlike many other pricey games, the masterpiece cube is functional.
7 Golden Monopoly [$2 million]
It is one of the world's most expensive version of the Monopoly board game. It is estimated to stand at $2 million. The 18-karat gold and jewel-encrusted Monopoly was created in 1988 by San Francisco jeweler Sidney Mobell. It took Sidney Mobell one year to finish this masterpiece of a board game. "The set of dice alone is valued at $10,000, with 42 full-cut diamonds for the number dots. All of the properties that make up the game board are also set in gems, with some 165 gemstones in total," according to The Wall Street Journal.
6 Steiff Louis Vuitton Teddy Bear [$2.1 million]
With real fur, real gold and sapphire and diamond eyes, Steiff Louis Vuitton teddy bear is rendered one of the most expensive toys in the world as it costs $2.1 million. Dressed in Louis Vuitton travel gear and with a gold mouth, the teddy bear was actually created by the German toy manufacturer Steiff. This particular bear was auctioned at a 2000 Monaco and went to Jessie Kim of Korea. You can find it now in the Teddy Bear Museum in Jeju, Korea.
5 Shimansky Soccer Ball [$2.59 million]
Have you ever heard about a toy you cannot play with?! Of course not! The main purpose of toys is to be played with in games. If it do not fulfil that purpose, it will lose its value and appeal. This $2.59 million soccer ball that took 3 months to be created, is made of 2640 black diamonds, 6620 white diamonds and 3500 African diamonds and of course, you cannot kick it. Shimansky is a South African jeweler . He is known to work with diamond and tanzanite jewelry. The ball weighs 4.8 pounds. Apparently, it was made to commemorate the World Cup of soccer in 2010 that was held in South Africa.
4 Lamborghini Aventador Model Car [$4.6 million]
Have you ever thought about owning a car, an expensive car?! Okay, you can purchase a Lamborghini -a real one for $380,000. However, you need $4.8 million to purchase this toy. Yeah! You read it right! Some people can afford a real expensive car, but the cannot afford 1/8-size model made German engineer named Robert Gulpen. Our miniature Lamborghini has platinum rims and diamonds in its seats, steering wheel and headlights and took 500 hours to be finished and presented to the market. Sadly, the number of cupholders is unknown. Yes, the miniature version is worth 10-times above the actual car. The reason why it is unjustifiably pricy is that it was made of platinum, carbon fiber, gold and diamonds.
3 Madame Alexander Eloise [$5 million]
The Madame Alexander Eloise contains 9 carats of diamonds and is created by Madame Alexander, doll designer.
There are only five dolls out there, and all of them wear Christian Dior clothes, Oscar de la Renta fur, Katherine Baumann accessories and Swarovski crystals. Madame Alexander Eloise comes with other accessories like a stylish dog to add the touch to its chubby look, blond hair and extremely rich girl style. We do not actually know who owns the collection, but we are pretty sure that they are fabulously rich to afford a 3 million dollar doll.
2 L'Oiseleur (the bird trainer) [$6,250,000]
It measures 4 foot tall and it allegedly took more than 15000 hours to be created.The doll has 2340 polished steel parts to bring it back to life. It is also an automated figure who comes with a small the flute and functions with the help of a system of cogs and gears, rather than batteries or motors. L'Oiseleur is dressed in renaissance clothes that features real mesmerising pearls and gold.
1 Astolat Dollhouse Castle [$8.5 million]
Okay, this may go too far, but it happened! $8.5 million will definitely bring you the breath-taking house you are dreaming of; a house or palace with multiple floors, rooms, pools, and even a gym. However, you may not be able to live there, because it is a doll's house. "The Astolat Dollhouse has seven levels, stairways, hallways, a basement, a wine cellar a kitchen and an armoury. There are formal rooms, a library, a music room, a grand ballroom and a bar (with real tiny bottles of liquor), and that's before you get to the Wizard's tower on the top level," according to the Independent. So, the Astolat Dollhouse Castle may contain amenities that are not up for grabs in own real houses.