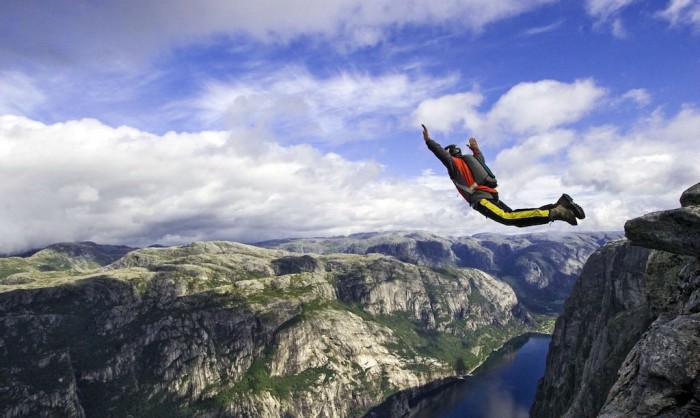 Sports
Top 10 Deadliest Sports That Can Kill You
Sport is a very useful way to keep us healthy. But, if you do not take care, you will be injured or, unfortunately, die. There are sports that have a high level of accidents, and injuries. So, you need a lot of precautions to take care of yourself. Hence, think one more time before trying one of them. Here, we display top ten of the most dangerous sports that can kill you.
10 Street Luging
People who perform this game are subjected to high levels of injury. Because street luge participants reach great speeds, they are subjected to deadly crashes. But the urgent question is what makes an accident happen? The answer is when the rider loses control around a curve, collides with another rider during a race, or encounters obstacles in the road. So, to perform well in this sport, you should be careful.
9 Base Jumping
Base jumping is beautiful, frightening and unexpectedly quiet, butt this kind of sport is one of the most dangerous sports in our world. The person, who is trying this game, uses the parachute. The number of accidents and helicopter activation increases with the annual number of jumps. So, be careful before trying this interesting and deadly sport.
8 Heli-Skiing
Do you like flying from a helicopter? Do you like the smell of napalm in the morning? This game is very interesting; as the participant jumps from a helicopter on an untouched snowcap. Through this game, you can see super-dry snow, steep, tree-lined pitches and wide-open glacial bowls. But, the most dangerous point in this game; is that the helicopter runs with a great speed.
7 Bull Riding
You will see no more sport dangerous than bull riding. Bull riding includes the straddling of about 1700 pounds. In this game; the bull can tore you into pieces, if it gets weird. A man who performs this game shows how deadly this sport is. He shows his injures which included several concussions, 11 surgeries, broken wrists, collar bones, legs, arms, numerous ribs, and several fractures to his face. So, this game is a very dangerous.
6 Motorcycle Racing
What will you do if you bull a bus out in front of you? This is like what you get from motorcycle racing. This game is one of the deadliest games in the world. The participant drives one bike with a high speed to reach a certain distance to win the race. It is a very difficult sport and dangerous to the extent that it can lead to death.
5 Running of the Bulls
Running of the bulls is a game in which, the bulls run in a big ground and compete one another. There is no guarantee for avoiding collision with a bull. So, the bull's horn will pierce the body and because the speed of the bulls is too high, of course the danger will be great.
4 Big Wave Surfing
Wave surfing means padding into the big waves. There are a lot of dangerous waves in the history of wave surfing such as: Banzai Pipeline, Ghost Trees, Mavericks, Teahupoo, Waimea, Shipstern Bluff and Dunggeons. All of these waves are so deadly, but the surfers use safety items such as; eardrum protectors. It is an interesting game, but, it has a lot of danger.
3 Cheerleading
This game is a kind of dancing, and it is also dangerous and interesting. It is about dancing with a high speed, and not leaving moves at any cost. It can lead to deadly injuries and make the dancer suffer from hard wounds. "The National Center for Catastrophic Sport Injury Research found that 56 percent of catastrophic injuries to female athletes between 1982 and 2007 were related to cheerleading." Hence, you should be careful while participating this game.
2 Cave Diving
This game includes diving into the deep water. Before trying this game, you must learn its tricks and techniques. There is in our world one of the most dangerous caves in the world which is the Yucatan Cenotes, in Southeast Mexico. In this deadly cave there are many who have lost their lives in the murky labyrinthine caves
1 High Altitude Climbing
This game includes: a man or a woman in a swimming suits to climb from extreme heights. This game is one of the deadliest games in the world. If you are interested in this game, you shouldn't climb higher than 300-500 meters/900-1500 ft per day. So, you should be careful about your life; as your life is not a game.
In a nutshell, our life is  so valuable, and also the present of God, so it is a ridiculous thing to lose it in a game.