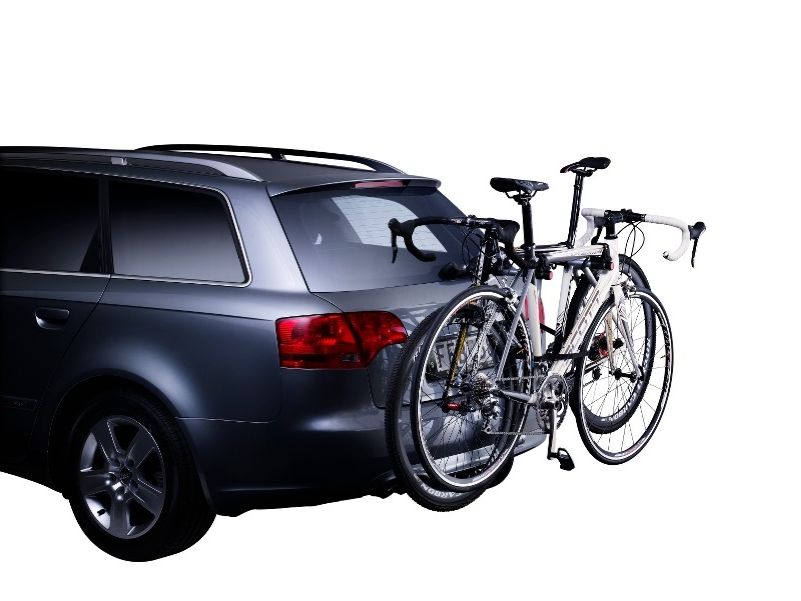 If you've ever had to bring your bike with you on another vehicle, you'll know that it can be quite a conundrum. Luckily, bike racks are made for that very reason. These devices are designed to attach to a vehicle (car, bus, etc.) for easier and space-saving bike transport. Here are ten great bike racks available for your tow bar.
10 Hollywood Racks HR1400 Sport Rider SE 4-Bike Platform Style Hitch Mount Rack
If you need to transport multiple bikes at the same time, then this bike rack is a great choice. With it, you can easily transport up to four bikes, while the security cable and Velcro wheel straps ensure that the bikes are steady and secure while your vehicle is running. The rack can also fold up flat when not being used, which is quite convenient.
9 Maxxraxx 4 Bike Voyager Easyfix
This is one of the top bike racks for your tow bar. It is great value for the price, is easy to set up and can secure your bikes (up to four) really well. For fewer bikes, a two-bike version is also available, while a five-bike one can also be bought.
8 Atera Strada DL3
This rack is a bit pricier compared to the Maxxraxx and can only accommodate three bikes at a time. However, it's also very efficient in terms of security and practicality. If your vehicle's tail lamps are at risk of being obscured, a light board is included on the rack to help you stay within legal limits.
7 Exodus 2 Bike Towbar Mounted Cycle Carrier
For a 2-bike carrier, this rack is one of the best choices because it can be set up quickly and easily. Contact between the bikes is inevitable, but the rack itself remains securely locked onto your towbar.
6 Allen Sports Deluxe 4-Bike Hitch Mount Rack with 2-Inch Receiver
As one of the most affordable bike racks on this list, this bike rack is amazingly stable and durable. There's enough space for up to 4 bikes, though carrying four full-sized ones can make a tight fit. Its best feature is its long carry arms, which helps in securing your bikes and can also fold out of the way when not in use.
https://www.youtube.com/watch?v=G8ouNqGPHhQ
5 Thule 2 Bike Platform Hitch Rack
Designed to carry two bikes, this bike rack can conveniently be upgraded to accommodate two more. It's ideal for bikes with 3 inches in width and 20-29 inches in diameter. It also comes with rust-free protection and a hitch switch lever to angle it away from your car as needed.
4 Thule Xpress 970
Similar to the Exodus 2 bike rack, the Thule Xpress 970 can carry up to two bikes, is easily attached to your vehicle and is easy to store. However, it doesn't come with a lock to help secure the rack to your towbar. That can be easily remedied with a padlock, but you'll have to purchase one separately. Additionally, this rack also has rubbery crossbar supports that allow for better grip.
3 Thule Helium Aero Hitch Carrier
While it can hold multiple bikes, this bike rack is made from lightweight aluminum. Thus, making it easier to mount than other racks. It also comes with road-dampening technology that lessens the chances of your bikes getting road shock. As far as security goes, this is one of the top racks on this list.
2 Yakima RidgeBack 4-Bike Hitch Rack
For less installation and locking hassle, this rack comes with a knob to make the adjustments. In just a few minutes, you'll have your bikes strapped up and ready to go. It also has anti-sway cradles to keep the bikes from bumping into each other – thus reducing potential damage.
1 Allen Sports Premier Hitch Mounted Carrier
This bike rack is a budget-friendly choice for when you need to carry multiple bikes (up to four). Its security features ensure that your bikes are protected in transit, and it's also convenient to tilt away in case you need to access your car's liftgate.
Conclusion
Bike racks are great for transporting bicycles on your vehicle, especially when you need to bring more than one. With a good bike rack for your towbar, you won't need to worry about fitting all of your bikes into one vehicle.