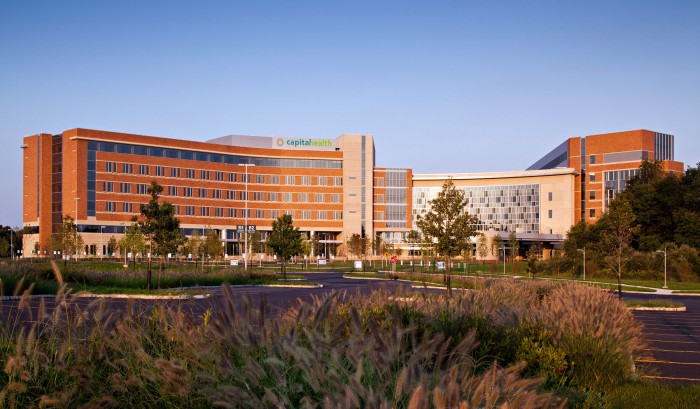 Diseases and illness continue to threaten our lives and fill it with misery and pessimism. We lose our dear friends or even members of our families. However, there are medical institutions that do their best to reduce pain and suffering. There are nearly 100 hospital in this prominent spot of the United States of America, New Jersey. These hospitals are ready to provide services for all patients and cure some of the complex cases. They use the latest technologies in this field which give them an edge over the other hospitals across the globe. Avery Comarow says, "U.S. News strives to provide patients and their families with the most comprehensive data available on hospitals." Here are the top ten hospitals in New Jersey.
10 Hackensack University Medical Center
This teaching hospital comes in the first place in terms of pediatric specialties. This facility is home to nearly 685-bed to which 70,638 people were admitted in the recent year. It carries out 11,852 inpatient and 19,704 outpatient surgeries annually.
9 AtlantiCare Regional Medical Center
This hospital comes in the first rank in terms of adult specialty in the USA. At the beginning, it was thought the task of building a hospital would be a tough challenge. John P. Rochford, founder of the sanitarium, and Alfred W. Heston, city comptroller cooperated with each other in order for this hospital to come into being. Emergency room of this hospital received 133,675 visits.
8 Kessler Institute for Rehabilitation
This is one of the hospitals that ere accredited by the Commission on Accreditation of Rehabilitation Facilities. It was designated as a Model System for the treatment and research of spinal cord injury and brain injury treatment. It is considered by U.S. News & World Report as one of "America's Best Hospitals".
7 Holy Name Medical Center
This is one of the not-for-profit healthcare facilities based in Teaneck, Bergen County, New Jersey. It was established in 1925 with a total of 361 beds. Korean Medical Program is one of the leading programs that were keen to provide Korean patients  with special services. It is also famous for the education of registered nurses and licensed practical nurses.
6 Monmouth Medical Center
This is one of the largest community academic medical centers in New Jersey. It serves a population of nearly 1 million every year in Monmouth. There is also a large number of tourists who visit this place. It is a not-for-profit establishment with 527-bed.
5 Clara Maass Medical Center
Maass Medical Center is a leading 469-bed teaching hospital. This foundation was established in 1868. At first, it was named Newark German Hospital and later in 1952 it was named Clara Maass to honor Clara Maass, the head nurse of the hospital.
4 Capital Health Regional Medical Center
It is home to leading establishments like the level II Bristol-Myers Squibb Trauma Center, the Stroke and Cerebrovascular Center of New Jersey and Mercer County's designated Emergency Mental Health Services Center. Neurological emergency department is one of the leadingdepartments that does not exist in other hospitals which treats complex emergency cases.
3 Cooper University Hospital
The Trauma Center at this hospital is considered one of only three New Jersey State-Designated Level I Trauma Centers. Nearly 2,700 trauma patients are admitted to this hospital every year. This medical center was established in 1982 to become one of the leading institutions in New Jersey.
2 St. Barnabas Medical Center
It is a 577-bed non-profit major teaching hospital. It is considered the largest and oldest hospital in New Jersey. It was established  in 1865 by a group of women called the Ladies Society of Saint Barnabas House. There are many specialties and departments like the Cancer Center and Children's Center for Cancer and Blood Disorders.
1 Overlook Medical Center
This hospital was established on a hill in the center of the city. It is one of  Summit's three largest employers which provides medical services to Summit and other areas in northern New Jersey. Dr. William Henry Lawrence, Jr was able to buy a property on the "highest point in Summit" and build the three-storey structure that started with 42 beds.
These are the leading hospitals that help us get rid of illness and lead a happy life full of optimism and hope.