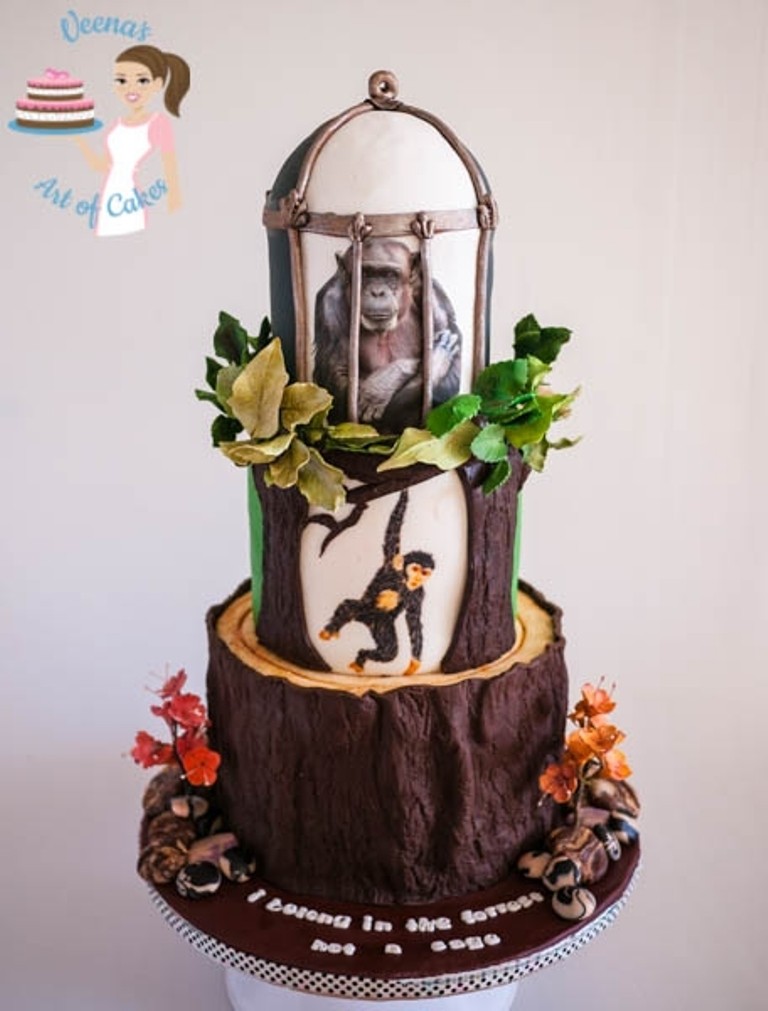 Do you like to have a piece of cake? Do you know how to make a cake? What do you think of learning how to decorate your cake on your own? Because cakes are usually made for different happy occasions that we celebrate throughout the year, we have to know how to make and decorate them instead of purchasing them. Learning how to make a mouth-watering cake for celebrating any occasion is not very difficult as all that you need is to know the ingredients and directions that are required for successfully making your cake.
What is more tiring and really essential for creating an amazing cake is the decoration. In order to decorate your cake in a fascinating way, you need imagination and inspiration. If you find it difficult to decorate your cakes on your own, you can make use of the creative design ideas that are presented by professional cake artists. Decorating cakes is a creative art that can turn an ordinary cake into a piece of art that is not just mouth-watering, but breathtaking and impressive as well. If you want to discover more about the art of cakes and have the desire to learn how to decorate your cakes on your own, keep reading this article that presents to you the top 10 best cake artists in the world.
10
Dina Cimarusti – United States
Dina Cimarusti is a cake decorator who specializes in creating hand painted cakes, realistic sculpted cakes, cookies and cake toppers. Most of Dina's work is inspired by the science fiction, fantasy and scary characters that we usually see in movies. Dina Cimarusti is not just a cake decorator, she is also a make-up and SFX artist or special effects artist and this explains the unique cake design ideas that are created by Dina. Dina's work is based in Chicago, Illinois and she has created several custom cakes not just for ordinary people but for many celebrities as well such as Katy Perry and Jennifer Hudson.
9
Jennifer Riley – Canada
Jennifer Riley is one of the creative cake artists whom you can find in Canada. Her work is based in Thunder Bay, Ontario and she focuses on presenting the tastes and designs that impress her customers, satisfy them and allow them to experience high professionalism. She tries to help her customers bring out their inner thoughts and ideas to finally create the cake designs that they want. Jennifer's cakes, cupcakes, cake pops and buttercream come in different flavors such as vanilla bean, buttermilk chocolate, rich carrot, banana, gluten-free vanilla and more flavors that are really amazing. You can also ask for any flavor you like even if it is not listed.
8
Hannah – United Kingdom
Hannah is an award-winning cake artist, international tutor and creative edible sculptor as well. She is the owner of "The Cake Illusionist" and her work is based in Hemel Hempstead. Hannah started her career as a photographer and retoucher, but after 15 years she decided to become a cake artist. She started making cakes to get rid of the stress from which she suffered while working as a photographer, but her passion for cake artistry motivated her to leave photography and start creating sculpted cakes and wedding cakes as a full time business. Hannah teaches cake sculpting and airbrushing and her work appeared on the front cover of different magazines such as Cake Master Magazine and Cake Decorating Magazine.
7
Natalie Sideserf – United States
Natalie Sideserf is a talented cake sculptor who has her own sculpting techniques that help her to successfully create incredible hyper-realistic sculpted cakes. With Natalie Sideserf, you can really enjoy those scary designs that may look strange for you to be found in cakes but they are truly creative and prove that Natalie is talented. She focuses on paying attention to small details in her cake designs which allows her to be one of the most talented cake artists not just in Austin, Texas but all over the world. Natalie's work appeared on different programs and TV shows such as The Chew, American Idol, and Food Network Programs.
6
Karen Portaleo – United States
Karen Portaleo is a cake and chocolate artist who has a Bachelor's Degree in Fine Art. She decided to stop creating props and sets for advertising to move to the culinary world and decorating cakes. Karen's grandfather was a pastry chef which encouraged her to start her journey in this amazing world and present new ideas that are really different. Her work has been featured in different publications and websites not just in the United States but all over the world. Although Karen's work is based in Atlanta, Georgia, she travels to other countries around the world to teach her students sculpting cakes and modeling chocolate.
5
Violet Lin Tran – Canada
Violet Lin Tran is a cake designer and decorator whose work is based in Greater Toronto Area, Canada. Her journey into the world of designing and decorating cakes started when she decided to make a cake for her husband's birthday. She learned all that she needs to know about decorating cakes from different online sources such as tutorials, YouTube videos, blogs and sites and then she started to practice what she learned on family occasions. Violet's work has been internationally featured in various magazines and websites such as American Cake Decorating, Cake Masters, Australia's Sweet Magazine and more. She shares her free tutorials and tips on her blog to allow others to make use of her experience and learn how she creates different cake designs.
4
Laura Loukaides – United Kingdom
Laura Loukaides is a multi award winning cake artist whose work is based in Hertfordshire, United Kingdom. She is the owner of "Laura Loukaides Cakes" and she has received several awards for her creative and stunning work. Laura uses Dinkydoodle, Kroma and Magic Colours Airbrush paints for decorating her cakes and her preferred fondant is Satin Ice fondant. She does not teach any classes at the moment, but if you want to learn from her and discover more about the way she decorates some of her cakes, you can quickly visit her website to take a look at the amazing tutorials that are presented there.
3
Zoë Clark – United Kingdom
Zoë Clark is a professional cake artist who specializes in creating stunning party cakes, wedding cakes, cupcakes, miniature cakes, cookies and sweet tables as well. Zoë started taking classes and learning the basics of decorating cakes in London in 2006. She worked at some of the best bakeries in London and then she decided to start her own business and open her shop to become one of the best and most famous cake artists in London thanks to her innovative and creative cake designs. Zoë teaches her unique techniques to her students at her shop "The Cake Parlour" in Wimbledon Park, South West London and she also offers online tutorials which make it easy for you to learn from Zoë wherever you are.
2
Loren O'Neill Ebert – United States
Loren O'Neill Ebert is a talented and creative cake artist who makes and decorates her sweets at her home kitchen in Long Island, New York. Making and decorating sweets was just a hobby for Loren but her passion for sweet things, reading dessert cookbooks, and collecting cake pans and cookie cutters has made her one of the best cake artists in the world. Loren makes sweets for family, friends, and charity and she does not, unfortunately, take orders but she can teach you how to decorate your cakes on your own through the private and group lessons that she teaches to both adults and children of all levels. Loren is also a Craftsy Instructor and food blogger who shares her creative cake designs and decorations on her blog.
1
Veena Pamela Azmanov – India
Veena Pamela Azmanov is a self-taught cake artist who was born in India but her work is now based in Ra'anana; Israel. Her passion for cooking and baking has helped her to become a creative cake artist who has the ability to decorate her cakes in a catchy way. She has two personal blogs; one of them is for sharing her cake decorating ideas and the other one is for sharing her food recipes and treats. Veena specializes in creating wedding cakes, baby shower cakes, celebration cakes, sculpted cakes, kids cakes, hand painted cakes, cupcakes, mini cakes, and cookies. She loves creating romantic, simple, vintage and elegant cakes and focuses on adding sugar flowers to her cakes since she adores them and believes that they can bring cakes to life. Veena also offers free online tutorials on her blog and YouTube channel to allow other cake artists to make use of her experience and improve their skills or designs.
There are other stunning and impressive cake artists in the world
But it is impossible to mention all of them here
So
Feel free to add your favorite cake artists in a comment