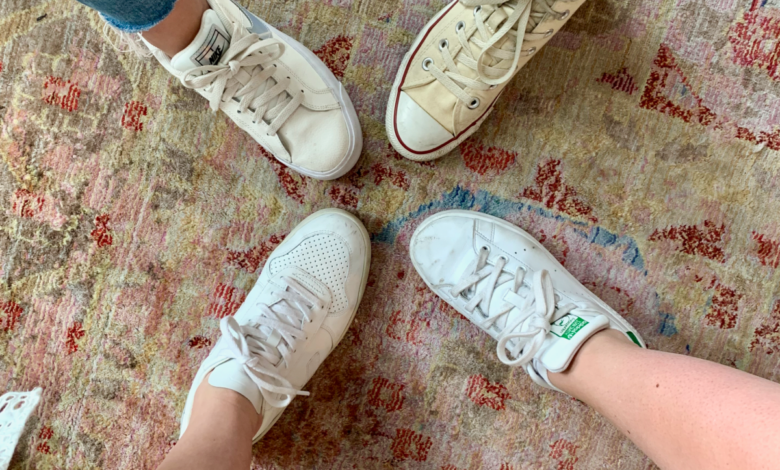 Fashion
How To Choose The Best Stylish and Comfortable Sneakers For You?
In most cases, choosing the right sneakers that will guarantee your comfort can prove to be a nightmare. This is because you will always come across different brands and products in the market. If you don't know, not all of them can offer value for money. In fact, it is possible to purchase a pair of sneakers with your hard-earned money and still feel worse off. This isn't about brands. Instead, it has to do with knowing how to choose the right pair that can make a huge difference.
Here Is The Perfect Solution
Are you struggling to buy sneakers that are stylish and comfortable? Do you know that most products in the market can't meet your needs without any compromise? This post will be aiming to reveal some of the key factors or variables to consider while trying to choose the best sneakers. Whether you plan to purchase a pair of stylish white sneakers women that go with most outfits and with every occasion, be rest assured that the tips below will act as a blueprint. Check them out below:
1

Considering Your Lifestyle
Failure to consider your lifestyle while trying to choose the right pair of sneakers that can be considered stylish and comfortable is like shooting yourself in the leg. For instance, when it comes to staying active or exercising, people will always vary in terms of their habits. While you may have a passion for engaging in sporting activities on a regular and consistent basis, there are people who exercise occasionally. Due to the strains that sporting activities are likely to place on your system/body, it is important you use comfortable footwear.
You can sustain injury easily by wearing the wrong pair of sneakers. There are different kinds of sneakers in the market. While some have been designed for some specific purposes, others tend to be general. It is important to consider your lifestyle and go for a pair of sneakers that can complement it. For instance, if you enjoy running every morning, choose sneakers that have been manufactured for such a purpose.
2

Features Are Crucial
It is quite shocking to know that many people buy sneakers without considering their features. This is only a recipe that will bring about frustration in the end. It is very crucial to always take features into consideration. In other words, never purchase any sneaker without looking at what it is made of. The best sneakers are known to provide users with unrivalled stability and comfort while being used during exercises and other activities. Due to how they have been cushioned, you won't experience any form of discomfort.
It is easy to identify a stylish pair of sneakers. However, you will find it more difficult to choose the right footwear that will ensure comfort. For instance, it must be the perfect fit for your feet. It shouldn't be tight but snug. If you wear a sneaker for the first time and don't feel comfortable, look for other options. In summary of the above, the following are features of the best sneakers.
Adjustable straps like laces to ensure your needs are met
It must be roomy enough
It must be lightweight for easy movement
And more
Thinking or assuming that tight sneakers are the best will only end up causing more damage for you than imagined. This is because they are not comfortable. For instance, tight-fitting shoes have been discovered to cause blisters as well as black toenails. Of course, this can bring about skin ulceration, gas formation, fever, chills, swelling, redness, and pain. More complicated problems can be the deformation of your toes, aggravation of structural problems such as bone spurs, and mallet toe.
Try as much as possible to always go for sneakers that have enough space. The perfect size is around half an inch. Just ensure it isn't something that is sloppy, though. Never assume that any size will be ideal for you.
3

Patronizing The Right Brand
You may not like to hear this, but it's the truth. Most of the brands manufacturing sneakers today are not good enough. Some of them even make bogus claims just to get your attention. Have you ever bought those sneakers that promise the whole world just to dash your hope eventually? Some of these companies claim they have manufactured the best thing ever. However, you may end up getting disappointed after trying out such footwear.
The best thing to always do is patronizing the right company. With this, you will have rest of mind since there is a very high chance of getting value for money. In a bid to save some money, you may get tempted into buying something cheap. However, don't forget that most cheap sneakers usually have low-quality features. You could end up straining your muscles while wearing them. This happens when the materials used in designing them can't withstand pressure.
One of the ways to ensure you are patronizing the right brand is finding out the opinion of other people who are using such sneakers. They are in a much better position to say whether a pair of sneakers is worth buying or not. Below are some tips that can help you in this regard:
Avoid any sneaker seller or company that doesn't have reviews yet
If a company has negative reviews about its sneakers, such is a red flag
Always carry out research on third-party and independent platforms about features and reliability of sneakers you plan to purchase
4

Assessing Your Gait
This is another important factor that shouldn't be ignored for any reason once you are trying to choose the best stylish and comfortable black or white sneakers women that go with your outfits. There is also something that needs to be combined with the "gait" factor. This is your running style. Believe it or not, how you run will always determine whether a particular pair of sneakers will be ideal for you. In today's world, designers are adopting different technologies that can your foot doesn't roll inward or experience excessive motion.
These are innovations like guide rails, varus wedges, dual-density foams and medial posts. You may not require pronation support. However, that doesn't mean you don't need a footwear that provides stability. If you are overpronating, it is always recommended to purchase the right sneakers that cushion any negative effect. In a nutshell, sneakers that provide the best stabilizing features will be great.
5

Check Out The Design
It is true that choosing a pair of sneakers that have great design is easy as stated above. However, there are times when you could get it wrong without the right guidance. A footwear can be said to be stylish when it has modern design. In this case, you need to check the color combination. Does it really complement the color of your skin? What about your clothes and other accessories? Avoid sneakers that have too many color combinations. This is because they will only draw attention in public for the wrong reasons. Instead, go for something that has simple but effective design.
Final Words
Based on the above, it is clear that there are many variables to take into consideration when it comes to choosing the best stylish and comfortable sneakers. With the tips shared here, you will definitely find something that offers value for money.