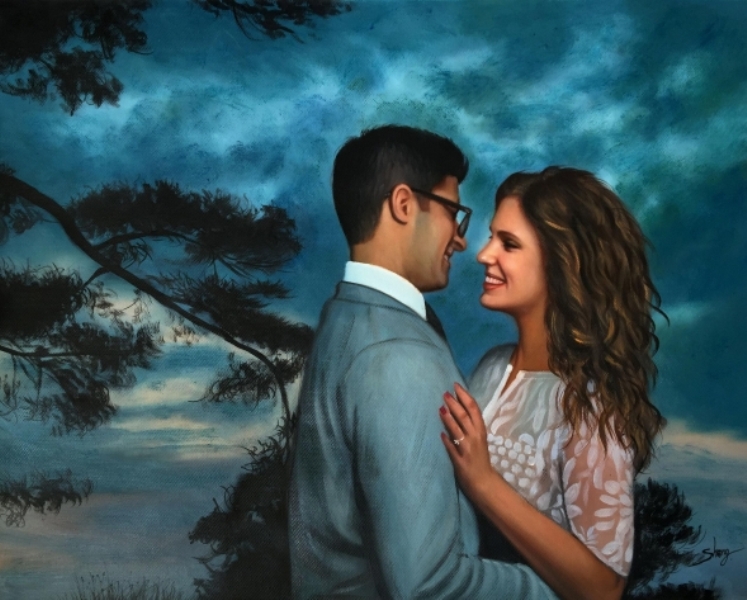 Those happy and special moments in our life really deserve to be immortalized. This is because life is too short and we may quickly forget those precious moments. There are several ways through which you can record those happy moments in your life. Capturing photographs is one of the most popular ways you can resort to in order to keep those special moments in your life immortalized.
You do not need to be a professional photographer to know how to capture a photograph. Thanks to the built-in cameras that we all have in our mobile phones, it has become easier to capture photographs whenever we want. But to make those photographs more impressive, you may need to turn them to amazing paintings. Here, you will find yourself unable to play this role and will need a professional artist to do this for you. Portraits On Demand can help you easily turn your photo to painting, exactly as you want.
Here are 10 reasons why you should turn your photo into a painting by Portraits On Demand artists.
1 Professional artists
In order to turn your photo into painting, you need a creative and professional artist to get the stunning results you want. Because it is not easy to find those creative artists you are looking for, Portraits On Demand presents to you the professional artists whom you need. Those Portraits On Demand artists have been studying their art at universities. They are professionally trained and paint 100% by hand. This means that they do not use Adobe Photoshop or any of those apps that are developed to allow users to turn their photos into paintings.
2 The ability to select the artist you want
In addition to presenting creative and professional artists to turn photos into paintings or drawings, Portraits On Demand allows its customers to select the artists they want to get their photos turned into amazing paintings. All what you need to do is to go to the painting gallery to check the creative paintings there and select the most fascinating painting you like. Portraits On Demand will try to pass your order to the artist who created the painting you like.
3 Fast completion
Portraits On Demand artists have the ability to quickly turn your photo to oil painting. The time it takes to turn a photo into a painting or drawing and ship it ranges from 10 to 28 days. It differs from one painting to another depending on a few factors, such as the size of the painting, the type of medium you order, and the kind of service you use. You have to bear in mind that those modifications you ask for after finishing your painting will take up to 4 days to finally achieve the results you want.
4 Offering expedited service
Are you in a hurry and want to quickly get your painting finished? No problem. With Portraits On Demand, you do not need to worry about this as your order will be given top priority over all other orders to allow you to quickly receive your painting. Thanks to offering three kinds of services, you can select what suits you. You have normal service, expedited service, and expedited service + express shipping. Selecting the best and most appropriate kind of service depends on your needs and whether you want to quickly receive your painting or not. You should take into consideration that adding the expedited service to your order will cost you 15 percent more on the price.
5 Various framing options
There are three options from which you can select what suits your taste and needs. The first option allows you to receive your painting rolled up in a protective art tube. The second option is the gallery wrap or stretched canvas option through which your painting is shipped while being stretched and ready to hang up. The third and last option is framed paintings. You can select any frame you like for decorating your painting and making it catchier.
All the frames that are presented by Portraits On Demand are made of real wood and available in various amazing designs and colors, such as gold frames, silver frames, champagne frames, barn wood frames, and shiny wood frames. You can also find black and gold frames, silver décor on white frames, dark frames, gold antique frames, gold frames with antique borders, decorated gold and white frames, and much more.
6 Online preview before shipping
There is a photo editor who will start working on your photo once you submit your order. You can ask for editing your photo and changing anything you want, such as combining several images into one painting, changing colors, removing or adding items, and more. You can also change the background and pick a different one if you want this without the need to pay more. Before shipping the painting to your address, you will be given the chance to take a look at it by receiving an online preview of the painting to decide whether it needs to be edited or not. You can ask for changes or approve your painting to get it prepared for shipping to your address.
7 Affordable prices
Portraits On Demand offers its paintings and drawings at affordable prices to make it possible for regular people to turn their photos into amazing works of art without worrying about money. Prices differ from one painting to another depending on the medium you select, the size of the painting, and the number of subjects in your painting or drawing.
8 Satisfied customers
Portraits On Demand tries to make its customers completely satisfied through offering all what they need to get the stunning paintings they want. From professional artists to high-quality paintings, quick turnaround, excellent customer support, and affordable prices, you can simply find all what you want to get your photo turned into a fabulous painting.
9 Perfect gift idea
Are you looking for an awesome gift idea that is really impressive and excellent for different occasions? What do you think of presenting a hand-painted oil portrait from photo? In fact, photos can be presented as nice gifts with catchy photo frames. But if you want to make your personalized gift more impressive, try to turn any catchy photo you want to a fabulous painting. This gift idea may cost you more, but it will show your love and appreciation in an unforgettable way.
10 Great for home decoration
Do you want to easily and quickly change the look of your room without the need to spend a lot of money or exert a huge effort? There are several ways through which you can decorate different rooms at your home. The easiest way is to hang paintings to increase the beauty of walls and make your room more inviting. By turning your photo into a fascinating painting, you will be able to decorate your room and immortalize those special moments in your life as well.
What are you waiting for? If you want to decorate your home or present a nice gift to someone you really love and appreciate, turn any special photo you have into a fascinating painting. Pay a visit to Portraits On Demand and take a look at the stunning works of art presented there.