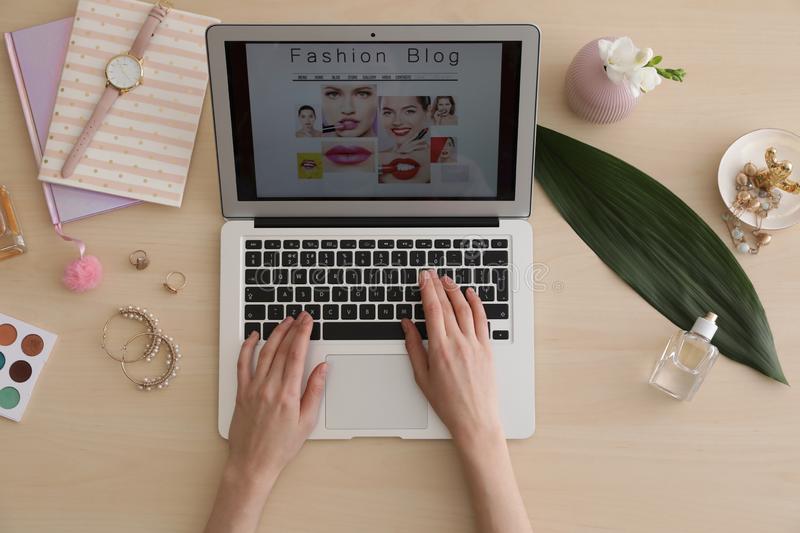 Fashion
Dress with Flair: Top 10 Fashion Blogs to Follow
Having a great sense of style is quite a nifty skill that not many people have. If you have an epic fashion sense, you get admiring glances everywhere you go and are confident in your appearance. Plus, you can help foster self-assurance in others regarding their style by being a fashion blogger. There are many amazing bloggers on the web sharing handy tips and tricks for styles, ranging from playfully quirky to understatedly elegant, depending on what their followers' fashion choice is. If you are looking for any such guidance over how to have fun with your everyday wear, follow a fashion blogger that best suits your taste and lifestyle. To help you out we have compiled top bloggers that you might love to follow:
1

 

Gal Meets Glam
Julia Engel showcases her everyday casual look with simple and clean lines. Her sweet sense of style is full of nude tones with an occasional splash of bold color. The Charleston-based blogger shares her inspirations and experiences over a range of topics, from beauty and fashion to home and travel.
2

 

The Curvy Fashionista
This amazing blog is here to inspire, educate, and celebrate every plus-size woman. If you want some fashion advice for your gorgeously curvy self over what to wear for a particular occasion, then check out this blog. It has all the news about your favorite designers and trendsetters.
3

 

The Budget Babe
If Spectrum Cable internet can be acquired at an amazing price-point with high-end quality and speed, then it's proved that a price tag cannot stop anyone from enjoying the best of life. If you believe that being in vogue is expensive, Dianna Baros will shoot down your claim with her blog, The Budget Babe. It's where you can find a treasure of information on acquiring the cheaper version of accessory worn by your favorite celebrity. Along with her mom-friendly and casual style choices, she also gives you the best advice on how to save while shopping your favorite beauty products and home décor, by providing info on the latest sales deal available.
4

 

College Fashion
Just when you think it's impossible to be a celeb fashionista on a college budget, this blog comes to your rescue. Check out a bunch of college students, who are well into your shoes and know how to maneuver themselves in the style department, offer fashion tips and pieces of advice. Whether you want the style skills of Emma Watson, want to experiment with a novel and quirky look, or want to know how to get around in your dorm and college, this blog has it all.
5

Wendy's Lookbook
This Vietnamese American loves to share all about her runway looks, art projects, traveling adventures, inspirations, and style expertise.  Wendy is a juvenile justice advocate, and Wendy's Lookbook Foundation helps provide support any way it can to individuals impacted by the juvenile justice system.
6

 

Lieblingsstil
Petra Dieners has an eye for aesthetically appealing styles and designs. So whenever something extraordinary catches her eye, she makes sure you know all about it via her blog. Petra tells you how to attain a chic, elegant yet a sporty look in your 40s, when you are lost in the whirlwind that is life and has no time to summon your inner Fashionista. Experimenting with different styles with a single article of clothing, up-and-coming fashion news and trends, product reviews, and shopping advice, know all about it here.
7

 

Miss Selfridge
If you want to add some sparkle in your life, Miss Selfridge is just the right person to tell you how to go about it. The London-based blogger favors flirty and chic style with a dash of shimmer. She has opened up an all-in-one destination for her audience, offering à la mode news and lifestyle guide. You can even shop some awesome dresses, shoes, accessories, and more at Miss Selfridge.
8

Corporette
Navigating the working world comes with its own set of challenges, so we better look fabulous and be comfortable while doing it. Corporette has the handiest guides about dealing with the difficulty of everyday work outfits and accessories. You would even find yourself getting some useful advice over your work life.
9

 

Damsel in Dior
Jacey Duprie is your person for everything from fashion and travel to lifestyle and beauty. Her style is not solely confined to Dior, rather the blog's name symbolizes a way of life where you can be more than just a mere damsel in distress.
10

 

Ali Manno
The star from the Bachelorette and The Bachelor, Ali Manno, loves to dish out some super amazing style advice. Therefore, you would also see a section dedicated to Bachelor Nation on her blog from where you can get some juicy news about this amazing series. Being a mom of two, Ali has so much to say about her motherhood experience, from which you can surely pick up a few useful things.   Moreover, there's more epic advice regarding getting the coolest gifts, traveling, delicious recipes, and more.
Let out your inner fashionista
While some people are natural at fashion, some have to put in some effort to get the hang of new trends, but at the end of the day, we all want to look good, don't we? These blogs are a perfect place to get some inspiration. Start following them, and soon you will develop your sense of style.